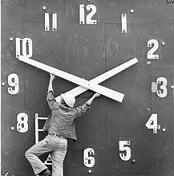 Daylight Savings Time will end in the US Sunday morning, November 3rd at 2AM. It will become 1AM and you get an extra hour of sleep, unless you work the "graveyard shift" or forget.
"Fall back – Spring ahead"
November 1, 2019 Comments Off on US Clock Change This Weekend

Position: 40.6N 29.0W [ 4:00AM CDT 0900 UTC].
Movement: East [095°] near 20 mph [31 kph].
Maximum sustained winds: 35 mph [ 55 kph].
Wind Gusts: 45 mph [ 70 kph].
Minimum central pressure: 1005 mb ↑.
Currently about 140 miles [ 225 km] North of Faial Island in the Azores.
The storm has lost all tropical characteristics. This is the final NHC advisory.
Here's the link for NOAA's latest satellite images.
[For the latest information click on the storm symbol, or go to the CATEGORIES drop-down box below the CALENDAR and select "Hurricanes" for all of the posts related to storms on this site.]
November 1, 2019 Comments Off on Post-Tropical Cyclone Rebekah – Day 3