Tomorrow, March 17, is the Florida primary election. if you are registered to vote, do it.
Vote.org can tell you the status of your registration and where your polling place is located. If you run into problems call the Election Protection Hotline at 1-866-687-8683.
There are a lot of people who don't want you to vote if you are not a well-to-do white male Protestant. It has taken almost two hundred years to force them back into their caves for the most part, but they come shuffling out every so often to annoy people and we have to remind they aren't in charge any more.
Even the primaries are important. In some instances the primaries are the only election that count. Voting in every election makes it harder for you to be removed from the rolls.
March 16, 2020 Comments Off on Florida Go Vote!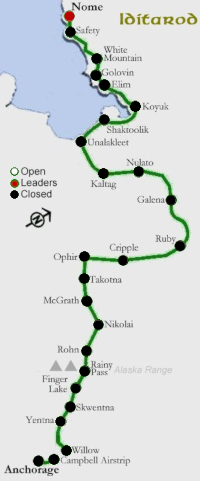 The standings are broken this morning apparently as a result of moving the Shaktoolik checkpoint. Thomas Waerner (40) is nearing Koyuk but no one is shown to be at or beyond the Shaktoolik checkpoint in the standings. According to the GPS Waerner, Sass, and Royer are separated by 10 miles each as they move across the Norton Sound. Once the standings are fixed I'll post a complete list, which may simply ignore Shaktoolik.
Yep, they are ignoring Shaktoolik. Waerner is first to Koyuk.
At 9PM CDT neither the standings or the GPS are agreeing. I'll try again tomorrow. One thing they both agree on is that Thomas Waerner is the current leader.
Standings at 7:00PM CDT (4:00PM AKDT):
Beyond Koyuk
1 Thomas Waerner (40)
At Koyuk
2 Jessie Royer (31)
3 Aaron Burmeister (25)
4 Wade Marrs (7)
5 Brent Sass (44)
Beyond Unalakleet
6 Mitch Seavey (27)
7 Ryan Redington (37)
8 Travis Beals (20)
9 Joar Leifseth Ulsom (35)
10 Paige Drobny (58)
11 Michelle Phillips (33)
12 Jessie Holmes (34)
13 Aaron Peck (36)
14 Ramey Smyth (5)
15 Lance Mackey (12)
16 Nicolas Petit (21)
17 Peter Kaiser (9)
18 Aliy Zirkle (23)
19 Mille Porsild (32)R
20 Kelly Maixner (22)
21 Jason Campeau (19)
22 Tom Frode Johansen (39)Q
[Read more →]
March 16, 2020 Comments Off on Iditarod 2020 – Day 10