Iditarod 2020 – Day 10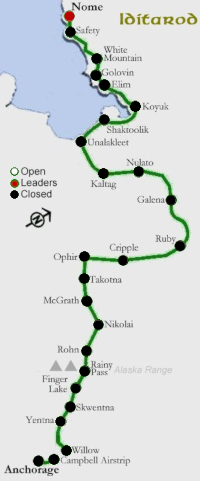 The standings are broken this morning apparently as a result of moving the Shaktoolik checkpoint. Thomas Waerner (40) is nearing Koyuk but no one is shown to be at or beyond the Shaktoolik checkpoint in the standings. According to the GPS Waerner, Sass, and Royer are separated by 10 miles each as they move across the Norton Sound. Once the standings are fixed I'll post a complete list, which may simply ignore Shaktoolik.
Yep, they are ignoring Shaktoolik. Waerner is first to Koyuk.
At 9PM CDT neither the standings or the GPS are agreeing. I'll try again tomorrow. One thing they both agree on is that Thomas Waerner is the current leader.
Standings at 7:00PM CDT (4:00PM AKDT):
Beyond Koyuk
1 Thomas Waerner (40)
At Koyuk
2 Jessie Royer (31)
3 Aaron Burmeister (25)
4 Wade Marrs (7)
5 Brent Sass (44)
Beyond Unalakleet
6 Mitch Seavey (27)
7 Ryan Redington (37)
8 Travis Beals (20)
9 Joar Leifseth Ulsom (35)
10 Paige Drobny (58)
11 Michelle Phillips (33)
12 Jessie Holmes (34)
13 Aaron Peck (36)
14 Ramey Smyth (5)
15 Lance Mackey (12)
16 Nicolas Petit (21)
17 Peter Kaiser (9)
18 Aliy Zirkle (23)
19 Mille Porsild (32)R
20 Kelly Maixner (22)
21 Jason Campeau (19)
22 Tom Frode Johansen (39)Q

At Unalakleet
23 Richie Diehl (16)
24 Jeff Deeter (24)
25 Robert Redington (28)
26 Matthew Failor (29)
27 Tim Pappas (3)
28 Lev Shvarts (10)
29 Jessica Klejka (41)
Beyond Kaltag
30 Kristy Berington (4)
31 Anna Berington (18)
32 Tom Knolmayer (30)
33 Riley Dyche (48)R
34 Sean Underwood (46)R
35 Deke Naaktgeboren (14)Q
36 Laura Neese (11)
37 Robert Bundtzen (54)
38 Martin Buser (26)
At Kaltag
39 John Schandelmeier (42)Q
40 Monica Zappa (43)
41 Magnus Kaltenborn (38)
42 Karin Hendrickson (15)
43 Grayson Bruton (51)R
Beyond Nulato
44 Larry Daugherty (45)
45 Damon Ramaker (52)R
46 Gabe Dunham (17)R
47 Fabio Berlusconi (6)R
At Nulato
48 Meredith Mapes (13)
49 Dennis Kananowicz (53)
50 Kaci Murringer (57)R
Beyond Galena
51 Quince Mountain (50)R
The Mushers in bold are former winners of the Iditarod, while italics indicates Yukon Quest winners. The numbers in parentheses are their Bib numbers. The small "R" indicates a total rookie, while the small "Q" indicates an Iditarod rookie who has completed a Yukon Quest.
These are the official standings. That means they are official, not that they are correct. Things jump around a lot as people decide to update the standings. This problem is especially bad in the back of the pack, as no one bothers to update those standings when the lead is changing.
This post will be updated during the day, and the map changed on all posts to reflect the current situation.
All posts on the Iditarod can be seen by selecting "Iditarod" from the Category box on the right sidebar or clicking on the Sled Dog graphic.