It's that time of year. Spring will arrive at 10:50PM CDT tonight. You can watch it come at Archæoastronomy.
The air is already filled with pollen and the live oaks are dropping last year's leaves. The azaleas have already peaked and the pear trees are snowy with blooms.
I would note that locally we have had 12 hours or more of daylight since St. Patrick's Day, and usually do.
March 19, 2020 2 Comments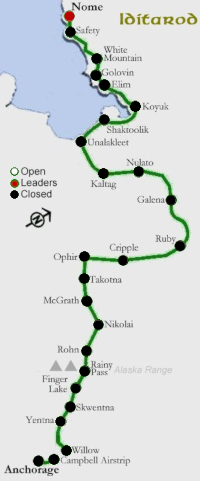 Mille Porsild took Rookie of the Year. Karin Hendrickson (15) scratched at Shaktoolik and Robert Redington (28) scratched at Elim. Nicolas Petit (21) returned to Elim and scratched. The puppies don't like running into the wind and may simply lay down with their tails to the wind.
Jason Campeau (19) returned to White Mountain and scratched.
There is a Winter Weather advisory out for the Norton Sound with winds up to 45 mph and up to 7 inches of snow. This produces drifting and blowing snow making travel difficult.
Standings at 9:30PM CDT (6:30PM AKDT):
Finished at Nome
(First 10 below the fold)
11 Ramey Smyth (5)
12 Wade Marrs (7)
13 Michelle Phillips (33)
14 Peter Kaiser (9)
15 Mille Porsild (32)R
16 Jeff Deeter (24)
17 Kelly Maixner (22)
18 Aliy Zirkle (23)
19 Tom Frode Johansen (39)Q
20 Tim Pappas (3)
21 Lance Mackey (12)
22 Jessica Klejka (41)
23 Lev Shvarts (10)
At White Mountain
24 Sean Underwood (46)R
25 Tom Knolmayer (30)
26 Matthew Failor (29)
[Read more →]
March 19, 2020 Comments Off on Iditarod 2020 – Day 13