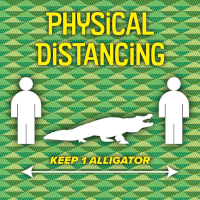 The only problem with this sign for social distancing is that this is prom time for gators and the bull gators should be kept a good further away than 6 feet, but a nice try on behalf of Leon County.
Republicans wonder why they are losing the senior vote:
Gov. Ron DeSantis (R-FL) referred to his state as a "waiting room" for seniors who will soon die.

The Florida governor made the remarks at a coronavirus briefing on Sunday after noting that some nursing home patients had been infected by asymptomatic COVID-19 carriers.

"Florida is ground zero for the nursing home, we're God's waiting room," he explained. "We have a huge number of facilities, a huge number of residents."
Florida Governor Ron DeSantis discussed reopening Florida with Trump because he didn't want to be thrown under the same bus as Brian Kemp of Georgia for reopening without getting the permission of Don Donald.
DeSantis has started to make moves but he isn't including South Florida in those changes as that's where the majority of cases are found.
The Florida Department of Health doesn't count non-residents in its reporting. This means it is undercounting the cases in Florida health facilities and the number of deaths that occur in the state.
April 30, 2020 Comments Off on More Flori"duh"
It's Hexennacht, but there is no Blocksberg available for dancing down here and it is so soggy that bonfires are out of the question.
Of course the Church grabbed this holiday too and called it Walpurgisnacht in honor of one of their Anglo-Saxon saints, rather than good German witches [Hexen]. The Celts celebrate Beltaine at this time of the year. It is considered the beginning of summer in much of Europe.
April 30, 2020 Comments Off on Hexennacht