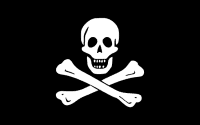 In order to generate "local excitement" [sell stuff] the chamber of commerce was once again hoping to annoy people with the Billy Bowlegs Festival.
After moving the event from the first weekend in June to Friday, August 31st they have decided they can't hold the festival under current conditions. I'm a bit shocked that they have acted like adults instead of like Trump or DeSantis, but credit where credit is due.
July 30, 2020 Comments Off on Billy Bowlegs Festival Cancelled

Position: 20.5N 71.9W [10PM CDT 0300 UTC].
Movement: Northwest [310°] near 20 mph [31 kph].
Maximum sustained winds: 60 mph [ 95 kph].
Wind Gusts: 70 mph [110 kph].
Tropical Storm Wind Radius: 240 miles [390 km].
Minimum central pressure: 999 mb.
Currently about 95 miles [ 150 km] East-Southeast of Great Inagua Island.
A Hurricane Warning is in effect for the Northwestern Bahamas including Andros Island, New Providence, Eleuthera, Abacos Islands, Berry Islands, Grand Bahamas Island, and Bimini.
A Tropical Storm Warning is in effect for the Dominican Republic entire southern and northern coastlines; the North coast of Haiti from Le Mole St Nicholas eastward to the northern border with the Dominican Republic; Turks & Caicos Islands; the Southeastern Bahamas including the Acklins, Crooked Island, Long Cay, the Inaguas, Mayaguana, and the Ragged Islands; and the Central Bahamas, including Cat Island, the Exumas, Long Island, Rum Cay, and San Salvador.
A Tropical Storm Watch is in effect for the East coast of Florida from Ocean Reef to Sebastian Inlet.
Here's the link for NOAA's latest satellite images.
[For the latest information click on the storm symbol, or go to the CATEGORIES drop-down box below the CALENDAR and select "Hurricanes" for all of the posts related to storms on this site.]
July 30, 2020 Comments Off on Tropical Storm Isaias – Day 3