Position: 19.1N 86.1W [10PM CDT 0300 UTC].
Movement: Northwest [315°] near 9 mph [15 kph].
Maximum sustained winds: 40 mph [ 65 kph].
Wind Gusts: 50 mph [ 80 kph].
Tropical Storm Wind Radius: 45 miles [ 75 km].
Minimum central pressure: 998 mb ↓.
Currently about 110 miles [ 175 km] South-Southeast of Cozumel, Mexico.
A Tropical Storm Warning is in effect for Punta Herrero to Cabo Catoche, Mexico.
A Tropical Storm Watch is in effect for south of Punta Herrero to Puerto Costa Maya, Mexico; west of Cabo Catoche to Dzilam, Mexico
Here's the link for NOAA's latest satellite images.
[For the latest information click on the storm symbol, or go to the CATEGORIES drop-down box below the CALENDAR and select "Hurricanes" for all of the posts related to storms on this site.]
October 2, 2020 Comments Off on Tropical Storm Gamma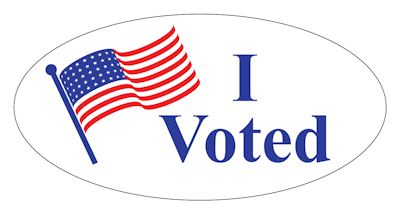 My county mailed me my absentee ballot on 09/24/2020 as First Class Pre-sorted election material and I didn't get it until 09/30/2020. Understand that it was given to the post office already barcoded and in carrier route order in trays, but it took a week to get here.
I immediately filled it out and then put it in the mail yesterday morning at the main post office in town. I will check on the Supervisor of Elections web site to see when it is received. The envelope was pre-addressed and barcoded and marked as election material. With a month to go I have high hopes that it will reach the election office prior to November 3rd.
October 2, 2020 15 Comments