Holden Caulfield at First Draft responds to James Taranto's claim that the use of "Mandela" in reference to Iraq wasn't a mistake, but an excellent metaphor.
Actually, to be a good metaphor, people really have to understand the connection, and that obviously didn't happen. The Shrubbery has been trying for some time to find an analogy for his war with little success because he doesn't understand the basics of the situations he alludes to. Frankly before the Hedgemony starts running down the list of figures of speech, they might want to take the Shrubbery aside and brush up on the parts of speech, and things like subject-verb agreement. Even with the earpiece, I don't think his short-term memory is good enough to deal with metaphors.
September 23, 2007 3 Comments
Badtux, the snarky penguin, is concerned about the ability of law enforcement in the Bay State to recognize real threats so he has produced: A tutorial for the Boston Police Department and Massachusetts State Police.
No word if he'll explain to the Connecticut police agencies the difference between flour and anthrax. Well, it's not as if the Hash House Harriers is large group [international, in fact, and they have a chapter in my town]. They shouldn't have started this [they have been using flour or chalk dust to mark routes for over a decade]. If that were the case the authorities would have been notified [the FBI and HSD have both put out fliers in the practice].
[Note: They use flour because it doesn't kill anything, doesn't add any litter, and washes away with the next rain.]
Fear makes people stupid, which is the whole point, because no thinking person would have elected the current administration.
September 23, 2007 8 Comments
Look, if you're attempting comment spam with an innocuous message body, "This sounds interesting, but I don't understand the details" is just not going to fool anyone when you link to Cat Blogging.  It's the picture of a cat, no great involved message, just the picture of a cat, so everyone knows you are using a 'bot.
September 23, 2007 4 Comments
Subtropical Storm Jerry has formed to annoy the fish in the northern Atlantic.  It is generally stationary.
Invest 94L is on the North coast of the Yucatan due South of New Orleans about to enter the Gulf where it might become something…or not, but it has to be watched as it moves Northwest.
Invest 96L just came off the coast of Africa and is sitting South-Southwest of the Cape Verde Islands due West of French Guiana.  It is moving West towards the Antilles.
Invest 97L has formed North of Suriname and West of the Lesser Antilles and is moving West.
It is very normal for these areas to be popping up at this time of year, and they have to be watched, but the majority will fizzle out.
September 23, 2007 1 Comment
You can watch the arrival of the equinox at Archæoastronomy. It takes place at 4:51AM CDT this morning.
It's time to man the rakes in northern climes.
September 23, 2007 2 Comments
Florida License Plates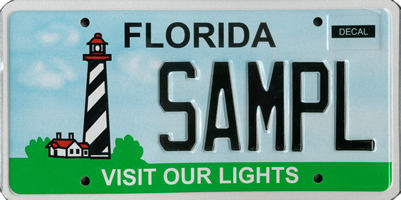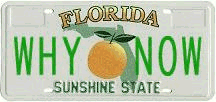 A weekend feature of Why Now.
September 23, 2007 Comments Off on Passing the Plate