Update: The Australian fires have claimed lives: More than 40 feared dead, 100 homes lost in Victorian fires. The winds picked up and shifted, flanking the fire lines.
Not so bad here, since the wind shifted and the temperature jumped up to normal.
OTOH, it has been snowing and freezing for five days in the UK, and the South of England and London really are not acclimated to that sort of thing. They are running low on road salt and places to put the snow they plow.
Being British they are discussing The etiquette of snowball fights.
Australia is experiencing a very nasty summer with tropical cyclones and flooding in Queensland, in the North.
In the South, it's Bush Fires and temperatures in the 40's C [40° C = 104° F]. Victoria [Melbourne], South Australia [Adelaide], and New South Wales [Sydney] are all affected by the extremely hot temperatures and the wildfire threats.
As uncomfortable as the cats and I have been for a few days, it is better than those choices.
February 6, 2009 31 Comments
Obama writes a piece in the Washington Post and the media reaction is dead silence.
Obama talks to Congressional Democrats and every outlet carries it.
Conclusion: the media can't read. If there is no audio and/or video, the media doesn't know it happened.
February 6, 2009 2 Comments
Six Packed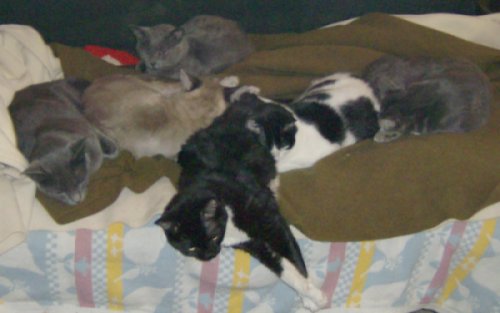 We are not amused.
[Editor: This was noon yesterday. They tend to stay on the olive drab blanket because it is wool, an antique from my Dad's days in the Army Air Corps, i.e. before 1948.
February 6, 2009 10 Comments