Australian Broadcasting lays out the problem: Vic firefighters prepare for the worst
Victorian firefighters are working to prepare for bad weather conditions on Friday as they battle major blazes across the state.

Crews are working on seven fires, including a 300-hectare blaze at Upwey in the Dandenong Ranges east of Melbourne, where the awareness message has been downgraded.
Later in the article fire Strike team leader Craig Hepburn explains what they expect:
"[We are] just preparing it for the bad weather they're expecting on Friday, with the wind going back to the north, and the temperatures predicted to be 38 at the moment.

"The winds are going to strike up, so this southern side will be the problem area Friday."
Temperatures around 100°F and high winds. There have been flooding rains next door in New South Wales, but not in Victoria. The problem still exists, but hopefully there are more resources available to deal with it.
February 24, 2009 5 Comments
Sebastian Schnuelle (20) with Hugh Neff (23) second.
The official time in was 10:44, with an official elapsed time of 9 days 23 hours and 20 minutes, a new record.
February 24, 2009 Comments Off on And The Winner Is…


The sprint to the end started this morning with Sebastian Schnuelle (20), Hugh Neff (23), and Jon Little (18) leaving Two Rivers at half-hour intervals.
You can get Race Updates here.
February 24, 2009 Comments Off on Day 11 – Beginning Of The End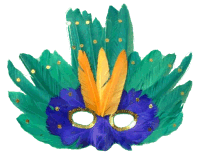 The last day before the beginning of Lent on the Gulf Coast that once belonged to France, it is Mardi Gras, "Fat Tuesday": Laissez les bon temps rouler!
It was first celebrated [1703] in Mobile, Alabama, but the big show these days is in New Orleans, and it is a holiday in the state of Louisiana, because people wouldn't show up for work anyway, so why fight it.
The tradition is to serve King cake [great recipe], which is a circle pastry with white frosting on top, sprinkled with sugar colored purple, gold, and green. If that weren't bad enough, they now put the figurine of a baby in the dough [a dried bean is traditional], and whoever finds it in their piece is supposed to be lucky. Actually if you find it and don't choke on it, I guess you are lucky. You should use a small ceramic figurine, as some of the cheap plastic versions melt in the oven [yummy].
February 24, 2009 8 Comments