Posts from —
November 2019
November 8, 2019 2 Comments
Two former Twitter employees accused of spying for Saudi Arabia
Washington, DC (CNN Business)— Federal prosecutors accused two former Twitter employees of spying on behalf of Saudi Arabia on Wednesday.

Ali Alzabarah, a Saudi national, and Ahmad Abouammo, a US citizen, allegedly used their access at the social media giant to gather sensitive and nonpublic information on dissidents of the Saudi regime, the Justice Department said in a criminal complaint.

The case, unsealed in San Francisco federal court, underscores the efforts by the Saudi government to control anti-regime voices abroad. It also recalls a move reportedly directed by the country's controversial leader to weaponize online platforms against critics like Jamal Khashoggi.
Mohammad bin Salman takes care of critics with the same techniques used by Vladimir Putin, Kim Jong-un, Xi Jinping, and Recep Tayyip Erdoğan – hunt them down and take them out. Trump envies all of them and wants to join the "club".
November 7, 2019 15 Comments
Just like last year the Resident is displaying his ignorance about wildfires: Trump threatens to pull federal aid funds because California has a Democratic governor.
As I wrote in November of 2018:
For those, like Trump, who don't know and are too lazy to look it up, the state of California owns 3% of the forests in the state, private companies and individuals own 40%, and the Federal government owns 57%. If the wild fires in California were caused by mismanagement of the forest it would be a Private/Federal problem. The reality is that these are brush fires, not forest fires, and they are caused by the Santa Ana winds which are getting worse because of climate change. All it takes is a spark of any kind with 50+ MPH winds, temperatures in the 90s, and humidity in single digits for a major disaster.
Trump thinks he's a world traveler because he has seen the inside of aircraft, limousines, hotels, and resorts at various locations. Golf courses are as close as he gets to "nature", with Camp David as the most natural location he has ever stayed.
November 4, 2019 Comments Off on Mango the Bore on Fire Protection
November 3, 2019 2 Comments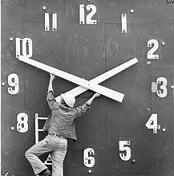 Daylight Savings Time will end in the US Sunday morning, November 3rd at 2AM. It will become 1AM and you get an extra hour of sleep, unless you work the "graveyard shift" or forget.
"Fall back – Spring ahead"
November 1, 2019 Comments Off on US Clock Change This Weekend

Position: 40.6N 29.0W [ 4:00AM CDT 0900 UTC].
Movement: East [095°] near 20 mph [31 kph].
Maximum sustained winds: 35 mph [ 55 kph].
Wind Gusts: 45 mph [ 70 kph].
Minimum central pressure: 1005 mb ↑.
Currently about 140 miles [ 225 km] North of Faial Island in the Azores.
The storm has lost all tropical characteristics. This is the final NHC advisory.
Here's the link for NOAA's latest satellite images.
[For the latest information click on the storm symbol, or go to the CATEGORIES drop-down box below the CALENDAR and select "Hurricanes" for all of the posts related to storms on this site.]
November 1, 2019 Comments Off on Post-Tropical Cyclone Rebekah – Day 3