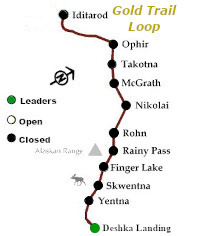 Because of the loop I will color checkpoints grey when all of the teams have passed on the way North and then black when everyone has passed to the South. Just an indicator of where the race is behind the leaders.
Sean Williams (35)R had to scratch this morning due to a non-COVID related family health concern. Jessie Holmes (44) is on the trail despite what the standings seem to claim.
At 10:30PM CST the teams are strung out between Yentna and Skwenta. Everyone went with 14 puppy teams and during the run today speeds of 13 mph were reached. The temperature has been in the 20sF, which is warm for sled dogs. The standings are now showing Jessie Holmes again. As I warn in the footer, the standings are official, which is not the same as accurate. They are updated by volunteers, so we shouldn't be too critical.
Standings at 11:00PM CST (8:00PM AKST):
At Skwenta
1 Ryan Redington (20)
Beyond Deshka Landing
2 Aaron Peck (2)
3 Peter Kaiser (3)
4 Kristy Berington (4)
5 Jeremy Traska (5)R
6 Richie Diehl (6)
7 Jeff Deeter (7)
8 Dennis Kananowicz (8)
9 Ramey Smyth (9)
10 Nicolas Petit (10)
11 Gunnar Johnson (11)
12 Hal Hanson (12)R
13 Anna Berington (13)
14 Ryne Olson (14)
15 Brenda Mackey (15)R
16 Riley Dyche (16)
17 Matt Hall (17)
18 Chad Stoddard (18)R
19 Christopher Parker (19)R
20 Brent Sass (21)
[Read more →]
March 7, 2021 No Comments