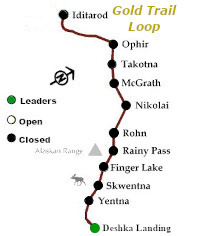 This morning half the field is headed South.
Rick Casillo (45) made the decision to scratch at McGrath 'in the best interests of his team". Rick was down to 13 puppies.
All of the teams on the trail have finished their 24-hour rest stops, but many still have to take their 8-hour stop, which must happen at or before Rohn.
Standings at 9:30PM CST (6:30PM AKST):
Beyond McGrath S
1 Dallas Seavey (23)
At McGrath S
2 Brent Sass (21)
3 Wade Marrs (25)
4 Ryan Redington (20)
5 Aaron Burmeister (36)
6 Travis Beals (33)
7 Mille Porsild (28)
8 Michelle Phillips (26)
Beyond Ophir S
9 Richie Diehl (6)
10 Peter Kaiser (3)
11 Joar Leifseth Ulsom (41)
12 Jessie Royer (24)
13 Aaron Peck (2)
14 Jeff Deeter (7)
At Ophir S
15 Ramey Smyth (9)
16 Paige Drobny (42)
17 Ryne Olson (14)
18 Jessie Holmes (44)
19 Nicolas Petit (10)
20 Lev Shvarts (38)
21 Cody Strathe (37)
[Read more →]
March 12, 2021 No Comments