Iditarod 2021 – Day 8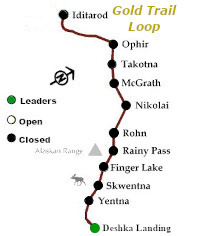 [[!!Don't forget the time change!!]]
Dennis Kananowicz (8) made the decision to scratch at McGrath 'in the best interests of his team". Dennis was down to 11 puppies.
I'm going to shut down early because they are only interested the front of the race and that won't change until the morning.
Dallas has a mandatory 8 hour rest before making the final run to Deshka Landing.
Standings at 7:30PM CDT (4:30PM AKDT):
At Skwenta S
1 Dallas Seavey (23)
2 Aaron Burmeister (36)
3 Brent Sass (21)
Beyond Finger Lake S
4 Mille Porsild (28)
5 Wade Marrs (25)
6 Ryan Redington (20)
7 Nicolas Petit (10)
8 Joar Leifseth Ulsom (41)
9 Richie Diehl (6)
10 Michelle Phillips (26)
Beyond Rainy Pass S
11 Jeff Deeter (7)
12 Ramey Smyth (9)
13 Jessie Royer (24)
14 Aaron Peck (2)
Beyond Rohn S
15 Lev Shvarts (38)
At Rohn S
16 Paige Drobny (42)
17 Ryne Olson (14)
18 Dan Kaduce (40)

Beyond Nikolai S
19 Travis Beals (33)
20 Jessie Holmes (44)
21 Cody Strathe (37)
22 Matthew Failor (29)
23 Chad Stoddard (18)R
24 Kristy Berington (4)
25 Anna Berington (13)
26 Martin Buser (34)
27 Joshua McNeal (30)R
28 Joanna Jagow (22)R
At Nikolai S
29 Matt Hall (17)
30 Susannah Tuminelli (31)R
Beyond McGrath S
31 Sean Underwood (47)R
32 Larry Daugherty (43)
33 Jeremy Traska (5)R
34 Will Troshynski (27)R
35 Victoria Hardwick (48)
36 Dakota Schlosser (39)R
37 Hal Hanson (12)R [GPS]
The Mushers in bold are former winners of the Iditarod, while italics indicates Yukon Quest winners. The numbers in parentheses are their Bib numbers. The small "R" indicates a total rookie, while the small "Q" indicates an Iditarod rookie who has completed a Yukon Quest.
These are the official standings. That means they are official, not that they are correct. Things jump around a lot as people decide to update the standings. This problem is especially bad in the back of the pack, as no one bothers to update those standings when the lead is changing.
This post will be updated during the day, and the map changed on all posts to reflect the current situation.
All posts on the Iditarod can be seen by selecting "Iditarod" from the Category box on the right sidebar or clicking on the Sled Dog graphic.