From McClatchy in DC: New NY Attorney General wants to prosecute police who kill unarmed civilians
Washington — New York Attorney General Eric Schneiderman asked Gov. Mario [sic should be Andrew as Mario is the former governor and father of Andrew] Cuomo on Monday to let his office investigate and prosecute cases in which police officers kill unarmed civilians.

In a letter to Cuomo, Schneiderman says the move would help address a "crisis of confidence" in the judicial system following the grand jury decision not to prosecute New York City police officers in the recent chokehold death of Eric Garner.
Schneiderman needs the approval of Andrew Cuomo to take over local cases, but he makes a very persuasive argument about the conflict of interest involved in the prosecution of local police officers by local prosecutors.
I hope that Cuomo has the intelligence to understand that letting Schneiderman do it is a winner politically for him. Even if cops aren't convicted, Cuomo can say that he did everything he could in the furtherance of justice for the victims.
The BBC notes CIA torture report: US raises security ahead of release
Security has been stepped up at US facilities around the world ahead of the release of a report expected to reveal details of harsh CIA interrogations, the White House says.
…

It is expected to detail the CIA's campaign against al-Qaeda in the aftermath of 9/11.

As well as detailing the controversial methods used by CIA operatives in an effort to extract information from high-value suspects, the report is expected to say harsh interrogations failed to deliver appropriate results.
In other words, the US violated its own laws and principles to torture people and it didn't produce anything useful.
Torture doesn't provide you with the truth, and never has. Torture produces whatever the victim believes the torturer wants to hear.
The seventy-third anniversary of "a date which will live in infamy…"
The official US Navy site on the Pearl Harbor attack.
There will be a memorial service aboard NAS Pensacola that normally features local survivors of the attack. Obviously there are fewer of them every year.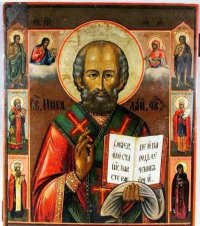 Yes, it is the day that kindly old Saint Nicholas fills the footware of good little girls and boys with treats [or his assistants beat the evil out of bad children, depending on the local customs - they didn't just leave the sticks - in some places they use them.] Don't forget the carrot if he rides a horse in your area.
He is the patron saint of Russian merchants and pawnbrokers (three gold balls are one of the symbols associated with him).
Finding Tadpole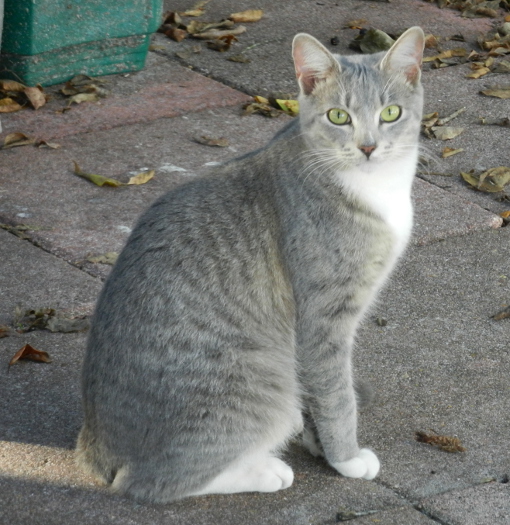 Have you seen him?
[Editor: Hadley wants to play tag, but Tadpole is avoiding him.]
Cops are out on the 'Net complaining about the civilian reaction to the decision of the grand jury on Staten Island, and they are making up all kinds of excuses.
According to the medical examiner after an autopsy was conducted, the death was caused by the choke hold and the compression on the man's chest which are not natural causes or accidental, so he ruled the death was a homicide. If the cops want to argue that the cause was obesity or asthma, they had better show their degrees in pathology, and indicate when they examined the body.
They are claiming that the normal procedures were followed and the police officer was cleared. Sorry, but normal grand juries do not get extended testimony from suspects, and they do not take months to hear evidence and decide.
Resisting arrest without violence is not a capital offense, and suspects should not die as a result. The officer at the center of the case violated stated NYPD policy when he used the choke hold. As soon as you arrest someone, you are responsible for their well-being.
Stupidity must be catching because a prosecutor in the borough of Staten Island, NYC did what the prosecutor in St. Louis County, Missouri did, used a grand jury to avoid charging a white police office involved in the death of a black man – from the BBC Eric Garner: No charges in NY chokehold case.
The medical examiner ruled the death of Eric Garner was "Homicide", which means it wasn't "Natural Causes" or "Death by Mischance", not that it was "Murder", "Manslaughter", or any other violation of the Penal Law of the State of New York. If a death is not the result of old age, illness, or accident, it is called a homicide. Even if the death is the result of illness or accident, criminal charges may be filed.
After looking at the video, the officer used his forearm as a block across Garner throat while attempting to control him. It was a stupid move that isn't effective at controlling a suspect. The standard police 'choke hold' has nothing to do with breathing. It applies pressure to both sides of the neck to close the carotid arteries which renders the suspect unconscious very quickly. Cutting off the air supply can take minutes to be effective, and the suspect will almost immediately go into full scale, brain stem panic mode, which will generate injuries.
Mr. Garner had asthma. Asthmatics are a special class when it comes to breathing. Most of them tend to be claustrophobic, and they will panic at having anything over their face, including oxygen masks. They also panic at anything restricting their breathing. By applying the throat bar, then forcing him flat and kneeling on him, the cops triggered a fatal asthma attack.
Apparently Mr. Garner was confronted by multiple police officers for the heinous crime of 'selling untaxed cigarettes', which appears to mean he was selling individual cigarettes from a pack. I'm having a hard time believing that such a law exists, much less that the NYPD bothers to enforce it.
There is absolutely nothing that really interests me happening today. The officials in St Louis are still proving that they have no concept of public relations or public safety. I wonder how much of an economic loss they are willing to absorb for this stupidity, because there are a lot of people in the rest of the US who are going to avoid the area as if it was a center for the Ebola virus.
I assume everyone decided to go on a holiday schedule early.
There were nine depressions that resulted in eight tropical storms. Six of the tropical storms became hurricanes, and two of those became major hurricanes [Edouard & Gonzalo].
This was a below average season because of a larger Saharan Air Layer of dust in dry air over the eastern Atlantic, and higher than normal wind shear in the Caribbean. The sea surface temperatures in the southern Atlantic were near average.
The only storm to impact the US mainland was Hurricane Arthur, which grazed North Carolina as a Category 2 and went on to final landfall as a tropical storm near the Nova Scotia/New Brunswick border in Canada.
Bermuda was the primary target this year, getting hit by Tropical Storm Fay and then, a week later, by Hurricane Gonzalo [Category 3].
Gonzalo was the most destructive storm of the season. It came through the Antilles as a Category 1, peaked at Category 4 with 145mph winds, dropped to a Category 3 before it hit Bermuda. It continued northeast and transitioned to a Post-Tropical Cyclone with 100mph winds when it hit Great Britain. It then moved into Europe and caused major flooding all the way down to Greece.
This was Florida's ninth year without being hit by a hurricane, which means we are way overdue.
This is Dr Masters's wrap-up with all of the technical bits included.
Right between Hogwatch and Festivus on December 22nd I have to add: Jury Duty.
It should be interesting to see how much attention a jury will pay to testimony at a trial during Christmas week, with all of the things the jurors have to do before Christmas.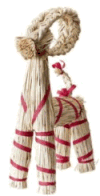 It's the first Sunday of Advent and Why Now? is once again pleased to present the link to the webcam of Gävlebocken, The biggest Christmas Goat in the world [now with a blog].
From Steve Bates of Yellow Doggerel Democratic Views in the comments from 2006:
Why build a giant goat of straw,
Which most of us would scarcely note?
Some, though, defy the very law,
To vandalize the Gävle Goat.

In some years, they used wayward cars;
In others, flaming arrows smote.
This year's survives, although with scars…
A fact that gets some people's goat.

A webcam and some watchful eyes,
A flame-retardant second coat,
Should save it… unless Dubya spies
The thing, and claims it's his pet goat!

- SB the YSS
Via Steve Bates bmaz at Emptywheel looks at the conduct of St. Louis prosecutor Bob McCulloch and his handling of the Micheal Brown shooting.
On CNN Nancy Grace of all people isn't buying the police officer's testimony. As she notes, this is the first time she has not supported the police version of an incident. The picture of the cop showing pink cheeks is not how someone looks after being punched by someone the size of Michael Brown, and how the hell does anyone sitting the driver's seat of a car get punched on the right side of their face? Think about it. Can you turn your face that far around?
The BBC looks at The trouble with the timing of Ferguson decision and wonders Did prosecutors focus unduly on marijuana?
The timing of the announcement couldn't have been worse. It was after dark so officials couldn't see what the protestors were doing. The darkness required lighting and torches are an option. People weren't at work and had time for a few brews before the announcement came.
If Michael Brown was really on a marijuana buzz, he wouldn't have been reaching for the cop's Glock – he would have been after the Krispy Kremes. I'm serious. You have a large group of 'unruly' potheads – Cheetos and donuts will do the trick. If Brown had a .14 of alcohol instead of THC, I could accept the cop's story, but I have had too many years dealing with marijuana users to believe the garbage the St. Louis prosecutors are presenting as fact. Read this ABC story on the 'safety' of alcohol consumption and a large group of 'unruly' drunks.
Just in: the ABC is reporting Police officer who shot Michael Brown resigns.

Yes, it's the time of year when the Sun dies and must be re-born through an elaborate ceremony that involves some form or type of sacrifice, such as finding gifts for people you can't stand and smiling brightly as you receive yet another gift based on an urban legend that you actually like truly stomach-wrenching color combinations.
Of course there was a time when the Solstice sacrifices were more visceral and the evergreen was covered in things that pleased only ravens and such, but we have put all that behind us by opting for the possibility of electrocuting one another and causing chaos on the power grid.
What a brilliant idea: moving a large supply of pre-kindling soaked with highly flammable resins into your house, loading it down with petrochemical-based ornaments, lacing it with heat-producing electrical devices, and surrounding the base with cardboard boxes and tissue paper. You just can't have a traditional celebration without a proto-bonfire in your living room.
I do think that followers of Mithras might want to curtail their typical birthday service in light of Mad-Cow Disease, but global warming will certainly make the services in the oak wood in traditional druidic robes more comfortable.
When you put up your stocking on the mantel and put out the turnips for Gouger, Rooter, Tusker, and Snouter as well as the pork pie and sherry for the Hogfather, you can rest assured the Sun will come up, because it just slipped around back to return the lager it rented.
Enjoy! You have nothing to fear, except that sniveling little creep with the camera/phone at the office party or the eggnog that was put out rather early causing you to suspect that the bits on top aren't nutmeg. [The pictures probably won't appear on the 'Net and the brandy will surely take care of the salmonella.]
A Calendar of Coming Events
More Cold Weather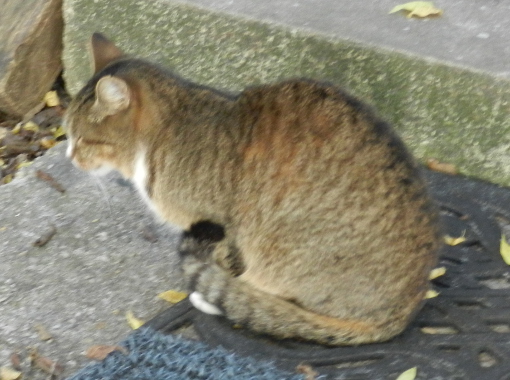 Maybe I should reconsider…
[Editor: Froggy is contemplating going back inside as the temperatures are going down again.]