The Pennsylvania bloggers, like Susie Madrak and Noz have been whooping about their governor, Tom Corbett, being rated the least popular governor in the US, beating out Florida's fraudster-in-chief.
Hah, that's nothing, Charlie Pierce notes the fraudster-in-chief is so unpopular with Republicans that he can't find a running mate for reelection.
Lieutenant Governor in Florida is a $125K no show job unless the Governor decides to make you work. There are a lot of unemployed people in the state, so you would think it would be easy to find someone willing to apply. [/snark]
Charlie Pierce reports that Pope Francis has denounced 'trickle down' economics, saying the facts don't correspond to the claims of supporters.
A lot of supporters of 'trickle down' are fond of saying that 'a rising tide raises all boats'. That is true, but the benefits depend on the individual's ability to have a boat. If you don't have a boat, the rising tide forces you to tread water until you are too tired, and then you drown.
The 401K was the new solution for the 'old-fashioned' defined-benefits plans that corporation once offered. People now know they traded in a dependable Mae West life vest, for something that was supposed to inflate when needed, only to find out the gas cylinders had been emptied by Wall Street. The back-up was home-equity, but that too went underwater thanks to Wall Street.
The people at the top having been seeing triple-digit increases in their wealth, while everyone else is sinking lower in the water.
The only thing that trickles down is sewage.
Susie Madrak has more on the Pope's document.
The BBC had a couple of interesting stories up today -
Microsoft acknowledges Xbox problem with disc drive:
Microsoft has acknowledged that owners of its new Xbox One console are experiencing problems with the disc drive.

Some users say the drive is making very loud noises when they try to insert a disc and in some cases is not reading discs at all.

Microsoft says only a very small number of users are affected.

The Xbox One was launched on Friday and sold more than one million units in the first 24 hours.
I betting on the healthcare.gov site being fixed before this is.
And the latest US export – NSA 'infected' 50,000 networks with malware:
The US National Security Agency (NSA) infected 50,000 networks with malware, Dutch newspaper NRC has reported.

The Tailored Access Operations department used it to steal sensitive information, according to a censored slide leaked by former NSA contractor Edward Snowden.

NRC said 20,000 networks had been hit in 2008, with the program recently expanded to include others in Rome, Berlin, Pristina, Kinshasa, Rangoon.
There is nothing like spreading malware to make the Internet more secure. The last I knew people go to prison for doing this sort of thing.
The first recorded remarks from Bibi Netanyahu about Iran pursuing a nuclear weapon was in 1992 and he claimed they would have one in 1997. He has continued to make the claim, and continued to be wrong.
As expected he called the Geneva agreement concerning Iran's nuclear program an 'historic mistake'. Sorry, but it will take a while for history to say anything about this agreement, but after more than two decades of Netanyahu claiming that Iran was building a nuclear weapon, history can certainly record that he is wrong.
The latest BBC report, Iran welcomes nuclear deal which Israel calls 'mistake', notes that this is a short-term confidence building agreement that requires both sides to do certain specific things. Iran has already met most of its goals in an earlier agreement with the IAEA inspectors, so now it is up to the West to deliver their side of the deal and reduce the sanctions. There is no guarantee that Congress will go along, so the West could once again have 'lied' to Iran.
If that happens, you can realistically expect the sanctions to break down, as other countries decide that the US is the party that can't be trusted, not Iran.
Oil is already trading lower based on this agreement, so Congress's failure to act will increase the cost of gas in the US during an election year. Of course opponents of Congresscritters running for reelection would never deign to point this out [yeah, right]
The BBC is reporting Iran nuclear: Geneva talks 'reach deal'. There is no real information on what was agreed to, but something has been signed that will be immediately condemned by the Israeli government and its lobbyists in and out of the US government.
John McCain will no doubt be on one of the Sunday talk shows to complain that we aren't bombing Iran instead of negotiating with them.
James Rosen at McClatchy confirms something I've suspected for a long time: Military spending defies efforts to track it.
Throughout the Rumsfeld reign of error at the Pentagon he made numerous statements to the effect that various complaints were unjustified because he could only work within his budget. In many of those cases which involved improvements to personal and vehicle armor, I knew that the money had been specifically appropriated and the suppliers were just waiting for the word to ramp up production, but the word wasn't sent. I was constantly blogging about a need to audit the Pentagon's books, because billions of dollars seemed to have been misplaced.
So they attempted to audit and discovered the bookkeeping is so bad you can't really do an audit, and this problem goes back twenty years with no progress being made by the military to fix a worthless system. The bottom line is that the military doesn't really know how much money it has, or how much it spends. They have no real inventory control, even on nuclear and nuclear-related items.
Apparently the latest target date to fix these problems is 2017, after the next Presidential election naturally. There are probably a lot of unemployed people available to inventory all of the stores of equipment, and to actually institute a new, unified bookkeeping system, if the government really wanted to fix this. and it could be fixed a lot sooner than 2017.
Froggie Approaches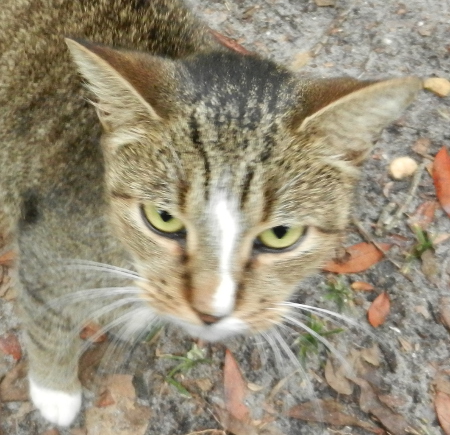 Got a cheezburger?
[Editor: Froggie came over to see what I was doing when I was trying to get a picture of a yellow crab spider, so I took her picture instead.]
Fifty years ago it was afternoon and I was on my way to a chemistry class. I had stopped for a drink of water when the news came over the speakers in the classrooms.
For those who weren't alive at the time: remember what you felt on September 11, 2001 for a taste of November 22, 1963. It was a massive change for the worldview of my generation and it marked the beginning of a period of disruption and decline in the civility of American society. Arthur had died and Camelot fell.
At his inauguration John Kennedy made the point: "If a free society cannot help the many who are poor, it cannot save the few who are rich."
The colors of my world will never be as bright as they were on November 21, 1963. It wasn't what he accomplished as much as what he inspired others to accomplish that was his real legacy.
Harry Reid finally accepted the reality that the Senate Republicans had no intention of acting in good faith on any agreement regarding the filibuster, and changed the rules for nominations for every job except the Supreme Court Justices.
Mitch McConnell wailed about all of the damage that was done by stopping the Republicans from blocking votes on nominees, even nominees who were later approved almost unanimously. The Republicans will continue to stall nominations in committee and use every procedural trick available to keep anything from being done, but one of the roadblocks has been removed.
Maybe it was a bad idea for the Republicans under majority leader Bill Frist to have brought up the 'nuclear option', but in life and politics you reap what you sow. Basically the Republicans got the rule change they suggested when they were in charge, so they really shouldn't complain.

Position: 41.5N 29.0W [ 9PM CST 0300 UTC].
Movement: East-Northeast [070°] near 28 mph [44 kph].
Maximum sustained winds: 50 mph [ 80 kph].
Wind Gusts: 65 mph [100 kph].
Tropical Storm Wind Radius: 240 miles [390 km].
Minimum central pressure: 983 mb ↑.
Currently about 265 miles [ 425 km] North-Northwest of the Azores.
The storm has transitioned to post-tropical, so this is the last advisory from NHC.
Here's the link for NOAA's latest satellite images.
[For the latest information click on the storm symbol, or go to the CATEGORIES drop-down box below the CALENDAR and select "Hurricanes" for all of the posts related to storms on this site.]
I can't believe I have been blogging for 9 years, but that's what it says in the upper left sidebar. More than a thousand posts a year, and an average of more than 4 comments for every post – some of us need to go for a better quality of life.
I started to vent my anger at the voters who decided to re-elect the Shrubbery. Within 9 months of taking office the Twin Towers collapsed, and within 9 months of the start of his second term New Orleans drowned. The US voters will never win prizes for their choices.
If Zero and company don't conspire with the whacko GOP to destroy my retirement I'll probably be around for a while.

Position: 38.1N 42.1W [ 9PM CST 0300 UTC].
Movement: East-Northeast [060°] near 30 mph [48 kph].
Maximum sustained winds: 50 mph [ 85 kph].
Wind Gusts: 65 mph [100 kph].
Tropical Storm Wind Radius: 240 miles [390 km].
Minimum central pressure: 984 mb ↓.
Currently about 820 miles [1320 km] West of the Azores.
The storm has finally become fully tropical.
Here's the link for NOAA's latest satellite images.
[For the latest information click on the storm symbol, or go to the CATEGORIES drop-down box below the CALENDAR and select "Hurricanes" for all of the posts related to storms on this site.]
Rob Ford is the conservative mayor of Toronto, Ontario, Canada who has been in the news lately concerning his problems with chemical dependency. Few people know that his problem with dependency was first noted in South Florida.
Looking at the train wreck that Rob Ford has become, it isn't surprising that chemical dependency is a problem with South Florida politicians.
Trey Radel, Congresscritter for district that includes Fort Meyers got busted buying cocaine, and like Ford, he claimed it was because he was an alcoholic, not a junky.
Get real, Radel was a Tea Party conservative talk-radio host when he ran for Congress. Does anyone really believe that any of those people could do that sober?
Of course, they will all head for rehab and come out 'all better', because that's what conservatives do since it's 'not their fault'.
Oh, the apology to the family is gratuitous theater. If they are really a family they already know about the problem.

Position: 33.6N 52.4W [ 9PM CST 0300 UTC].
Movement: Northeast [050°] near 17 mph [28 kph].
Maximum sustained winds: 50 mph [ 80 kph].
Wind Gusts: 65 mph [100 kph].
Tropical Storm Wind Radius: 240 miles [390 km].
Minimum central pressure: 988 mb ↑.
Currently about 725 miles [1165 km] East of Bermuda.
Here's the link for NOAA's latest satellite images.
[For the latest information click on the storm symbol, or go to the CATEGORIES drop-down box below the CALENDAR and select "Hurricanes" for all of the posts related to storms on this site.]