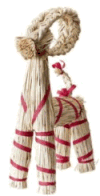 It's the first Sunday of Advent and Why Now? is pleased to present the Fiftieth-first version of the Gävlebocken, The biggest Christmas Goat in the world [now on Twitter @Gavlebocken].
From Steve Bates of Yellow Doggerel Something in the comments from 2006:
Why build a giant goat of straw,
Which most of us would scarcely note?
Some, though, defy the very law,
To vandalize the Gävle Goat.

In some years, they used wayward cars;
In others, flaming arrows smote.
This year's survives, although with scars…
A fact that gets some people's goat.

A webcam and some watchful eyes,
A flame-retardant second coat,
Should save it… unless Dubya spies
The thing, and claims it's his pet goat!

– SB the YSS
The NPR coverage of the Flynn Guilty plea includes a copy of the Plea Agreement at the end.
Rachel Maddow did some research on the two members who signed the deal for the Mueller team.
Brandon Van Grack is in the national security division of the Justice Department and was leading the grand jury investigation of Flynn in the Eastern District of Virginia when he joined Mueller's team. He is an espionage specialist. Zainab Ahmad is an Assistant US Attorney in the Eastern District of New York and a terrorism specialist. Ms Ahmad is 13-0 for terror prosecutions.
This is the varsity. These are professionals with a proven record of success. Trump and family need to find some professional criminal defense attorneys and start listening to them. There is nothing that says a sitting President can't be indicted. A President can only be removed from office by impeachment, but that doesn't mean he/she can't be convicted of a crime.
After being told that all of the problems that I experienced with WordPress after updating to 4.9 were problems with my theme, WordPress issued 4.91 and everything starting working again. They wanted a half dozen different people to each start their own thread on the forum because we must each have different reasons for the exact same problems. It's my fault. I should have waited until after the first bug release. I should know better by now.
Rep. Barton won't seek re-election. All I can say is: If you are intent on doing something stupid, don't make a video and send it to someone else. Barton is fairly obscene dressed, so no one needed to see him undressed.
Dr. Jeff Masters presents his summary of the 2017 Hurricane Season, which is hopefully over.
While it was supposed to start on June 1st, Tropical Storm Arlene popped up on April 19th. It did end early when Tropical Storm Rina went extra-tropical on November 9th. There were 19 tropical cyclones with 17 earning names. Of the 17 named storms 10 became Hurricanes with 6 making spinning up to major hurricane status, Category 3 and above.
It will be a long time before Puerto Rico and the US Virgin Islands recover from Hurricanes Irma and Maria. Barbuda was depopulated and Dominica was leveled. Houston was drowned by over three feet of rain from Harvey.
As predicted, this was a very active season.
From Techdirt: The FCC's Attack On Net Neutrality Is Based Entirely On Debunked Lobbyist Garbage Data
That net neutrality didn't harm sector investment isn't really debatable. Just ask industry executives from Frontier, Comcast, Cablevision, Sprint, AT&T, Sonic and even neutrality public enemy number one, Verizon all of who are on public record telling investors the "net neutrality killed sector investment" claim simply isn't true. That this concept is a canard is also supported by public SEC filings and earnings reports, as well as the billions being spent on spectrum as these companies rush toward the fifth generation (5G) wireless networks of tomorrow.
You can lie to your customers, but lying to your investors or the Securities & Exchange Commission ends up in court. If the ISPs say it doesn't hurt them, and the Attorney General of New York says that the mass of "public comments" opposed to Net Neutrality are bogus, what is the point? Does Ajit Pai think he will get a great job if he does this?
Annoy the Hell out of the world. [With apologies to Dale Carnegie]
Trump was 'wrong' to retweet far-right posts
UK Prime Minister Theresa May has said Donald Trump was "wrong" to retweet posts from a British far-right group.

But she stressed the "special relationship" between Britain and the US was "in both our nations' interests" and should continue.

And she rejected calls to cancel a state visit by the US president.
A lot of people in Britain, including the Queen and Prince Philip, have vivid memories of being bombed by Nazis which makes them seriously annoyed by any new outbreaks of Nazism.
I hope Donald realizes that this eliminates any hope Melania had of attending Prince Harry's wedding.
Russia accuses US of goading Kim Jong-un
Russian Foreign Minister Sergei Lavrov has accused the US of seeking to provoke North Korea into stepping up its nuclear missile programme.

He rejected a call by the American envoy to the UN Security Council to sever ties with the North after its latest ballistic missile test.

Russia argues sanctions do not work and advocates negotiations instead.
…

Speaking on a visit to the Belarussian capital Minsk, Mr Lavrov asked whether America was actively seeking to destroy North Korea.

"One gets the impression that everything has been done on purpose to make Kim Jong-un snap and carry out further inadvisable actions," he said.

The Americans, he said, "should explain to us all what they're after".
When both Bernie Sanders and Sergei Lavrov say you screwed up there isn't a lot of room in the political spectrum to look for love. Russia and China both have borders with North Korea. They are not going to tolerate the launch of a nuclear strike in their backyards. There is no such thing as a 'surgical nuclear strike' and launching an attack on North Korea could trigger a regional conflict. Like Lavrov there are a lot of Americans who would like to know what Trump is after.
A lot of people don't understand the meaning of Melanie Trump's Christmas decorations. As a student of Slavic languages, letters, and culture I instantly recognize the symbols. Mrs. Trump is a Slovene and following her ethnic Christmas customs and traditions, not the predominately German and English traditions of the United States.
The picture of "white sticks in buckets" represent birch trees in winter lining the path to the house or great hall. It was common practice to line paths and roads with trees or shrubs so you could find them in deep snow. Birch trees are deciduous [lose their leaves in fall] and look like "a bunch of white sticks" in winter.
This isn't 'satanic', 'New Age', or 'haute couture', it is a Slavic winter scene.
On the 24th the BBC did a nice round up of what was known about the ARA San Juan and its crew of 44: President pledges inquiry to 'know the truth'. This was after the US and a separate UN agency reported an underwater explosion in the area near the San Juan's last reported position.
Today it was reported: Water got in missing sub's snorkel, caused short circuit, Argentine navy says.
So there was a problem with the snorkel, but after shifting to a different battery pack, the captain decided to submerge and continue. If the there was a problem with the seals or valves on the snorkel, I don't understand why they wouldn't have continued on the surface.
I updated to WordPress 4.9 and it broke several of the things I like about the program. I have tried the suggestions made on the forums and the bottom line is that I have to back out of the upgrade because that is the "fix" that returns me to what I had before.
I have software that clients have been using for decades without changes because it does what they want, the way they want it done. I run a text-based blog with minor splashes of HTML. How hard can it be not to screw that up? That's all I wanted or needed, but WordPress has managed to deep-six my back-up site on WordPress.com, and now they are undoing my main site. It's annoying…

Yes, it's the time of year when the Sun dies and must be re-born through an elaborate ceremony that involves some form or type of sacrifice, such as finding gifts for people you can't stand and smiling brightly as you receive yet another gift based on an urban legend that you actually like truly stomach-wrenching color combinations.
Of course there was a time when the Solstice sacrifices were more visceral and the evergreen was covered in things that pleased only ravens and such, but we have put all that behind us by opting for the possibility of electrocuting one another and causing chaos on the power grid.
What a brilliant idea: moving a large supply of pre-kindling soaked with highly flammable resins into your house, loading it down with petrochemical-based ornaments, lacing it with heat-producing electrical devices, and surrounding the base with cardboard boxes and tissue paper. You just can't have a traditional celebration without a proto-bonfire in your living room.
I do think that followers of Mithras might want to curtail their typical birthday service in light of Mad-Cow Disease, but global warming will certainly make the services in the oak wood in traditional druidic robes more comfortable.
When you put up your stocking on the mantel and put out the turnips for Gouger, Rooter, Tusker, and Snouter as well as the pork pie and sherry for the Hogfather, you can rest assured the Sun will come up, because it just slipped around back to return the lager it rented.
Enjoy! You have nothing to fear, except that sniveling little creep with the camera/phone at the office party or the eggnog that was put out rather early causing you to suspect that the bits on top aren't nutmeg. [The pictures probably won't appear on the 'Net and the brandy will surely take care of the salmonella.]
A Calendar of Coming Events

If your celebration involved the death of a turkey, thank you. If you have no intention of participating in the Charcoal Grey Thursday Sales, you are a true patriot.
The entire WKRP in Cincinnati – "Turkeys Away" episode and/or the original recording of Alice's Restaurant.
Trump just told tens of thousands of Haitian refugees to return to the desolation that is the island after the earthquake, and has been extremely dismissive of the plight of Puerto Ricans after the hurricanes. In his "brilliance" he decided to ding the Treasury for another $2 million for a trip down to Mar-a-Lago where he is surrounded by both groups for Thanksgiving. I wonder if he has employees of either group among the staff at his resort…