I resolve not to bite into any jelly donuts that I microwave for a minimum of five minutes. [Damn, that hurt!!!]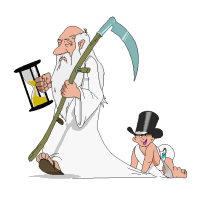 С Новым годом
Prosit Neujahr
Feliz Año Nuevo
Bonne Année
Felice Anno Nuovo
Gelukkig Nieuwjaar
Gott Nytt År
Sehe Bokmanee Bateuseyo
Blwyddyn Newydd Dda
Onnellista Uutta Vuotta
May you be safe from the idiots who think gravity is just a theory and fire off guns, failing to understand that what goes up will come down.
Given the prevalence of accurate timekeeping devices, it is amazing that the explosions that are supposed to signal the new year extend for hours beginning four hours before and extending well after the actual event. Anyone who thinks alcohol and gunpowder is a recipe for a long life should be avoided by insurance agents.
The new year brings new opportunities, so here's hoping that the good wins out and the world is made a little better. It hasn't happened yet, but there's always a chance.
Oh, and a happy 16th blogiversary™ to Steve Bates at the Yellow Doggerel Something.
This was not just a Leap Year, it is also one of the rare years in which a Leap Second is added to bring clocks in line with the slowing of the Earth's rotation.
The BBC has an extensive list of those who died in 2016.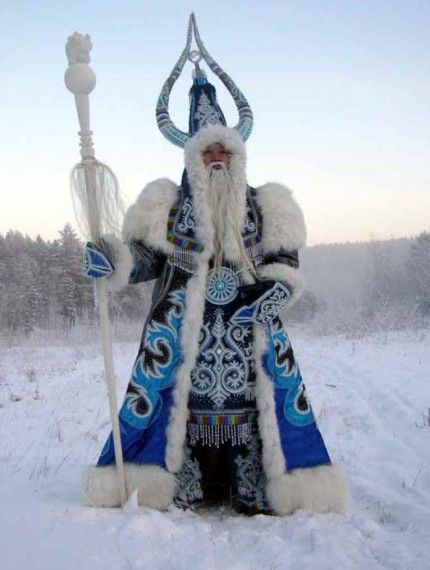 That's Grandfather Frost [Дед Мороз] and he is the Russian 'gift giver'. He is assisted by the Snow Maiden [Снегурочка], but ever the jolly, fun-loving people, the 'gifts' are a bit different. Threats of coal or sticks would be weird to a people who are trying to stay warm, they would consider them welcome.
Generally there are sweets, maybe salo [salted fatback], and other high energy food.
For the 'naughty' list there is the staff. You don't get beaten, merely touched, which turns you into a popsicle. [I told you they were fun-loving.]
Tonight's the night – you've been nice, right?
Note: There is no picture of the Snow Maiden because this is a 'family blog' and when the Soviet Union became Russia et al. the budget for her costume was greatly reduced as yards of fur and silk disappeared.
US expels Russian diplomats over cyber attack allegations:
The US has expelled 35 Russian diplomats as punishment for alleged interference into last month's presidential elections, giving them 72 hours to leave the country.

It will also close two compounds used for Russian intelligence-gathering.

···

In a statement, President Obama called the moves a "necessary and appropriate response to efforts to harm US interests" and said "all Americans should be alarmed by Russia's actions".

Mr Obama also announced the US would declassify technical information related to Russian cyber activity to "help network defenders in the United States and abroad identify, detect, and disrupt Russia's global campaign of malicious cyber activities".

Speaker of the House Paul Ryan, the top Republican in Congress, said in a statement that despite the measures being overdue "it is an appropriate way to end eight years of failed policy with Russia".
I know, I know – 'just wanted to keep an eye on them … didn't want them to know that we knew what they were doing … sources & methods have to be protected …'
Of course, Drumpf will apologize to his buddy Putin and cancel the sanctions.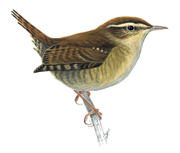 Time again for my annual rant about a Christmas carol …
While December 26th is celebrated by a lot of people in the US in shopping malls returning gifts or taking advantage of inventory clearance sales, there are other celebrations.
It is the first day of the Kwanzaa celebration, which is explained at the link.
It is Boxing Day, a celebration of noblisse oblige when the upper classes bestow gifts on the lower and the contents of the poor boxes are distributed. Under the feudal system this was part of the "contract," the mutual system of obligations that tied the system together.
As the feast of St. Stephen it honors the first Christian martyr, but Ireland's Saint Stephen's Day celebration is a bit different and is the reason for the wren on this post.
However, this post is really my complaint about "Good King Whatshisface."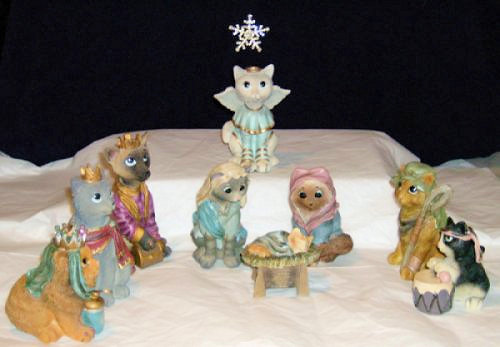 Merry Catmas!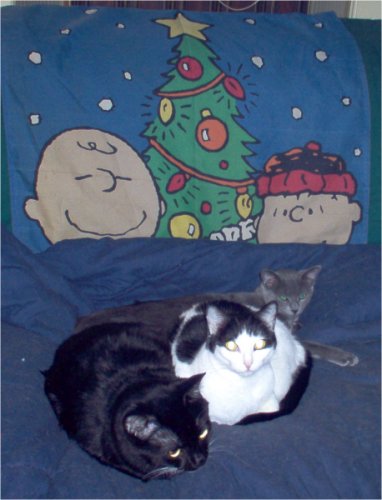 HO! … Ho? … Whatever.
[Editor: Sox, Dot, and Ringo being as merry as they were ever likely to be.]

The broadcast of A Festival of Nine Lessons and Carols is available on the web at from BBC Radio 3.
The British have some wonderful Christmas customs that have survived the incursion of Christianity, especially the Puritan party poopers. Stealing customs from the Celts, Germans, and Scandinavians, they have created a wonderful holiday that I fondly remember from time spent there.
The bird is a European robin that is featured on British Christmas cards, as it is a Winter bird in England, unlike the fair-weather laggard of the same name in America. It is bracketed by holly and mistletoe. All go back to the druids and solstice celebrations.
If you read the Harry Potter books you will get a taste, but not the full effect of a British Christmas. A full-on Christmas dinner is wretched excess to the nth degree – Thanksgiving on steroids.
The BBC has the background on Father Christmas.

Ho Ho Ho!
Happy NODWISH
С Рождеством Христовым
Sung Tan Chuk Ha
Vrolijk Kerstfeest
Nadolig Llawen
Fröhliche Weihnachten
Joyeux Noël
Buon Natale
Feliz Navidad
God Jul
Rauhallista Joulua
Koli Sana Wa Anta Tayib
Happy Christmas
At 6AM CST Christmas arrived in Asia, and the excitement is building among the "rug rats" that will burst forth at any moment to waken their poor parents who have probably had about two hours of sleep after dealing with "some assembly required" and/or "batteries not included".
To avoid any bad feelings: it is an official requirement contained in the "Manual for Childless Adults" that some form or type of device that makes loud and obnoxious noises must be included in all Christmas parcels for children [of all ages].

So it's time to get everything in line so that there will be smooth sailing tomorrow.
Obviously you need the text of A Visit from St. Nicholas [AKA Twas the night before Christmas] or one of the variations.
But now that you've finished putting up enough lights to match the total electrical consumption of a third world nation, you can sit back and watch the North American Air Defense Command's annual attempt to take out that red-suited commie's attack on the capitalist system by giving stuff away. [Don't worry kids, they are using the anti-missile defense system, so there's no danger to anyone but taxpayers.]
Google has a tracker, if you don't believe the government is up to the job.


Happy Hanukkah to my Jewish friends. I miss the latkes and jelly doughnuts my roommates received for the holiday at college. [Their grandmothers were afraid they wouldn't celebrate or couldn't get "real" food at that terrible Baptist university.] It was a great break.
One of the nice things about Hanukkah is that there are established "gifts", so you don't have to rack your brains about what to get: a card and gelt covers just about everyone.
General background at Wikipedia's entry for Hanukkah and even more at Chabad's Chanukah page.
[Note: on the Jewish calendar the day changes at sundown, not midnight.]
Jason Miller tried to provide Drumpf with some plausible deniability, but the Twit wouldn't have it and told the media:: '"Let it be an arms race" was U.S. president-elect Donald Trump's response when asked to clarify his Twitter post Thursday calling for an expansion of U.S. nuclear weapon capabilities, according to MSNBC.'
We already have 7100 warheads with the capability to destroy the entire planet, so what is the point of building more?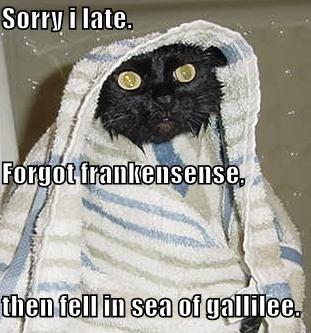 This is a prime example of why you should make a list and check it twice when traveling during holidays. Following stars is all well and good, but can you tell the difference between a star and a meteorite headed directly for you?
If you are migrating home, or off on a vacation, be safe.