Position: 29.4N 77.7W [10:00PM CDT 0300 UTC].
Movement: North-Northeast [030°] near 13 mph [20 kph].
Maximum sustained winds: 40 mph [ 65 kph].
Wind Gusts: 50 mph [ 80 kph].
Tropical Storm Wind Radius: 80 miles [130 km].
Minimum central pressure: 1006 mb.
Currently about 190 miles [ 305 km] East-Northeast of Cape Canaveral, Florida.
A Tropical Storm Watch is in effect for Surf City to Duck North Carolina and the Pamlico and Albemarle Sounds.
Here's the link for NOAA's latest satellite images.
[For the latest information click on the storm symbol, or go to the CATEGORIES drop-down box below the CALENDAR and select "Hurricanes" for all of the posts related to storms on this site.]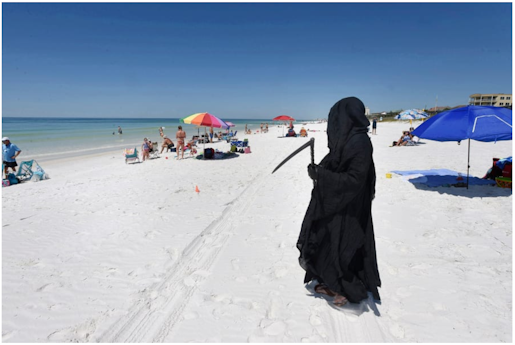 Florida attorney Daniel Uhlfelder, dressed as the Grim Reaper, walks on a newly opened beach near Destin, Florida, on Friday, May 1. He believes Florida beaches are opening too soon, and this is his macabre plea for beachgoers to stay home. (Devon Ravine/USA Today/Reuters)
Trump disagrees with Dr. Fauci on reopening schools. Dr. Fauci attempted to correct Senator Rand Paul's opinion that it is safe to open schools because children aren't affected by the virus. Trump wants to reopen the economy, to aid his reelection, so he disagrees with Dr. Fauci.
Doctors Warn Of Severe Inflammatory Syndrome In Children With COVID
The syndrome, now frequently referred to as 'multisystem inflammatory syndrome in children,' resembles another childhood condition known as Kawasaki disease which typically affects children under the age of five. The disease causes inflammation in the walls of medium-sized arteries and can damage the heart.

While the new syndrome also involves inflammation, infectious disease experts say it is different from Kawasaki disease. Symptoms include persistent fever, rash, red eyes, inflammation and poor function in one or more organs.
So, relatively few children have died from the virus, but if it's your child or grandchild, it's one too many. Even if they don't die, children carry the virus and can infect adults. What about parents, teachers, aides, bus drivers, janitors, school nurses, the cafeteria staff, etc? Children are not consistent about washing their hands or covering their mouths when they sneeze or cough. Children are definitely not big on social distancing. You need adults to teach and care for the children in this country. Opening schools early will kill people.
In Partnership with Florida Department of Health – Okaloosa, drive-thru testing begins 05.14.2020 – LInk to More

Crestview Community Center – May 14 8-11am
Destin United Methodist Church – May 19 8-11am
Northwest Florida State College Niceville – May 21 8-11am
Baker Emergency Medical Services Station – May 26 8-11am
Northwest Florida State College Ft. Walton Beach – May 28 8-11am
There are over 200,000 people in the county and they will be testing for 15 hours.
Crestview and Fort Walton Beach have over 20K, Destin and Niceville over 15K, while Baker gets the same 3 hours with 1K. Most of the testing supplies were sent South Florida.
There are only 172 known/reported cases in the county with only 5 known deaths, but without testing who knows for sure?
First some information about the White House. The Navy treats the White House as a flag ship and the President like an Admiral. That's why there are Marine guards, a Marine band, and a special Marine helicopter serving as an "Admiral's barge". There is also a Navy galley (kitchen to the rest of us) with Navy cooks and stewards. One of the stewards is designated as the President's steward and is responsible for serving the President's meals and drinks. Should the President get sick to his stomach, the Secret Service know who to talk to about the food and the possibility of contamination.
In the last week the White House has shown it isn't even capable of protecting itself from COVID-19. Trump doesn't like masks, so no one at the White House wears one. Despite being a self-confessed "germophobe", Trump has not been very effective at "social distancing".
It started with Trump's steward testing positive for the virus. Then Pence's press secretary, Katie Miller, tested positive. Mrs. Miller is the wife of Trump advisor Stephen Miller.
Now Dr. Stephen Hahn director of the Food & Drug Administration, Dr. Robert Redfield, director of the Center for Disease Control, and Dr. Anthony Fauci, director of the National Institute of Allergy and Infectious Diseases, major players on the White House's COVID-19 task force, are all in self-quarantine as a precaution.
Now others, like Kevin Hassett, a senior economic adviser at the White House is concerned about going to work.
Walls, fences, armed guards, surveillance systems, alarm systems, access control points, and COVID-19 still found a way in.
Trump picked a terrible week to try re-open the economy 😈 [with apologies to National Lampoon's Airplane]
Seventy-five years ago today the War in Europe ended. Because of COVID-19 all of the celebrations have been cancelled.
We now have a pResident who hasn't mentioned it and is well on his way to surpassing the death toll of Americans in that war by ignoring the current public health emergency.
First it was the Chinese media are making Trump/the US a LEGO toy and a whiny snowflake.
In the US the The Lincoln Project's new ad. Mourning in America is really getting to Trump as they ran on Fox so he would be sure to see it.
Now Biden is running an ad calling Trump the Reality TV President.
This is the bubble of Ohio state representative Nino Vitale:
"This is not the entire world. This is the greatest nation on earth founded on Judeo-Christian Principles. One of those principles is that we are all created in the image and likeness of God. That image is seen the most by our face. I will not wear a mask."
Yo, Nino, maybe you should pick up a Bible and check out the book of Genesis, chapter 3.
That's the tale that shows when man screwed up and deviated from G*d's plan and started creating and wearing clothes. I'll assume that you don't actually believe that G*D wears a business suit, so even you don't believe in your justification for being a jerk and endangering other people.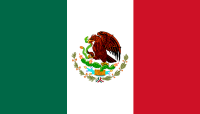 Wikipedia usually has to "lock" its Cinco de Mayo page. I suspect it may be related to the sudden appearance of sites opposing the celebration of this semi-holiday and others who have a hissy fit about any Mexican holiday being celebrated in the US.
In Mexico Cinco de Mayo or Batalla de Puebla, is only a really big celebration in the state of Puebla, where the battle took place.
The Mexican army won the Batalla de Puebla on May the 5th, 1862, but the French went on to Mexico City in 1863 after receiving reinforcements and installed Emperor Maximilian.
It has the status of St. Patrick's Day in the US, an excuse to eat different food, and drink different booze, and be obnoxious show an interest in other cultures.
Margaritas, tacos, and the destruction of piñatas, that's what it is really about.
The Register, a snarky British tech site, reports that Amazon to blow this quarter's profits and more on coronavirus costs:
"Providing for customers and protecting employees as this crisis continues for more months is going to take skill, humility, invention, and money," said CEO Jeff Bezos in a statement [PDF] accompanying the web giant's latest financial figures.

"If you're a shareowner in Amazon, you may want to take a seat, because we're not thinking small."

Bezos said the US mega-corp expects to spend all of its anticipated $4bn Q2 operating profit and then some on COVID-19-related expenses. This includes not only the usual operational outlay to get products to customers, but also to protect the health of employees, something that's been an issue among Amazon workers.

Amazon, according to Bezos, will be spending its cash on protective gear, facility scrubbing, business process changes to allow for greater social distancing, higher wages for hourly workers, and internally developed COVID-19 testing capabilities for employees.
…
Amazon's stock retreated about five per cent in after-hours trading as investors showed their lack of enthusiasm for the company's plan to try to keep its workers alive. ®
Unlike the shareholders who are only concerned with immediate returns, Bezos wants the company to survive the COVID-19 pandemic. Given that no one in government with the ability to distribute tests is interested or capable of providing them at the level required to keep distribution systems going, Amazon is going to do it itself. When you actually found and build a business, rather that just buy stock or inherit it, you want it to succeed.
The 'analists" of the Wall Street casino are only interested in cutting costs and maximizing profits for the next quarter, not the overall health of a business.
The May Day association with labor is all American, and just as controversial as everything of any consequence in history. The day is tied to a strike for the eight-hour day and the so-called "Haymarket Riot" of 1886. When it comes to "riots" and the Chicago police are involved, you are not going to find a single truth.
The dynamic duo that mucked up the Pledge of Allegiance, Dwight Eisenhower and his Republican Congress, made May 1st both Law Day and Loyalty Day so those Commie working people wouldn't get any ideas about having rights.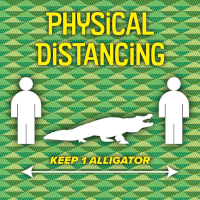 The only problem with this sign for social distancing is that this is prom time for gators and the bull gators should be kept a good further away than 6 feet, but a nice try on behalf of Leon County.
Republicans wonder why they are losing the senior vote:
Gov. Ron DeSantis (R-FL) referred to his state as a "waiting room" for seniors who will soon die.

The Florida governor made the remarks at a coronavirus briefing on Sunday after noting that some nursing home patients had been infected by asymptomatic COVID-19 carriers.

"Florida is ground zero for the nursing home, we're God's waiting room," he explained. "We have a huge number of facilities, a huge number of residents."
Florida Governor Ron DeSantis discussed reopening Florida with Trump because he didn't want to be thrown under the same bus as Brian Kemp of Georgia for reopening without getting the permission of Don Donald.
DeSantis has started to make moves but he isn't including South Florida in those changes as that's where the majority of cases are found.
The Florida Department of Health doesn't count non-residents in its reporting. This means it is undercounting the cases in Florida health facilities and the number of deaths that occur in the state.
It's Hexennacht, but there is no Blocksberg available for dancing down here and it is so soggy that bonfires are out of the question.
Of course the Church grabbed this holiday too and called it Walpurgisnacht in honor of one of their Anglo-Saxon saints, rather than good German witches [Hexen]. The Celts celebrate Beltaine at this time of the year. It is considered the beginning of summer in much of Europe.
It took four different Presidents a couple of decades to get 58,318 Americans killed in the Vietnam War.
Under the Trump administration in just less than four months this year the COVID-19 virus has managed to cause: 1,011,877 Cases and 58,351 Deaths.
Last updated: April 28, 2020 at 7:45 p.m. ET
Source: Johns Hopkins University Center for Systems Science and Engineering.
To date not a single state has seen 14 days of a decreasing number of new cases, but several have decided to reopen in some degree.
At this point it is reasonable to assume we are going to see over 100,000 deaths and that we are going to have to shut down again in the fall as the second wave hits. If your state permits it, apply for a mail-in ballot now. My local supervisor of elections has sent out cards to get people to use mail-in ballots.