According to TV New Zealand Aussies blamed for NZ recession
Slowing consumer spending in Australia has been blamed for helping to tip the New Zealand economy into recession for the first time in a decade.

The New Zealand economy shrank by 0.2% in the June quarter, marking the second successive quarter of contraction and signalling the technical definition of a recession.

This kiwi slowdown followed a 0.3% decline in gross domestic product (GDP) in the March quarter.
If consumer spending is slowing in Australia, they are nervous, and we have even more of the world involved in a bad case of the jitters. With all of the recalls and other problems in China, they will be drawing back, so the pieces are dropping into place for another Depression.
September 26, 2008 3 Comments

Position: 29.4 N 68.8 W [10 PM CDT 0300 UTC].
Movement: North [355°] near 15 mph.
Maximum sustained winds: 70 mph [110 kph].
Wind Gusts: 85 mph.
Tropical Storm Wind Radius: 205 miles [335 km].
Minimum central pressure: 994 mb ↓.
It is 310 miles [500 km] Southwest of Bermuda.
Here's the link for NOAA's latest satellite images.
[For the latest information click on the storm symbol, or go to the CATEGORIES drop-down box below the CALENDAR and select "Hurricanes" for all of the posts related to storms on this site.]
September 26, 2008 Comments Off on Tropical Storm Kyle – 2
A Study in Grey and Green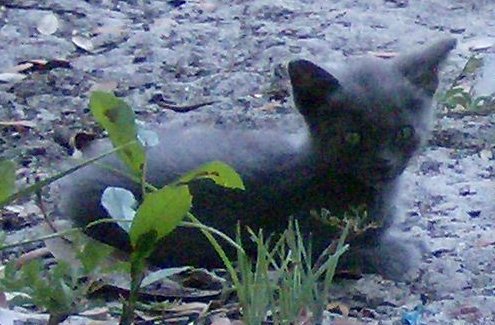 You lookin' at me!
[Editor: This is the grey kitten from last week. Just a little more light and a little more trust, and this would have been much better.
September 26, 2008 6 Comments