Posts from —
September 2008
A number of people have written about this and gotten parts of the story wrong, including identifying the dillweed at the center of it as a Congresscritter. I'll let Mark Waller of The Times-Picayune explain: LaBruzzo welfare views out of sync
State Rep. John LaBruzzo, R-Metairie, says the government should consider cash incentives for poor people to undergo reproductive sterilization, because society is careering toward a day when those on public assistance outnumber taxpayers and the economy collapses. A look at Louisiana welfare numbers suggests his fear is unfounded.

Figures from the state Department of Social Services show recipients of the main form of welfare, the Family Independence Temporary Assistance Program, have plunged from a monthly average of 280,177 people in fiscal 1990-91 to 13,504 people in 2006-07. The monthly grant to a qualifying parent with two children is now $240.

Total annual spending during the 16-year period dropped from $187.2 million to $16.5 million, less than legislators earmarked for pet projects.
September 27, 2008 2 Comments
From MSNBC/Reuters: FDA warns of instant coffee in U.S. from China
WASHINGTON – U.S. regulators warned the public on Friday not to consume seven Mr. Brown instant coffee and milk tea products that were made in China because of concerns they may be contaminated with melamine.

The Food and Drug Administration said the products were recalled by King Car Food Industrial Co Ltd "due to possible contamination with melamine."
I'm fairly certain that the counter top is supposed to be under the cup, not in it.
September 27, 2008 8 Comments
Allan Sloan, senior editor at large, Fortune looks at the "voodoo economics" behind the bailout: Beltway medicine men
NEW YORK (Fortune) — The proposed bailout of the world's financial system isn't really about money, folks. It's about psychology. In fact, you can think of it as the most expensive piece of psychotherapy in the history of the world.

The idea is that having Uncle Sam buy tons of trashy, hard-to-value financial assets will change the psychology of lending institutions throughout the world. This financial Prozac, as it were, would cure the lenders of their fear and depression, encourage them to start lending again, and induce investors to pump new capital into these capital-short institutions.

But psychology – even when practiced by masters like Treasury Secretary Hank Paulson and Federal Reserve Board chairman Ben Bernanke – isn't an exact science.
September 27, 2008 4 Comments
Currently there are official recessions in : Denmark, Estonia, Ireland, and New Zealand.  The US, Latvia, Italy, Spain, and Portugal are not looking well.  Germany, the United Kingdom, France, and Taiwan are "sneezing".
September 27, 2008 3 Comments
The BBC reports that Treasury to nationalise B&B bank
Troubled bank Bradford & Bingley is to be nationalised, the BBC has learned.

Officials from the Treasury and the Financial Services Authority (FSA) have been in talks with executives from the bank in a bid to secure its future.
…

B&B's £50bn of loans, including £41bn of home mortgages, will not be sold and will be nationalised on a long-term basis. The mortgages may be given to the nationalised Northern Rock to manage.

The bank experienced significant withdrawals of cash from its branches and online bank on Saturday amid customer concerns about its situation.

The Treasury's decision to sell B&B's savings business means that depositors and savers' money should be safe.

However, B&B's shareholders and holders of its subordinated debt may lose out.
The £50bn is more that $92 billion. More from Robert Peston, BBC Business editor.
September 27, 2008 Comments Off on Incoming!
Paul Newman died in his Connecticut home yesterday according to CNN. Actor, director, producer, racing driver, philanthropist, and liberal, he was proud to have been on Nixon's Enemies List, because he was an enemy of what Nixon stood for politically.
There is more information on his Wikipedia and IMDb pages.
If you are inclined to get one of his films, try a 1981 release directed by Sydney Pollack, Absence of Malice. You might find the themes and story line amazingly contemporary. For some reason it doesn't show up on television very often.
September 27, 2008 9 Comments

Position: 36.2 N 69.5 W [10 PM CDT 0300 UTC].
Movement: North [005°] near 23 mph.
Maximum sustained winds: 75 mph [120 kph].
Wind Gusts: 90 mph.
Tropical Storm Wind Radius: 205 miles [335 km].
Hurricane Wind Radius: 70 miles [110 km].
Minimum central pressure: 995 mb.
It is 355 miles [570 km] South of Nantucket, Massachusetts.
September 27, 2008 4 Comments
From Fortune on CNN-Money a report on Gas shortages: get ready for more
NEW YORK (Fortune) — While Congress and Bush administration officials have been working to complete a bailout plan and stem the financial contagion on Wall Street, a different kind of economic crisis emerged across the South this week: A severe, hurricane-related gasoline shortage has curtailed trucking from Atlanta to Asheville, N.C., and created a wave of panic buying among motorists.

The return of gas lines has largely flown under the radar of politicians who are usually keenly attuned, because their constituents are, to what's going on at the pump. But more of the Capitol gang should be paying attention to this.
This was totally predictable, only the response is unreasonable. People are panic buying and the system won't respond when that happens. Gasoline deliveries are scheduled, they aren't a response to any particular trigger. If you get a Tuesday delivery, the truck is there on Tuesday and fills your tank. When people rush in to keep topping off their tanks, and bring along gas cans to buy even more, stations run out before their delivery date.
September 27, 2008 Comments Off on More Panic
According to TV New Zealand Aussies blamed for NZ recession
Slowing consumer spending in Australia has been blamed for helping to tip the New Zealand economy into recession for the first time in a decade.

The New Zealand economy shrank by 0.2% in the June quarter, marking the second successive quarter of contraction and signalling the technical definition of a recession.

This kiwi slowdown followed a 0.3% decline in gross domestic product (GDP) in the March quarter.
If consumer spending is slowing in Australia, they are nervous, and we have even more of the world involved in a bad case of the jitters. With all of the recalls and other problems in China, they will be drawing back, so the pieces are dropping into place for another Depression.
September 26, 2008 3 Comments

Position: 29.4 N 68.8 W [10 PM CDT 0300 UTC].
Movement: North [355°] near 15 mph.
Maximum sustained winds: 70 mph [110 kph].
Wind Gusts: 85 mph.
Tropical Storm Wind Radius: 205 miles [335 km].
Minimum central pressure: 994 mb ↓.
It is 310 miles [500 km] Southwest of Bermuda.
Here's the link for NOAA's latest satellite images.
[For the latest information click on the storm symbol, or go to the CATEGORIES drop-down box below the CALENDAR and select "Hurricanes" for all of the posts related to storms on this site.]
September 26, 2008 Comments Off on Tropical Storm Kyle – 2
A Study in Grey and Green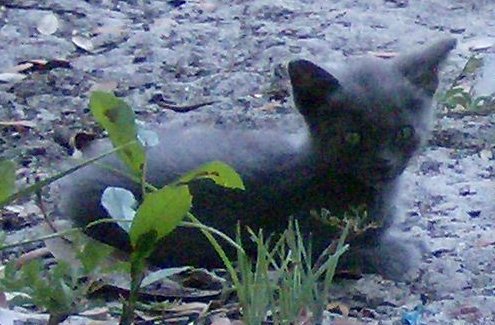 You lookin' at me!
[Editor: This is the grey kitten from last week. Just a little more light and a little more trust, and this would have been much better.
September 26, 2008 6 Comments
Update: From Jack the Grumpy Forester in comments – WaMu bites the dust. You may as well have a laugh.
Actual CNN headline: "Glenn Beck: Crisis an absolute disaster".
Do you think he came up with that on his own, or did Roget help? Is this guy someone's brother-in-law?
From MSNBC: U.S. gets a triple dose of bad economic news
WASHINGTON – Weekly jobless claims surged to the highest level in seven years, durable goods orders took a bigger-than-expected tumble and new home sales plunged to the slowest pace in 17 years, according to government data released Thursday.
And they still refuse to say we're in a recession.
Apparently part of "price discovery" is to determine the "hold-to-maturity" value of the toxic paper the Septic Bank™ is supposed to buy. Given that no one wants to buy it, much less hold it to maturity, isn't that impossible?
September 25, 2008 10 Comments
Robert Peston is the BBC Business editor, and he has a blog. While he normally covers the British economy with posts like Interbank hysteria, which discusses the current behavior of British banks, he also comments on the US.
He has the winning entry for what to call the entity being created in the bailout bill: A stinking Septic Bank
So it looks as though the Whitehouse will have its wish: Congress will probably allow it to create its Septic Bank, into which $700bn of poisonous excrement will be sucked out of Wall Street.
…

So one unanswerable question is whether poisoned banks will refuse to detox because the price of doing so – in respect of pay cuts and wealth reduction for their shareholders – would be too great?

Such behaviour on their part may be mad and irrational. But it's now clear that bankers haven't distinguished themselves by their rationality over recent years.
He says that he got "Septic Bank" from a British banker, but this is the sort of industrial strength snark our financial writers need.
September 25, 2008 4 Comments
From CNN: Storm causes power outages, coastal flooding
WRIGHTSVILLE BEACH, North Carolina (AP) — Strong winds kicked up rough surf Thursday as an intense low-pressure system chugged toward the Southeast coast with wind gusts of up to 40 mph, knocking out power to thousands of homes in Virginia.
…

The storm was about 100 miles southeast of Wilmington at about 4 p.m. ET. National Weather Service forecaster Steve Pfaff said the storm should make landfall late Thursday night near Myrtle Beach, South Carolina. Winds should diminish after raking the eastern and central parts of North Carolina later Thursday. He said the center of the storm should be in central North Carolina by Friday morning.

"It does not have any tropical characteristics, but it is still an intense nor'easter," Pfaff said.
It doesn't have to be a tropical storm to cause tropical storm damages.  This is about as intense as Hanna without a name.
September 25, 2008 Comments Off on Nor'easter On The Carolina Coast