The New Orleans Times-Picayune continues to cover the hearing in Kenner, Louisiana on the sinking of the Deepwater Horizon and interesting things were revealed today:
Testimony of Chris Pleasant, Transocean, subsea supervisor:
…
But about 30 seconds later, with total chaos on the rig, Pleasant decided on his own to hit the emergency button, which would trigger the blowout preventer's shear rams to close the well and unhitch the rig. It didn't work.

"It went through the sequence at the panel, but it (the signal to disconnect) never left the panel. I had no hydraulics," Pleasant recalled.
…
Testimony of Mark Hafle, BP drilling engineer:
…
Hafle said he made several changes to casing designs in the last few days before the well blew, including the addition of the two casing liners that weren't part of the original well design because of problems where the earthen sides of the well were "ballooning." He also worked with Halliburton engineers to design a plan for sealing the well casings with cement.

John McCarroll from Minerals Management Service, a member of a six-person investigative panel holding hearings in Kenner, couldn't hold back his opinion that cement failures allowed the well to flow as he questioned Hafle.

"Don't you think for that size casing, you set up your Halliburton cementer for failure, especially when you had a loss return zone (where drilling mud was seeping into the earth) below the hole?" McCarroll pointedly asked.
May 28, 2010 Comments Off on The Coast Guard-MMS Hearing Continues
A couple of fun items in the Local Puppy Trainer:
Man charged with feeding hot dogs to alligators
PORT ST. LUCIE — Florida wildlife officers have charged a Port St. Lucie man after allegedly watching him feed hot dogs to alligators in his back yard.
The problem is that the 'gator got a death sentence for what the fool did. They should have "jailed" the 'gator, i.e. sent it to a zoo, and fed it the fool.
Weather Channel's Cantore: Oil's not coming here
PANAMA CITY BEACH — The Weather Channel's Jim Cantore was in town Wednesday with some good news for potential beach-goers.

The oil ain't coming.
I have been hoping that the oil wouldn't be coming ashore here, but if Cantore says it won't be, it's only a matter of time until the black flood arrives. Cantore is on the Weather Channel's hurricane team and is known to storm watchers. He still hasn't figured out that sending him out to stand on beaches in the middle of hurricanes coming ashore is not an indication that his bosses like him.
May 28, 2010 2 Comments
Stalking The Feral Kitten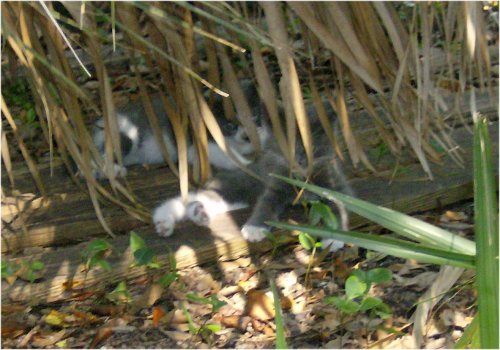 Can it see us?
[Editor: It is an understatement to say the latest additions are not socialized.]
May 28, 2010 6 Comments