And The Hits Keep Coming …
From the blind side for the Mittster. It is appropriate that the latest problem was the result of his speaking in Boca Raton. It is a bit childish on my part, but I find humor in the fact that Boca Raton means "Rat's Mouth" in Spanish. [If you looked at an old map of the inlet on the Atlantic Ocean before real estate developers changed it, you would see the origin of the name.]
CBS NEWS actually fact-checked the 47% comment:
In order to assess whether or not, as Romney claims, these non-income tax payers "will vote for the president no matter what," it's helpful to look at a breakdown of who they are. According to 2011 data from the Tax Policy Center, more than half of the filing units not paying income taxes are those with incomes less than $16,812 per year. Nearly a third – 29.2 percent – of those paying no income taxes are tax filers earning between $16,812 and $33,542, and 12.8 percent are those with incomes between $33,542 and $59,486. In other words, the poor are least likely to pay federal income taxes, but many middle-class families are also exempt. Smaller but significant numbers of the higher-income earners are also exempt: The same data shows that in 2011, 78,000 tax filers with incomes between $211,000 and $533,000 paid no income taxes; 24,000 households with incomes of $533,000 to $2.2 million paid no income taxes, and 3,000 tax filers with incomes above $2.2 million paid no income taxes.
It's the 105,000 filers who made more than $211,000 in 2011 and paid no income taxes that really burns and shows how broken the tax systems is. What happened to the Alternate Minimum Tax that was supposed to kick in? Congress keeps messing with it, but it obviously isn't very effective.
After the fold are three maps that I find interesting:
Note: I generated these maps to ensure consistency. The graphics are linked to the sources of the information.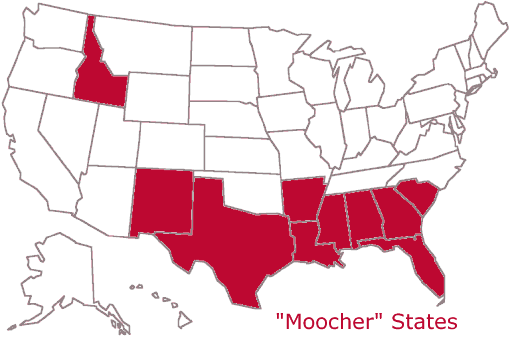 David Graham of the Atlantic used a graphic from the Tax Foundation that identifies the 10 states where most of those who pay no income taxes reside.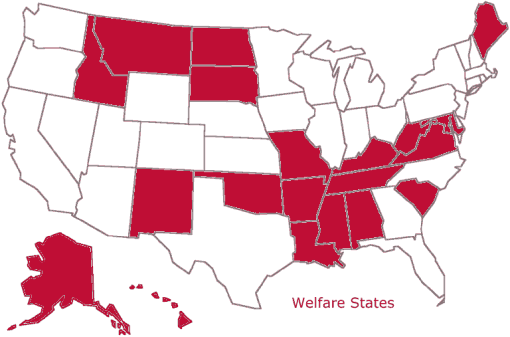 This is from one of my posts and represents states that receive at least a $1.20 of Federal funds for every $1.00 of Federal taxes they pay.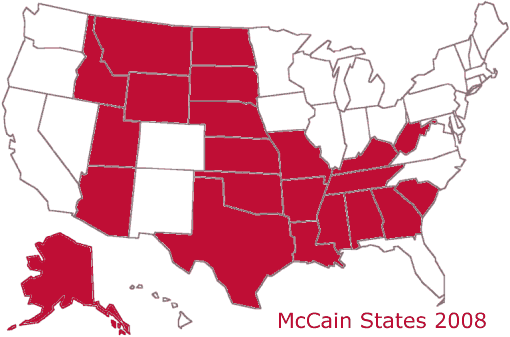 This is based on NPR's final map for the 2008 Presidential election.
Romney is apparently unaware that it is the Republican base that isn't paying taxes.