Position: 31.9N 26.6W [10PM CDT 0300 UTC].
Movement: South-Southeast [165°] near 13 mph [20 kph].
Maximum sustained winds: 60 mph [ 95 kph].
Wind Gusts: 75 mph [120 kph].
Tropical Storm Wind Radius: 275 Miles [445 km].
Minimum central pressure: 984 mb ↑.
Currently about 420 miles [ 680 km] South of the Azores.
Nadine has lost its subtropical characteristics and become a post-tropical cyclone. This is the final advisory on the storm, unless it regenerates.
Here's the link for NOAA's latest satellite images.
[For the latest information click on the storm symbol, or go to the CATEGORIES drop-down box below the CALENDAR and select "Hurricanes" for all of the posts related to storms on this site.]
September 21, 2012 Comments Off on Post-Tropical Cyclone Nadine – Day 11
Sharing Space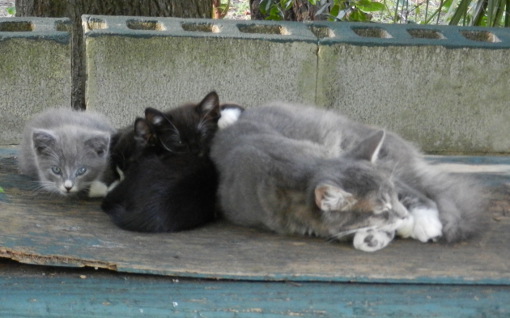 Don't try anything …
[Editor: Weasel decided that the new kits had a good spot and plopped down beside them. The kitten with the all black face has white feet and a chest/belly stripe. The kitten that was watching last week is sleeping right behind him/her.]
September 21, 2012 7 Comments