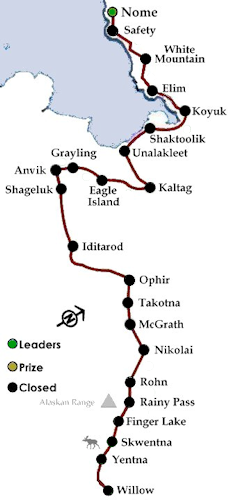 By being the first into McGrath yesterday, Ryan Redington wins Alaska Air Transit Spirit of Iditarod Award
Teams are starting to take their 24-hour mandatory layovers. Takotna is traditionally a favorite stop. Nicolas Petit (9) has finished his 24-hour stop at Nikolai,
It looks like Wade Marrs (28) is going for the Half-Way Prize and will camp at Iditarod. Michael Williams Jr (32) closes Nikolai at the end of his 24-24.
Standings at 10:00PM CST (7:00PM AKST):
Beyond Ophir
1 Wade Marrs (28)
At Ophir
2 Jessie Holmes (2)
3 Brent Sass (14)
4 Aaron Peck (31)
At Takotna
5 Deke Naaktgeboren (34)
At Takotna
6 Ryan Redington (5)
7 Richie Diehl (15)
8 Peter Kaiser (33)
9 Matthew Failor (16)
10 Eddie Burke Jr (18)R
11 Mille Porsild (4)
12 Hunter Keefe (12)R
13 Matt Hall (7)
14 Christian Turner (30)
15 Dan Kaduce (11)
16 Jessie Royer (26)
17 KattiJo Deeter (10)R
18 Kristy Berington (6)
19 Anna Berington (8)
20 Ramey Smyth (24)
21 Bridgett Watkins (19)R
[continued below the fold] [Read more →]
March 8, 2023 No Comments