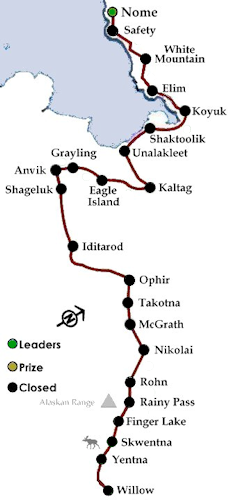 [[!!Don't forget the time change!!]]
An amazing development: Veteran musher, Brent Sass, scratches at Eagle Island Checkpoint. Brent is the reigning winner and was running in the lead when he scratched.
Ryan Redington receives the Bristol Bay Native Corporation Fish First Award
Rookie musher Gregg Vitello scratches at Iditarod checkpoint. He called for assistance and was helped back to Iditarod. He has been falling further behind the last couple of days.
Standings at 10:00PM CST (7:00PM AKST):
Beyond Kaltag
1 Ryan Redington (5)
2 Richie Diehl (15)
3 Peter Kaiser (33)
At Kaltag
4 Jessie Holmes (2)
5 Kelly Maixner (23)
6 Mille Porsild (4)
7 Matthew Failor (16)
8 Eddie Burke Jr (18)R
9 Hunter Keefe (12)R
10 Wade Marrs (28)
11 Matt Hall (7)
Beyond Eagle Island
12 Nicolas Petit (9)
13 Christian Turner (30)
14 Aaron Peck (31)
15 Dan Kaduce (11)
16 KattiJo Deeter (10)R
At Eagle Island
17 Riley Dyche (21)
18 Jessie Royer (26)
[continued below the fold] [Read more →]
March 11, 2023 No Comments