Iditarod 2023 – Day 12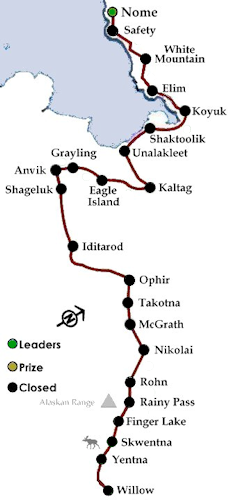 I put the Top Ten below the fold to show how the teams in the back of the pack are doing.
Standings at 9:30PM CDT (6:30PM AKDT):
Finished at Nome
11 Hunter Keefe (12)R
12 Dan Kaduce (11)
13 Christian Turner (30)
14 Jessie Royer (26)
15 Aaron Peck (31)
16 KattiJo Deeter (10)R
17 Nicolas Petit (9)
18 Riley Dyche (21)
19 Ramey Smyth (24)
20 Deke Naaktgeboren (34)
21 Kristy Berington (6)
22 Anna Berington (8)
Beyond Safety
23 Michael Williams Jr (32)
At White Mountain
24 Bailey Vitello (3)R
25 Joanna Jagow (25)
26 Gerhardt Thiart (22)R
27 Bridgett Watkins (19)R
Beyond Elim
28 Jason Mackey (20)
29 Jed Stephensen (27)R
[Top 10 finishers below the fold]
Finished at Nome
1 Ryan Redington (5)
2 Peter Kaiser (33)
3 Richie Diehl (15)
4 Matt Hall (7)
5 Jessie Holmes (2)
6 Kelly Maixner (23)
7 Eddie Burke Jr (18)R
8 Matthew Failor (16)
9 Mille Porsild (4)
10 Wade Marrs (28)
The Mushers in bold are former winners of the Iditarod, while italics indicates Yukon Quest winners. The numbers in parentheses are their Bib numbers. The small "R" indicates a total rookie, while the small "Q" indicates an Iditarod rookie who has completed a Yukon Quest.
These are the official standings. That means they are official, not that they are correct. Things jump around a lot as people decide to update the standings. This problem is especially bad in the back of the pack, as no one bothers to update those standings when the lead is changing.
This post will be updated during the day, and the map changed on all posts to reflect the current situation.
All posts on the Iditarod can be seen by selecting "Iditarod" from the Category box on the right sidebar or clicking on the Sled Dog graphic.