Category —
Uncategorized
That final lawnmower has been put on a back burner as I have been working on a computer problem for a friend. It is an intermittent disconnect from the Internet. I finally told him to take the modem and router back to the cable company and get new ones. That seems to have solved the problem. I own my modem and router and have not been experiencing any problems. Not paying the monthly equipment rental fee has covered the cost of the equipment years ago.
I have finally received all of the bits and pieces required to finish rebuilding my big box and will probably be "smoke testing" my efforts in the next couple of days, if the tenants don't break anything.
I have also gathered the parts necessary to work on the kitchen faucet, so I will be trying not to flood the kitchen later in the week.
Oh, I managed to reattach a trim piece on the car that was knocked off by the tree. I used stainless steel screws instead of black duct tape, which was the consensus solution among the tenants.
I have put up the Tropical Weather sites on the side bar because the National Hurricane Center is coming on line before the official start of the Hurricane Season on June 1st. Tropical Storm Andres formed today off the Pacific Coast of Mexico and the Atlantic season could start at any time.
May 9, 2021 20 Comments
April 18, 2019 6 Comments
Via Crooks & Liars watch the video: New Zealand's Jacinda Ardern Shows How To Lead.
She speaks in two languages and references a phrase in a third. She is uniting people after a tragedy. She is wearing a traditional Maori feathered clock and starts her address with a Maori greeting and acknowledgment. Notice that she has a sign language interpreter. These are indicators that she is leader of all of the people in New Zealand.
The supposed leader of the US is rarely coherent in the only language he claims to speak and does his best to divide Americans into competing sub-groups. The man can't properly word a condolence message, and won't send someone to a card shop for a sympathy card to prevent embarrassing the country again.
March 29, 2019 2 Comments
Completely different:
On Crooks & Liars Daily Show: Mexicans Are Stealing The Wall. Between fits of laughter, Trevor Noah reports that Mexicans are "recycling" the razor wire that Trump had the military add to Wall. They are selling it to home owners in the wealthy colonias to top their walls. The Mexicans are building walls and Trump is paying for it… 😆 😆 😆 😆 😆 😆
Former Florida Congresscritter Alan Grayson was known for is 'unusual' ties that he claims his children bought for him but he has nothing on Commons Speaker John Bercow. Every tie he wears strains the limits of the "colour" wheel, and I say that as someone who shopped on Carnaby Street in London in the late 60s early 70s.
March 21, 2019 10 Comments
The NRA claims that the answer to a bad man with a gun is a good man with a gun.
Armed security guard killed by a police officer responding to a 'shots fired' incident:
Nov. 12 Cook County IL An officer from Midlothian fired at the security guard, who was later identified as 26-year-old Jemel Roberson, according to Sheriff's spokeswoman Sophia Ansari. Roberson was later pronounced dead in a local hospital.
Alabama police admit killing wrong man after mall shooting:
Protesters have demanded answers after Alabama police admitted killing a man who they wrongly suspected of shooting two people in a shopping mall.

Emantic Fitzgerald Bradford Jr, 21, was shot dead at the mall in Hoover.
The real question is how do you keep the police from killing the "good man with a gun?"
November 25, 2018 2 Comments
NBC reports that Michael Cohen's business partner takes a plea deal:
Evgeny Freidman, 47, who is known as the Taxi King, pleaded guilty Tuesday to a low-level felony in Albany County Court, in upstate New York, for stealing nearly $5 million in state taxes and has agreed to cooperate in state or federal investigations. The deal, in which he will pay the state $5 million but avoid jail time, was first reported in The New York Times.

For years, Freidman, a Russian immigrant, has managed Cohen's taxi medallions, which give owners the right to operate New York City yellow cabs. Special Counsel Robert Mueller, who is probing alleged collusion between the Trump campaign and Russia, referred an ongoing investigation of Michael Cohen to federal prosecutors in New York.
These are state charges, so the Presidential pardon doesn't apply, and Michael Cohen has state and Federal targets on him. If he wants to see his kids grow up, he is going to have to cop a plea.
Meanwhile Drumpf is abusing his power trying to force the Postal Service to double Amazon's shipping rates because the Washington Post writes negative stories about him; he is obstructing the Mueller investigation by forcing the Justice Department to reveal confidential sources; and he is waffling on the meeting with Kim Jong-un as it doesn't look like a deal is going to happen.
May 22, 2018 6 Comments
Comrad Misfit has the screen shot, but it's easier to read at Crooks & Liars: Craigslist DC Ad Seeks Lawyer For Trump.
The ad has since been taken down, but it highlights a real problem: the Mueller probe has absorbed all of the available lawyers willing to work on the problem, and most of them have been hired by witnesses. You can't represent a witness and someone who may be affected by that person's testimony. This was the reason that Joseph diGenova and Victoria Toensing couldn't work for Trump.
March 27, 2018 5 Comments
David Bowie and/or Weird Al Yankovic are two people uniquely qualified to write the soundtrack for the Trump administration. SCRotUS had his lead Mueller attorney, John Dowd, resign and he then fired General McMaster to replace them with two Faux News pundit/contributors: Joseph E. diGenova as an attorney and John Bolton as a National Security Advisor.
You would need the resources of SETI to locate less qualified applicants for any position in government.
March 22, 2018 4 Comments

The Reg again It gets worse: Microsoft's Spectre-fixer bricks some AMD PCs
A lengthy thread on answers.microsoft.com records numerous instances in which Security Update for Windows KB4056892, Redmond's Meltdown/Spectre patch, leaves some AMD-powered PCs with the Windows startup logo and not much more.

Users report Athlon-powered machines in perfect working order before the patch just don't work after it. The patch doesn't create a recovery point, so rollback is little use and the machines emerge from a patch in a state from which rollback is sometimes not accessible. Some say that even re-installing Windows 10 doesn't help matters. Others have been able to do so, only to have their machines quickly download and install the problematic patch all over again …
Maybe if they actually tested some of these things before releasing them they wouldn't brick people's computers. I had to muck about for more than a month with my Toshiba laptop after multiple attempts by Microsoft to make it migrate to Windows 10 from Windows 7.
This is why some people won't update their systems. If you have been burned by a faulty update, you don't want to take the chance of another disaster.
January 8, 2018 24 Comments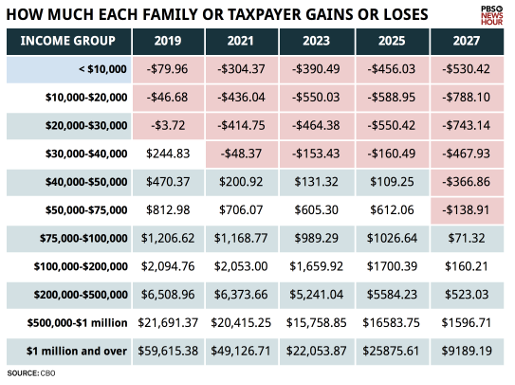 This is one of three charts prepared with data from the Congressional Budget Office in the PBS article: How the Senate tax bill affects rich and poor, in three charts. They show what we already knew: the rich get richer and the poor and middle class get poorer.
Congressional Republicans will now create a joint committee of Republicans to meld the House and Senate versions of into an even worse bill to ram down the throats of Congress. If Doug Jones wins in Alabama, this could get interesting.
December 3, 2017 Comments Off on Preview Of Coming Atrocities
July 26, 2017 13 Comments
The ABC has a short background piece on Qatar: What caused the crisis and how is Donald Trump involved?
CNN reports Trump is trying to get in line with his own Secretaries of State and Defense.
Meanwhile there are the Iran attacks: Twin assaults on parliament and shrine rock Tehran
Tehran, Iran (CNN)- Attackers have mounted simultaneous gun and suicide bomb assaults on Iran's parliament building and the tomb of the republic's revolutionary founder, in one of the most audacious assaults to hit Tehran in decades.

At least 12 people were killed and dozens more injured in the twin assaults on the Iranian capital, state media reported. A third attack was foiled, Iran's Intelligence.
And Trump can't even send a "sympathy card" without triggering an international incident:Iran FM Zarif slams 'repugnant' Trump statement on Tehran attacks
Iran's foreign minister has denounced as "repugnant" a White House statement on Wednesday's terror attack in Tehran that said Iran was a "terror sponsor".

President Trump had said he was praying for the victims, but added that "states that sponsor terrorism risk falling victim to the evil they promote".

But Javad Zarif said Iran "rejected such claims of friendship" and claimed the attackers from so-called Islamic State had been "backed by US clients".

Thirteen people died in the attacks.
He refuses to read briefing papers, and doesn't know what his own State and Defense Departments are doing.
June 9, 2017 9 Comments
He is at it again: "We should tell China that we don't want the drone they stole back.- let them keep it!"
He may think that $150K is negligible, but that drone has data on conditions in the South China Sea which could go ballistic at any time. If you want to slip in a sub unnoticed or are looking for subs, the data on that drone is important. If he attended a few intelligence briefings, he might understand what is happening.
December 18, 2016 6 Comments
I have trying to get my Amazon Music app to work on Windows machines for about 3 days. It definitely will not work the way I have used it for years after an update on Wednesday that added another rental service. If we had a decent radio station down here I wouldn't bother, but as classical or classical rock music are not to be found on the local airwaves and it is part of the Prime service I already pay for I will get this miserable beast to stop disappearing every time I restart either of my Windows boxes.
Spent the afternoon with my 6-month doctor's appointment and helping a friend put up a tent designed for the bed of his pick-up. With instructions written by a 6-grade English class in China and poles that are different colors than those in the instructions, the simple 20 minute job was called after two hours, when he decided to take a tarp to the blue grass festival rather than attempting to put up this tent on arrival. He wanted to spend time listening to music not contemplating the fact that there were green poles instead of orange and there were two pairs of blue poles instead of one.
October 14, 2016 4 Comments