John McKay noted that It's that time of year, with the Christianists firing the first shot in the annual War Against The War On Christmas™.
Newsday reports on the next assault out in Suffolk County, Long Island: Patchogue parade loses fireworks in 'Christmas' dispute
Grucci, which donated $5,000 in fireworks to last year's parade, will not assist with the event if "Christmas" is not in the title, said Grucci vice president Philip Butler.

"They are using all the themes of Christmas and plagiarizing all those themes and not using the name," said Butler, who has campaigned in the past against what he describes as the secularization of Christmas.
…

Of Patchogue's lack of fireworks, Mayor Paul Pontieri said: "When I think about fireworks, I don't think about Christmas anyway – I think about the Fourth of July."
October 24, 2008 4 Comments
KT – the Next Generation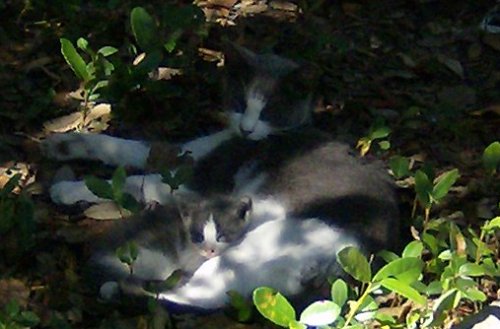 Who is that, Mama?
[Editor: KT was shown two years ago, and earlier this month I featured KT-2. It looks like there's a KT-3 joining the crew with Mama's markings.
October 24, 2008 7 Comments