What Is It?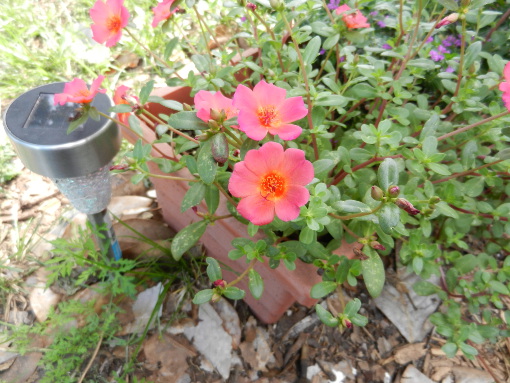 So this Spring I decided to provide the ferals with cat beds plant a few flowers to add some interest to the front of the house and get the roses my Mother decided I needed into the ground.
In a long planter I planted Mexican heather [cuphea hyssopifolia] in the center with marigolds in front and behind it. The marigolds died from some sort of fungus and I pulled them up. Then, from the front of the heather I noticed a small reddish vine tipped with a red flower appear.
In the weeks that followed more the vines came out to produce what you see in the picture. They grow along the ground until they are ready to bloom, and then they shoot up. The flowers are about 1¼ inches [3 cm] across with multiple buds on the tips and they close at night, reopening in the day. They look like primroses, but the rest of the plant doesn't. I assume it was a stray seed from the nursery where the heather was grown, and probably non-native. I don't plan to do anything with it much, but I'd like to know what it is.