Posts from —
July 2012
Take a look at the Weather Underground's local calendar view for July, 2012. You will note that you only see the sun icon on 3 of the 31 days. I did exaggerate a bit about all of the rest having thunderstorms, as there were a few days when it was just rain without all of the flashing and booming.
This morning we had the entire show. Twice the lightning was close enough to suck all of the juice out of the wires and leave me on the batteries. The main road was a mess because they are resurfacing it and have the storm drains covered to keep out debris. I assume the stores on the road will want the town to post it as a no wake zone until the road work is done.
Meanwhile, the hurricane season has restarted with Invest 99, a wave that moved off of Africa and is headed West through the MDR [Atlantic Main Development Region defined as 80W-20W, 10N-20N] towards the Antilles.
July 31, 2012 12 Comments
The Fraudster-in-chief doesn't seem to be able to keep department heads and managers in his administration. His latest loss is Gisela Sala, the director of the Division of Elections, who has resigned effective tomorrow, August 1, two weeks before the state's primary election.
She has only had the job for a little over a year, but it has been a year in which the legislature and governor have been playing multiple games with Florida's elections. During that time she has been commuting from Ocala, which tends to indicate that she has been reluctant to commit to the $90K/year job.
All the public really knows is that she resigned, and only found out when local supervisors of elections were notified by e-mail.
People who know her from her years working on elections in South Florida and Ocala are surprised that she would leave this close to an election.
Given the number of people who have resigned from major offices under Rick Scott, I can't say that any reason would surprise me. The current top soap opera is the court case involving his lieutenant governor. It is hard to beat CEO leadership … if you want cheap entertainment. 😈
July 31, 2012 2 Comments
Romney seems to be using the same staff that made Sarah Palin famous. No one tells him what he needs to know before he goes out and talks in public.
Digby notes that he talked in glowing terms about Israel's health care system and seemed blithely unaware of its tax-supported, socialist foundation or heavily regulated environment.
Then, Yves Smith made my day brighter by noting that the Romney people are looking at Florida's attorney general, Pam Bondi, as a possible candidate for VP. Ms Bondi is best known to the country at large for leading the opposition to Obamacare, which lost in the Supreme Court. She is certainly a graceful loser, but that is possibly because she has had so much practice. Her main strength is her ability to speak fluent whacko to the Republican base. The only down side is that since it is a Federal office, she isn't required to resign to run.
July 30, 2012 12 Comments
Well, I guess that the whole 'not interfering with foreign policy while abroad' bit is no longer 'operative', because Mitt the Twit decided to commit a Romney administration to a war with Iran at the convenience of Likud, and to reverse the decades-long policy of both Republican and Democratic administrations not to recognize Jerusalem as the capital of Israel, but as a matter for negotiations between Israel and the Palestinians.
Apparently this is to make a few big-money donors happy by turning US Mideast policy over to Bibi Netanyahu.
You know Mitt is totally lost when Dan Senor, last seen playing the American version of 'Baghdad Bob' for the Coalition Provisional Authority, is his spokesweasel. Romney has no idea what he has done.
July 29, 2012 Comments Off on Ignorance Is Bliss?
Kevin Drum reports the the passing of Inkblot.
Kevin is acknowledged as the founder of Friday Cat Blogging back in 2003 when he had his own place, Calpundit. Inkblot was a pioneer of the genre.
I would like to add my condolences to Kevin, his wife, and Domino on the loss of their friend.
July 29, 2012 5 Comments
As yesterday was the third day in the entire month of July that didn't feature a thunderstorm, and today's storm didn't show up until late afternoon, the Lawn Guy [no, he isn't from 'Lawn Guy Land'] harvested the 'hay'. Afterwards he stopped by to tell me that the outside outlet on the the 4X4 in front of my Mother's house fell over from 'dry rot'. Well, the post was weakened by being in the ground, but I have a feeling the fact that there is paint scar the same color as the lawn tractor might have something to do with its current condition. I will add it to the list.
The marigolds in the front of my house are 'pining for the fjords'. It was some sort of fungus that wiped them out, but the roses are thriving.
Linux still hates me. I downloaded some of the software I use in Windows and installed it. Apparently the installation was still going on in the background when I had to switch to Win 7 and restarted the machine. It locked up tighter than a drum. It would have been nice if there had been a warning about the background processes and a chance to abort, but that didn't happen.
I have configured Thunderbird for e-mail, but it definitely doesn't work the way I do. It is going to take a lot of screwing around to make it do most of what Pegasus does for me in Windows.
The cats are being a real PITA with Sox trying to break into the bathroom to see what Ringo is getting to eat, and Ringo trying to break out to eat kibble. Meanwhile Excise freaks out if I raise my voice, convinced that I'm yelling at him. As a result I spend a lot time evicting Sox, returning Ringo, and calming Excise. Property just snickers from the top of the refrigerator.
July 28, 2012 12 Comments
A Table For One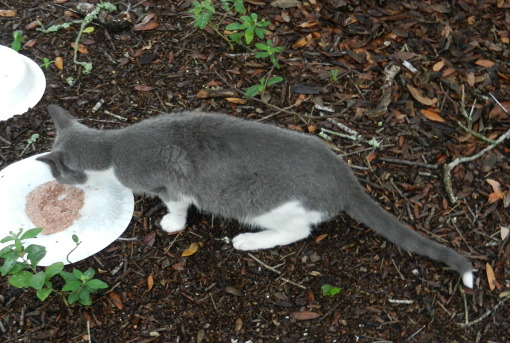 Nom, nom, nom ……
[Editor: Tip is the only cat who took the trouble to stop by for dinner after today's thunderstorm.]
July 27, 2012 4 Comments
I would like to start with a sincere apology to Senator John McCain of Arizona. Knowing that the Mittster had to give all of his tax returns to Senator McCain when he was being vetted as a possible running mate in the 2008 election, reporters asked the Senator if there was something in those returns that made him select Sarah Palin rather than Romney. Senator McCain said he chose Mrs Palin because she was the better candidate. Like a lot of people, I thought that Senator McCain was either covering for Romney or getting senile.
I was wrong. Sarah Palin is a better candidate than Mitt Romney. That became obvious on this trip abroad which clearly demonstrates that Mr. Romney knows no more about other countries than Mrs Palin, and he has actually traveled outside of the US several times.
Further, Mrs Palin can actually connect with people and talk to them. She has personality and personal charisma which are sorely lacking in Mitt Romney. Mitt Romney might have been better at actually being the Vice President, but he was definitely not the better candidate for the job.
July 26, 2012 6 Comments
Well, the Mittster headed off across the Pond to show Zero how an American President should promote our 'special Anglo-Saxon relationship' [ignore 1066 and the fact that it's Great Britain, not just England, OK?] and promptly calls into question the current government:
Mr Cameron earlier met the Republican candidate for the US presidency, Mitt Romney, during his campaigning and fundraising visit to London.

The meeting came after Mr Romney expressed concerns about "disconcerting" signs of a lack of readiness for the Games.

"The stories about the private security firm not having enough people, the supposed strike of the immigration and customs officials – that obviously is not something which is encouraging," Mr Romney told a US television station.

It was "hard to know just how well it will turn out", said Mr Romney, who managed the Winter Olympics in Salt Lake City in 2002.
Note that he also managed to highlight the problems associated with privatization of public services, which will come back to bite him in an ad, no doubt.
Romney apparently wants to have US-British relations revert to an earlier time, not Roosevelt-Churchill, but Madison-Liverpool.
July 26, 2012 8 Comments
From CNN Money: Error 451: A proposed Internet status code for censorship
NEW YORK (CNNMoney) — If a website you're trying to reach is blocked for legal reasons, do you have a right to know about it?

Developer advocate Tim Bray thinks so, and he's got a perfect error code for it: 451, a tribute to the late Ray Bradbury's landmark novel about censorship, Fahrenheit 451.

Bray, a self-described "general-purpose Web geek" who helped develop several key Internet standards, wrote a formal specification for his proposal and submitted it to the Internet Engineering Task Force (IETF), the body that develops and promotes Internet standards. The group is slated to take up Bray's proposal at next week's annual meeting, which begins Sunday in Vancouver, Canada.
In addition to Bradbury, Bray's sample text includes a Monty Python reference which should endear him to the IETF.
In general you will see a 403 – Access Forbidden page or a DNS fail message when you attempt to reach a banned site. I have a feeling that this will annoy the media moguls and governments, so it has a good chance of passing.
July 25, 2012 3 Comments

I first read the Kathy Kattenburg post, So Why the Voter ID Law, Then?. at the Agonist, and then saw the information at Mustang Bobby's from a different source.
The State of Pennsylvania has signed a stipulation agreement in the lawsuit filed by the Department of Justice over the state's new voter ID law that admits that the state has no evidence of fraud in in-person voting in Pennsylvania.
I mean, given the history of politics in Pennsylvania, this is really sloppy. They had plenty of time to fake some evidence of voter fraud, but the standards of political corruption have really fallen this century. They don't expect any fact-checking, nor to have to make their claims under penalty of perjury.
So, why doesn't the state just dump the law and save the taxpayers the cost of a trial – it's the fiscally conservative thing to do … 😈
July 25, 2012 Comments Off on WTF ‽ Over
First off, I believe that the Second Amendment is an individual right. That belief is based on knowing what 'a well regulated militia' meant at the time the words were written, and references to the right during the early years of the US.
That said, if requiring people to register and provide proof of identity to vote, another individual right, is Constitutional, it is difficult to understand how putting the same restrictions on gun ownership would be materially different.
Earth-bound Misfit, another gun owner, makes the point that given the conditions in the theater in Colorado, an armed civilian in the audience wouldn't have been much of a threat to the murderer. I would add, that reviewing what is known about those conditions, when I was in law enforcement and practicing regularly, I wouldn't have had a valid shot. Departments take a dim view of officers who shoot bystanders, and there is no way of avoiding them when people are panicking, The light from the projector would have been reflected and refracted by the smoke/vapor so your real aiming point would have been muzzle flashes, and you would have needed a head shot to take him out as he was wearing a ballistic vest.
It was fortunate that he decided to use a large capacity magazine on the AR-15, as that greatly increased the probability of the weapon jamming, which it did. It is also fortunate that he didn't use the grenades he had in his apartment.
The first things politicians might consider in reaction to this shooting is to actually fund the enforcement of our current laws. Passing laws that aren't enforced is a waste of money.
One change that should be considered is a requirement that the purchase of weapons and ammunition occur in person with the purchaser supplying the same identification that is required to vote. That would certainly reduce the possibility of guns being sold to undocumented immigrants or terrorists.
July 24, 2012 18 Comments
NPR reports that the first US woman in space has died:
In 1983, Sally Ride became the first American woman in space. She blasted off aboard Challenger, culminating a long journey that started in 1977 when the Ph.D candidate answered an ad seeking astronauts for NASA missions.

Ride died today in La Jolla, Calif. after a 17-month battle with pancreatic cancer, her company said on its website.
There is more information in the NASA announcement.
After leaving NASA and academia, Dr. Ride formed a company that primarily promoted science and technology as a career choice for girls and women.
July 23, 2012 9 Comments

Rambouillet to Paris Champs-Élysées
Distance: 120 kilometers.
The parade into Paris. The only real questions left are will Mark Cavendish take his fourth Paris stage win in a row, and who will win La Lanterne Rouge.
Britian has a lot to cheer today – Bradley Wiggins and Christopher Froome have finished in first and second place in the Tour, and SuperManx, Mark Cavendish won his 23rd Tour stage. Cavendish moves into sole possession of fourth place in total tour stage wins, and achieved his fourth consecutive win in Paris.
Wiggins took 87 hours, 34 minutes, and 47 seconds to finish the 3488 kilometer [2167.34 mile] race. He has been close before only to be sidelined by injuries in accidents, so this isn't a fluke. anymore than Cadel Evans's win last year. There is minimal crowd control, and they race on public roads in various states of repair. Being lucky is almost as important as riding fast.

Bradley Wiggins ( GB – SKY – 101 ) [Yellow] 87h 34′ 47″


Peter Sagan ( Svk – LIQ – 057 ) [Green] 421 points


Thomas Voeckler ( Fra – EUC – 021 ) [Polka Dot] 135 points


Tejay Van Garderen ( USA – BMC – 009 ) 5 [White]
Team: RadioShack-Nissan ( 011-019 ) [Yellow numbers]
Stage winner: Mark Cavendish ( GB – SKY – 103 )
Super Combative: Chris Anker Sorensen ( Den – STB – 178 ) [Red numbers]
Φ Jimmy Engoulvent ( Fra – SAU – 093 ) + 3h 57′ 36″ [La Lanterne Rouge]
Top Ten:
1 Bradley Wiggins ( G B – SKY – 101 )
2 Christopher Froome ( G B – SKY – 105 ) + 03′ 21"
3 Vincenzo Nibali ( Ita – LIQ – 051 ) + 06′ 19"
4 Jurgen Van Den Broeck ( Bel – LTB – 111 ) + 10′ 15"
5 Tejay Van Garderen ( USA – BMC – 009 ) + 11′ 04"
6 Haimar Zubeldia ( Esp – RNT – 019 ) + 15′ 41"
7 Cadel Evans ( Aus – BMC – 001 ) + 15′ 49"
8 Pierre Rolland ( Fra – EUC – 029 ) + 16′ 26"
9 Janez Brajkovic ( Slo – AST – 181 ) + 16′ 33"
10 Thibaut Pinot ( Fra – FDJ – 146 ) + 17′ 17"
The Rest of the Riders:
[Read more →]
July 22, 2012 2 Comments