Happy Hanukkah to my Jewish friends. I miss the latkes and jelly doughnuts my roommates received for the holiday at college. [Their grandmothers were afraid they wouldn't celebrate or couldn't get "real" food at that terrible Baptist university.] It was a great break.
One of the nice things about Hanukkah is that there are established "gifts", so you don't have to rack your brains about what to get: a card and gelt covers just about everyone.
General background at Wikipedia's entry for Hanukkah and even more at Chabad's Chanukah page.
[Note: on the Jewish calendar the day changes at sundown, not midnight.]
November 28, 2021 Comments Off on Happy Hanukkah!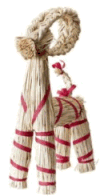 Today is the First Sunday of Advent which means you should have made your Christmas Pudding and Why Now? is pleased to present the Fifty-fifth version of the Gävlebocken, The biggest Christmas Goat in the world [now on Twitter @Gavlebocken].
From Steve Bates of Yellow Doggerel Something in the comments from 2006:
Why build a giant goat of straw,
Which most of us would scarcely note?
Some, though, defy the very law,
To vandalize the Gävle Goat.

In some years, they used wayward cars;
In others, flaming arrows smote.
This year's survives, although with scars…
A fact that gets some people's goat.

A webcam and some watchful eyes,
A flame-retardant second coat,
Should save it… unless Dubya spies
The thing, and claims it's his pet goat!

– SB the YSS
November 28, 2021 Comments Off on Mer Jul i Gävle