Merry Catmas!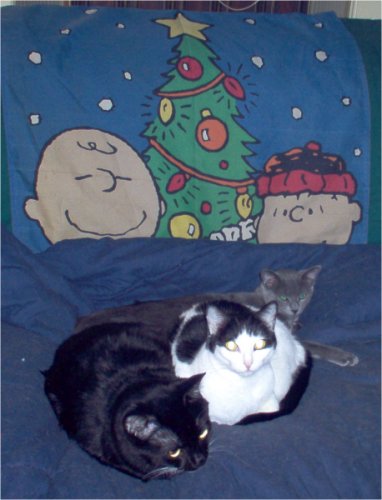 HO! … Ho? … Whatever.
[Editor: Sox, Dot, and Ringo being as merry as they were ever likely to be.]
December 24, 2021 Comments Off on Spirit of Catmas Past

The broadcast of A Festival of Nine Lessons and Carols is available on the web from the BBC World Service.
The British have some wonderful Christmas customs that have survived the incursion of Christianity, especially the Puritan party poopers. Stealing customs from the Celts, Germans, and Scandinavians, they have created a wonderful holiday that I fondly remember from time spent there.
The bird is a European robin that is featured on British Christmas cards, as it is a Winter bird in England, unlike the fair-weather laggard of the same name in America. It is bracketed by holly and mistletoe. All go back to the druids and solstice celebrations.
If you read the Harry Potter books you will get a taste, but not the full effect of a British Christmas. A full-on Christmas dinner is wretched excess to the nth degree – Thanksgiving on steroids.
The BBC has the background on Father Christmas.
December 24, 2021 Comments Off on Happy Christmas

Ho Ho Ho!
Happy NODWISH
С Рождеством Христовым
메리 크리스마스!
Vrolijk Kerstfeest
Nadolig Llawen
Fröhliche Weihnachten
Joyeux Noël
Buon Natale
Feliz Navidad
God Jul
Rauhallista Joulua
عيد ميلاد سعيد
Happy Christmas
At 6AM CST Christmas arrived in Asia, and the excitement is building among the "rug rats" that will burst forth at any moment to waken their poor parents who have probably had about two hours of sleep after dealing with "some assembly required" and/or "batteries not included".
To avoid any bad feelings: it is an official requirement contained in the "Manual for Childless Adults" that some form or type of device that makes loud and obnoxious noises must be included in all Christmas parcels for children [of all ages].
December 24, 2021 5 Comments

So it's time to get everything in line so that there will be smooth sailing tomorrow.
Obviously you need the text of A Visit from St. Nicholas [AKA Twas the night before Christmas].
But now that you've finished putting up enough lights to match the total electrical consumption of a third world nation, you can sit back and watch the North American Air Defense Command's annual attempt to take out that red-suited commie's attack on the capitalist system by giving stuff away. [Don't worry kids, they are using the anti-missile defense system, so there's no danger to anyone but taxpayers.]
Google has a tracker, if you don't believe the government is up to the job.
December 24, 2021 Comments Off on …And Checking It Twice