Iran Votes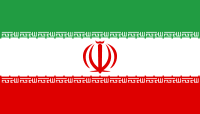 The BBC reports Iran goes to polls to elect new president
Iranians have begun to cast their votes in the country's closely fought presidential election.

President Mahmoud Ahmadinejad is battling to retain his job in the face of a spirited challenge from former Prime Minister Mir Hossein Mousavi.

Mohsen Razai and Mehdi Karroubi have also fought in the campaign, dominated by the economy.

If one candidate fails to win a 50% majority, there will be a run-off between the two front-runners.
It is already Friday in Iran and they will probably close the polls before the call to evening prayers. The initial reporting won't include much of Ahmadinejad's base in the rural districts, so no one should start celebrating an early lead. Mousavi, an ethnic Azeri like Ayatollah Khamenei, has been looking good in the campaign, but his label as a moderate is generally by comparison to Ahmadinejad.
The real issues are internal, like the economy, and the President doesn't actually have much real power to make changes. At this point Ahmadinejad might be better off losing, given the number of enemies he has made in the real power centers by his comments during the campaign. Apparently before making sweeping statements about leading the first corruption free government he forgot who some of the earlier leaders of the government were, and what positions they currently hold.