Posts from —
May 2009
The BBC reported on the murder of Dr. George Tiller, Ob-Gyn, at his church
Sixty-seven year-old George Tiller was killed just after 1000 (1500 GMT) at the Reformation Lutheran Church.

The gunman, described as a white man, fled in a car, but officials say a suspect is now in custody in Wichita.

Dr Tiller, one of the few US doctors who performed so-called late-term abortions, had been vilified by anti-abortionists in the US.

His clinic – called Women's Health Care Services – had often been the site of demonstrations, and he had been shot and wounded by an assailant 16 years ago.

Questioning of the suspect, a 51 year-old man, is continuing. Wichita Deputy Police Chief Tom Stolz said he was likely to face one charge of murder and two counts of aggravated assault for allegedly pointing a gun at two other men.
…
May 31, 2009 8 Comments
Over at ABC, Jake Tapper notes Obama Administration Asserts Uighur Detainees Have No Right to Come to US.
Uighurs are a Turkic people, like the Uzbeks, Tajiks, etc. of central Asia. Their homeland in now in northwestern China, with small groups spread around the world. They are normally Muslims, if they are religious.
The US kidnapped a group of Uighur refugees who were fleeing the fighting in Tora Bora during the early days of the Afghanistan campaign. It has already been shown that they weren't involved with the Taliban or al Qaeda, and were not combatants.
As they had fled China because of government persecution, they can't be sent there – the Chinese authorities are not exactly the "forgive and forget" kind of people. A US court has already told the government to bring them to the US, where they could join existing Uighur communities, mainly on the West Coast.
The attitude of the Obama administration is, frankly, stupid. These people have been shown to be innocent bystanders by multiple authorities. There is no justification for continuing to hold them. They are victims, not criminals. The US government is the party at fault. We have already held them for years beyond the point when we knew they were innocent. They have rights as human beings. This attitude of the Obama administration recalls the Taney opinion in Dred Scott – "that they had no rights which the white man was bound to respect."
May 31, 2009 2 Comments
One of the biggest problems with "cyber security" is that it requires having trained people watching the system and detecting problems.
My hosting company does it. They have a trouble report up at their separate site almost immediately when a problem is detected, and they keep you updated on what is going on to fix the problem.
My large, corporate, telco ISP on the other hand, waits for end users to notify them that there is a problem with the system. They rather obviously don't have anyone monitoring traffic flow on their system, or they would be immediately aware when a segment of it drops out.
I was on the phone for an hour around midnight last night, most of it on hold listening to disco, so I could report the outage in my area. I've dealt with them long enough to know that they aren't aware of problems until there is a user report, and if I didn't report it last night, it is unlikely that anything would have been done until Monday, after people discovered that the 'Net was down Sunday morning and called.
People are talking about how "hackers are going to control the electrical grid" when the grid isn't even connected to the Internet, and, next to large weather events, the biggest threat to the electrical grid are drunks driving SUVs.
May 31, 2009 5 Comments
This Time article unintentionally exposes the truth: Oil Is Plentiful, Demand Weak. Why Are Gas Prices Going Up?
Storage tankers across the globe may be brimming with oil that no one is buying because of the global economic downturn, but the traditional laws of supply and demand don't always apply to oil prices.
The "laws of supply and demand" are really only suggestions, actually, excuses, used to cover up the gambling that is going on in the background. There is no "free market", there are a bunch of global "good ol' boys" getting together for their version of poker night to see how much they can gouge out of people who actually work for a living.
Real markets work rather well at determining the value of things, and always have, which is why they aren't permitted to operate. The "good ol' boys" don't want to sell you what you need and want, they want to sell you what they have to sell at the price they set.
May 31, 2009 4 Comments
The Hurricane Season officially starts on Monday, June 1st, but we've already had a preview this week.
Initially storms are called an "Invest" with a number in the range of 90 to 99 followed by a letter suffix, L for an Atlantic storm and E for an Eastern Pacific storm. When they reach 99, they go back to 90.
When they graduate after developing tropical characteristics, they are called Tropical Depressions, which are numbered beginning at 1 every season.
If the circulation spins up and winds increase, they become Tropical Storms and are given a name from a pre-approved list for the season. These are the names for this year's storms:
Ana
Bill
Claudette
Danny
Erika
Fred
Grace
Henri
Ida
Joaquin
Kate
Larry
Mindy
Nicholas
Odette
Peter
Rose
Sam
Teresa
Victor
Wanda
If the list runs out, later storms are designated using the Greek alphabet, i.e. Alpha, Beta, Gamma, Delta, as happened in 2005 when we got to Tropical Storm Zeta.
The constant wind speed is the biggest determinate as to whether an individual system is called a storm or a hurricane, and if a hurricane, its category.
May 30, 2009 4 Comments
On this day in 1431 Jeanne d'Arc was burned at the stake in Rouen for winning battles against armies lead by middle-aged white guys, while knowingly, willfully, and with malice aforethought, being a teen-aged girl.
As she was an unlawful enemy combatant, since everyone knew that girls couldn't fight, much less lead armies, she was charged with unlawful conversations with saints without benefit of or permission from the clergy. She couldn't legally be a combatant, so she couldn't be a prisoner of war, so they had to find some way of getting rid of her.
She was cleared of all charges on appeal, which didn't occur until after she had been executed, but no system is fool-proof.
To make up for the fact that the execution was a bit premature, she was eventually made a saint, and is the patron of martyrs, captives, militants, prisoners, and soldiers.
May 30, 2009 Comments Off on First Unlawful Enemy Combatant Executed
The time has come for you to cut Richburg and Odom loose, and cop a plea. The first one to deal is going to get the best deal. Based on the Miami Herald story, the latest from Richburg's files pretty much makes conviction a foregone conclusion, and they are in a lot better position than you to weather what's coming.
If you jump in quick enough you might avoid prison, but I have to be honest, if the State's Attorney has a political bone in his body, he has to see this case as the basis for a run at Attorney General. Saving the state $6 million in hard times and battling corruption look really good on a resume, and your political "friends" have already deserted you.
Cutting the deal can be your first step towards redemption, and you have to know either one of the others wouldn't hesitate to sell you down the river.
The time has come to tell the truth.
May 29, 2009 2 Comments
The Local Puppy Trainer covers that quality in Walton County: New $4.6 million beach access lot needs repairs
MIRAMAR BEACH – Less than two weeks after a ribbon-cutting ceremony to mark the reopening of the Miramar Regional Beach Access, a crew already is at work repairing damage to the parking deck.

What caused the crack in the pavement is not clear, but those involved with the project suspect it was caused by an overweight UPS truck that drove into the lot on Tuesday or Wednesday, said Sonny Mares, executive director of the Beaches of South Walton Tourist Development Council.

The TDC helped fund the $4.6 million project, which took about eight months to complete.
A UPS truck? This sucker broke because a UPS truck drove on it?
This is what you get with low bid. I sure didn't see any rebar in the picture.
May 29, 2009 6 Comments
CNN reports on the latest silliness: Obama creates position to guard online security
WASHINGTON (CNN) — President Obama announced Friday he is creating the post of cyber security coordinator to oversee "a new comprehensive approach to securing America's digital infrastructure."

The president said he will personally select the person who takes on that post.

"I'll depend on this official in all matters relating to cyber security, and this official will have my full support and regular access to me as we confront these challenges," he said.

The economic crisis cannot be tackled without ensuring the safety of the nation's online activities, Obama said. "America's economic prosperity in the 21st century will depend on cyber security," he said.
May 29, 2009 17 Comments

Position: 40.3 N 62.3 W. [4 PM CDT 2100 UTC]
Movement: East-Northeast [065°] near 18 mph [29 kph]
Maximum sustained winds: 30 mph [45 kph]
Wind Gusts: 40 mph [60 kph]
Minimum central pressure: 1006 mb
The remnants are in the Atlantic 305 miles [490 km] South of Halifax, Nova Scotia. This is the final advisory.
Here's the link for NOAA's latest satellite images.
[For the latest information click on the storm symbol, or go to the CATEGORIES drop-down box below the CALENDAR and select "Hurricanes" for all of the posts related to storms on this site.]
May 29, 2009 Comments Off on Tropical Depression One – Day 2
Another KT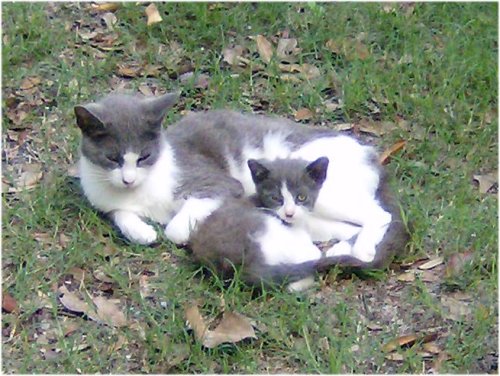 What?
[Editor: This is the debut of KT-4 who has just woken up, not KT-3, who is now as big as KT.]
May 29, 2009 5 Comments
This happened yesterday but I had to stop celebrating before mentioning it, from the Miami Herald: Another indictment for former House Speaker Ray Sansom
TALLAHASSEE — A grand jury investigating Ray Sansom's ties to a Panhandle college issued a second round of indictments Wednesday, accusing the ousted House speaker of lying about a developer's plans to store aircraft in a taxpayer-funded building.

The felony perjury charge is based on newly surfaced documents, including an e-mail Sansom received from the college president indicating that developer Jay Odom, who was also indicted Wednesday, would use part of the facility.

"Jay and I agreed that the project is to be held close until after your actions and until after we receive guidance from you," president Bob Richburg wrote to Sansom in April 2007 — with a subject line "Meeting with Jay."

The budget lawmakers approved a month later included $6 million Sansom appropriated for the college. Sansom, R-Destin, has insisted that it was his idea and that he did not know about Odom's plans for a taxpayer-funded hangar.
…
May 28, 2009 2 Comments
Because it is apparently absolutely critical to the selection process for Supreme Court Justices, I have executed an extensive search regime [I typed into Google] and after an extended period [measured in nanoseconds] I located the recipe for patitas de cerdo con garbanzo. I think that someone has confused it with head cheese, because the recipe calls for, well, ham hocks and beans [chickpeas]. There's nothing about tongues or ears.
I'm not sure what ham hocks and beans have to do with deciding court cases, but some people think it's important.
May 28, 2009 9 Comments

Position: 38.1 N 67.8 W. [10 PM CDT 0300 UTC]
Movement: East-Northeast [055°] near 16 mph [25 kph]
Maximum sustained winds: 35 mph [55 kph]
Wind Gusts: 45 mph [70 kph]
Minimum central pressure: 1006 mb
The Depression is in the Atlantic 255 miles [405 km] South-southeast of Providence, Rhode Island. If it becomes a Tropical Storm it will be named Ana. Coastal shipping and fish seem to be those threatened.
Here's the link for NOAA's latest satellite images.
[For the latest information click on the storm symbol, or go to the CATEGORIES drop-down box below the CALENDAR and select "Hurricanes" for all of the posts related to storms on this site.]
May 28, 2009 2 Comments