Local TV station, KEYT, is updating this link continuously. The latest update is from 9PM PDT:
•8,600 acres burned
•10% contained
•Damage assessment in progress – initial estimate of 80 homes have been damaged or destroyed
•Approximately 12,204 properties evacuated (mandatory evacuation orders); affects approx. 30,500 people
•More than 11,524 properties under evacuation warning; approx. 29,000 people affected
•Residences threatened – 3,500; commercial properties threatened – 100
•3,455 personnel on scene: 428 engines, 78 crews
•14 air tankers and 15 helicopters
•11 firefighter injuries to date
•Cause under investigation: Tip line – 805-686-5074
•Air quality warning remains in effect
•Estimated costs to date $3.2 million
The LA Times is changing their story link every day, but the map link is updated constantly.
Update: via Jill, the Enplan Wildfire Viewer. Just click on the Jesusita link on the sidebar to see the locations of the fire's hotspots.
May 8, 2009 11 Comments
Delta Force?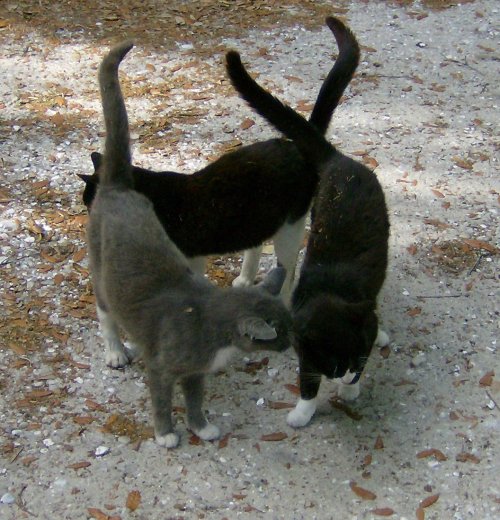 Don't be annoying, Jack.
[Editor: This is a family triangle. In the back is the local alpha female, The Lone Ranger, the blue and white is her sister, Tonto, and on the right is Tonto's son, Young Jack, who can be very annoying at meal time.]
May 8, 2009 11 Comments