The ABC reported this morning on the first known Yasi-related fatality: Generator fumes kill man during Yasi
A man died after suffocating on generator fumes during Cyclone Yasi, Queensland Premier Anna Bligh has confirmed.

Ms Bligh said the 23-year old man died after being overwhelmed by fumes from the diesel generator he was using while sheltering in a small room in Bambaroo, near Ingham.

Authorities are still searching for three people missing in the wake of the massive category five storm, which destroyed homes and shredded crops as it roared ashore south of Innisfail on Wednesday night.

Ms Bligh says two people are missing in the badly damaged town of Cardwell, while police are searching for a man who was reported missing near Port Hinchinbrook after trying to move his yacht out of the way of a storm surge.
We lose people down here after almost every storm from carbon monoxide poisoning caused by generators. There are public service announcements about it before storms and a mass of warning material with every generator sold, but it just doesn't seem to register.
As for the guy trying to move his boat – you have to wonder where he thought he was going to move it to? Yasi was hundreds of miles across, so if that boat didn't have a couple of jet engines on board, there was no way of getting it away from the storm.
February 3, 2011 Comments Off on So Unnecessary
So, Queensland, which has been averaging one cyclone every 5 years, has two in a week, including what is one of the worst, if not the worst, storm to ever come ashore, Yasi.
Then there is the US Thunderblizzard that dumped more that 5 inches of snow on 22 states, more than ½ inch of ice on 7 states, and affected 100 million Americans. Now, Lady Min is semi-used to getting 20 inches of snow, but this isn't over.
This is the evening forecast for Houston, Texas:
Snow…sleet and light freezing rain likely in the evening…then snow and sleet after midnight. Snow and sleet accumulation around 2 inches. Ice accumulation of less than one tenth of an inch. Lows in the mid 20s. North winds 10 to 15 mph. Chance of precipitation 70 percent in the evening increasing to 80 percent after midnight.
You think the Midwest looks bad, wait until you watch them winching SUVs out of the Ship Channel and bayous. The roads in Houston are not snow friendly. They get adventurous in the rain. Steve Bates really doesn't need the aggravation, especially with Texas experiencing rolling electrical cuts.
If you are feeling active, OWL wouldn't say no to some help digging out her car.
February 3, 2011 2 Comments
Year of the Golden Rabbit Jin Tu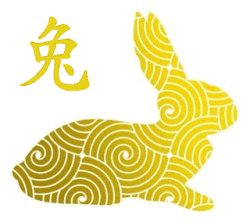 Chinese New Year
[Spring Festival]
February 3, 2011 4 Comments