Position: 16.6N 62.2W [10:00PM CDT 0300UTC].
Movement: West [280°] near 15 mph [24 kph].
Maximum sustained winds: 60 mph [ 95 kph].
Wind Gusts: 75 mph [120 kph].
Tropical Storm Wind Radius: 140 miles [220 km].
Minimum central pressure: 1002 mb.
Currently about 190 miles [ 300 km] East-Southeast of St. Croix.
At 4PM CDT the Leeward Islands are experiencing tropical storm conditions.
A Tropical Storm Warning is in for Saba & St. Eustatius, St. Maarten, Antigua, Barbuda, St. Kitts, Nevis, Montserrat, Anguilla, Guadeloupe, St. Barthelemy, St. Martin, Puerto Rico, including Vieques & Culebra, U.S. Virgin Islands. British Virgin Islands, and Cabo Caucedo, Dominican Republic on the south coast around the eastern portion of the island to Puerto Plata on the north coast.
A Tropical Storm Watch is in effect for Dominica, South coast of the Dominican Republic from Cabo Caucedo westward to Barahona.
Here's the link for NOAA's latest satellite images.
[For the latest information click on the storm symbol, or go to the CATEGORIES drop-down box below the CALENDAR and select "Hurricanes" for all of the posts related to storms on this site.]
September 16, 2022 Comments Off on Tropical Storm Fiona – Day 3
Día de la Independencia
Estados Unidos Mexicanos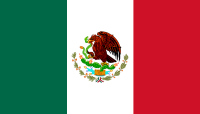 ¡Viva México!
Some background on 16 de Septiembre and El Grito de Dolores.
September 16, 2022 Comments Off on Happy Independence Day