Position: 20.6N 70.3W [10:00PM CDT 0300UTC].
Movement: North-Northwest [330°] near 10 mph [17 kph].
Maximum sustained winds: 110 mph [175 kph].
Wind Gusts: 125 mph [200 kph].
Tropical Storm Wind Radius: 140 miles [220 km].
Hurricane Wind Radius: 30 miles [ 45 km].
Minimum central pressure: 971 mb ↓.
Currently about 80 miles [ 130 km] Southeast of Grand Turk Island.
Heavy rainfall and flash flooding continues in the eastern Dominican Republic.
A Hurricane Warning is in effect for Turks & Caicos Islands.
A Tropical Storm Warning is in effect for the Southeastern Bahamas, including the Acklins, Crooked Island, Long Cay, the Inaguas, Mayaguana, and the Ragged Islands.
A Hurricane Watch is in effect for the north coast of the Dominican Republic from Cabo Caucedo to Puerto Plata.
Here's the link for NOAA's latest satellite images.
[For the latest information click on the storm symbol, or go to the CATEGORIES drop-down box below the CALENDAR and select "Hurricanes" for all of the posts related to storms on this site.]
September 19, 2022 Comments Off on Hurricane Fiona – Day 6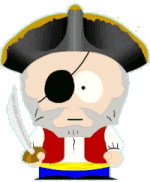 It'll be double rations of grog all around in the galley as ye throw the pasta and pesto down your gullet for the final day of Pasta Week, on Talk Like a Pirate Day.
Arr…
Belay that! 'T'would be better done by swilling lambrusco directly from the flask!
Arr…
September 19, 2022 Comments Off on Avast Ye Lubbers