Posts from —
May 2008
Moi at Bloggg has had to say goodbye to her friend of twenty years: Feak 1989-2008.
Feak was a fluffy blue with an attitude.
May 28, 2008 Comments Off on Sad News
Today I received a "phishing" attempt from the real scum of the earth. Their "phlounder" was contained in an e-mail designed to look like a news flash from CNN about the Chinese earthquake. While the e-mail trace goes back to a Taiwan server, the links go to a Romanian site.
Actually this looks more like an attempt to infect your computer with a Trojan, than a real "phishing expedition", but it's sleaze from the bottom of the Mariana Trench.
May 28, 2008 2 Comments
[That requires "a voice", like James Earl Jones, and an orchestral fanfare.]
I'd hate to see the mileage charge on this job: Space station struggles with balky toilet.
It is amazing how much we take gravity for granted, and how much help it is around the house. You don't know what you've got 'til it's gone [which is from a song, I think].
There's something about having a vacuum cleaner for a toilet, that bothers me.
May 27, 2008 25 Comments
The BBC reports on the continuing aftershocks and damage: Aftershocks demolish China homes
Two further aftershocks have destroyed more than 420,000 houses in the Chinese region hit by a massive earthquake two weeks ago, state-run media say.

Many of the homes appear to have been empty, but six people are said to have been critically injured in the tremors.

They came came as thousands of people were moved from near a lake formed by landslides, amid fears the water could breach banks and deluge the area.

The official death toll from the 12 May quake in Sichuan province is 67,183.
May 27, 2008 Comments Off on Shaking Continues
Well, for Okaloosa County, the Miami Herald is big time.
Gary Fineout of the Miami Herald write about a local voting effort: Web vote offered to military abroad
TALLAHASSEE — A small Panhandle county that is home to one of the world's largest air bases is embarking on a sweeping experiment in Internet voting that could transform elections in the 21st century.

But the push by Okaloosa County Supervisor of Elections Pat Hollarn to use the Internet to make it easier for U.S. soldiers overseas to vote is drawing fire from voting activists who call her project "unsafe" and contrary to a new law that requires the state to use paper ballots.

Frustrated by the pace of overseas voting efforts undertaken by the Department of Defense in recent years, Hollarn has championed a plan that will let those living on, or near, three military bases in the United Kingdom, Germany and Japan cast ballots in the November election.
May 26, 2008 8 Comments
I assume he is prepared for the incoming fire that is about to erupt, as the BBC reports on Jimmy Carter's latest comments on the Middle East: Israel 'has 150 nuclear weapons'
Ex-US President Jimmy Carter has said Israel has at least 150 atomic weapons in its arsenal.

The Israelis have never confirmed they have nuclear weapons, but this has been widely assumed since a scientist leaked details in the 1980s.

Mr Carter made his comments on Israel's weapons at a press conference at the annual literary Hay Festival in Wales.

He also described Israeli treatment of Palestinians as "one of the greatest human rights crimes on earth".

Mr Carter gave the figure for the Israeli nuclear arsenal in response to a question on US policy on a possible nuclear-armed Iran, arguing that any country newly armed with atomic weapons faced overwhelming odds.
May 26, 2008 Comments Off on Shields Up!
The Associated Press reports that J.R. Simplot, "Mr. Spud" Dies At 99
(AP) J.R. Simplot left home in 1923 at age 14 with four gold coins given to him by his mother. He ended his life as the spud king of America and one of the nation's richest men.

The Idaho farmer, who dominated the state's business and political landscape for 70 years, died Sunday at his Boise home at age 99. Ada County Coroner Erwin Sonnenberg said Simplot apparently died of natural causes.

His businesses, still family owned, manufacture agriculture, horticulture and turf fertilizers; animal feed and seeds; food products such as fruits, potatoes and other vegetables; and industrial chemicals and irrigation products. He all but invented the first commercially viable frozen french fries in the world.
In an article on Micron, a name only a few older computer people will recognize, when asked how a potato farmer got involved with computers, Mr. Simplot noted that his business was based on chips – potato chips, cow chips, and computer chips.
He went from potato farming, to the manufacture of the fertilizer he needed, and finally into financing a computer chip foundry to diversify business in Idaho. I don't know about today, but for years, all of the french fries at McDonald's came from Simplot.
May 26, 2008 Comments Off on Goodbye "Mr. Chips"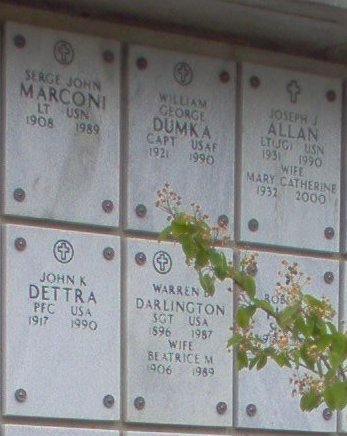 This is a picture from one of the columbariums at the Arlington National Cemetery, the final resting place of many of those who served the United States since the middle of the 19th century.
That is my Father's marker. He didn't know those located around his marker, but they all shared service to their country as part of their life.
Edward Emhof, my maternal grandfather, went to France as a rifleman in the 87th Infantry Division, but spent most of his time building the all-purpose wooden ladders-litters that were used in the trenches.
George T. Dumka, my paternal grandfather, was looking for a little adventure when he joined the 11th Infantry Regiment, but a year of occupation duty in Cuba, in an olive drab wool uniform wasn't much of an adventure.
Alfred Mullen went a long way from driving teams pulling barges on the Erie Canal to being a soldier in the 9th Infantry Regiment in the Philippines and China. He is buried in the Chalmette National Cemetery on the site of the Battle of New Orleans. He and his wife both died of the tuberculosis he acquired in Asia. [One of his orphaned daughters married Edward Emhof.]
The country continues to ask for service and people still respond to that call. As you think about the sacrifices represented by Arlington and other cemeteries, ask yourself if you have done what you could to prevent misuse of the willingness of some to serve.
It is rather for us the living, we here be dedicated to the great task remaining before us–that from these honored dead we take increased devotion to that cause for which they here gave the last full measure of devotion–that we here highly resolve that these dead shall not have died in vain, that this nation shall have a new birth of freedom, and that government of the people, by the people, for the people shall not perish from the earth.
May 26, 2008 5 Comments
While phoenixes normally arise, the Phoenix spacecraft has landed on Mars and the BBC reports Historic pictures sent from Mars
A Nasa spacecraft has sent back the first historic pictures of an unexplored region of Mars.

The Mars Phoenix lander touched down in the far north of the Red Planet, after a 680 million-km (423 million-mile) journey from Earth.

The probe is equipped with a robotic arm to dig for water-ice thought to be buried beneath the surface.

It will begin examining the site for evidence of the building blocks of life in the next few days.

A signal confirming the lander had reached the surface was received at 2353 GMT on 25 May (1953 EDT; 0053 BST on 26 May).
…
May 25, 2008 2 Comments
The man is absolutely disconnected from the reality of the situation: Obama: Florida, Michigan are Clinton's 'last slender hope'
CHICAGO, Illinois (CNN) — Sen. Barack Obama accused Sen. Hillary Clinton of stoking anger in Florida and Michigan over the Democratic Party's decision not to recognize the states' primary votes.

"They weren't stirring it up when they didn't need the delegates," he said. "Let's not sort of pretend that we don't know what's going on. This is, from their perspective, their last slender hope to make arguments about how they can win."
I can't speak for Michigan, but we damn sure don't need Hillary Clinton to be pissed off about what the Democratic Party did to us in Florida. She isn't stirring anything up – she's has recognized the reality.
May 25, 2008 33 Comments
I must not fear.
Fear is the mind-killer.
Fear is the little-death that brings total obliteration.
I will face my fear.
I will permit it to pass over me and through me.
And when it has gone past I will turn the inner eye to see its path.
Where the fear has gone there will be nothing.
Only I will remain.

Frank Herbert, Dune
To all of you thrown into a paroxysm of paranoia by any historical reference which you only marginally understand, your letter of appreciation from Messrs Rove and bin Laden will be arriving shortly. You just can't have terrorism without unreasoned fear.
May 25, 2008 Comments Off on Terrorism
CNN reports that 70,000 homes 'damaged' in new China quake
CHENGDU, China (CNN) — A powerful 5.8 magnitude aftershock hit China's Sichuan province Sunday, reportedly damaging more than 70,000 homes in the region where at least 60,000 people were killed by a powerful earthquake on May 12.

State media said at least one people died and 400 were hurt as a result of the latest seismic jolt, which came as Chinese officials warned that 69 dams in the province damaged in the original quake were in danger of bursting their banks.
…

Meanwhile, the death toll from this month's earthquake in China reached 62,664, a government official said Sunday. Another 23,775 are still missing.
May 25, 2008 2 Comments
May 25, 2008 5 Comments
Florida License Plates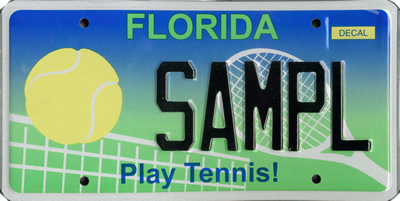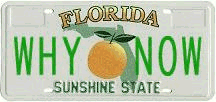 A weekend feature of Why Now.
May 25, 2008 Comments Off on Passing the Plate