A New Nation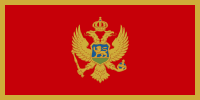 The BBC reports that Montenegro 'chooses independence'. This vote is the final nail in the coffin of yet another bad idea foisted upon people by the European powers after World War One. Serbia and Montenegro were the last vestiges of the European construct of Yugoslavia, and now they are "divorced".
The independent Republika Crna Gora [Republic of the Black Mountain] has less than a million people and is slightly smaller than Connecticut at 5,333 mile², but it has a coastline.
This change makes Serbia a landlocked country.