From the Anchorage Daily News: Buser, King are up front, but far from confident.
The problem is the stiff headwinds as you head up the Yukon River which are producing windchills of -30°, and blowing gritty snow into the faces of mushers and dogs.
Kevin Klott is the reporter on the scene for ADN and he has a nice feature piece on Rachael Scdoris:
Legally-blind musher Rachael Scdoris hired Tim Osmar of Kasilof to be her visual trail interpreter to reach Nome in the Iditarod Trail Sled Dog Race last year. But this year the Oregon musher is using her thumb to travel the 1,100-mile trail.

[snip]

Scordis didn't enter the Iditarod this year so she could focus on college. She's attending a community college in Bend, Ore.

[snip]

She was the first legally blind musher to finish the Iditarod and plans to run it again.
Aliy Zirkle is the leading woman in the race at 16th, and Sigrid Ekran of Norway is first among the rookie mushers at 18th.
March 11, 2007 3 Comments
Congress just stole an hour of your life. This post doesn't exist because it was posted at 2:00AM, except there is no 2:00AM, it magically became 3:00AM.
I don't guess anyone considered asking people to voluntarily start an hour earlier, instead of messing with the clocks. You could call it summer hours.
March 11, 2007 14 Comments
March 11th, 2004, Madrid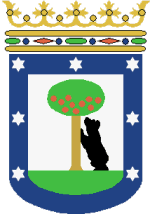 Nuestros profundos condolencias en vuestra perdida.
Todos somos Madrileños.
March 11, 2007 2 Comments
Florida License Plates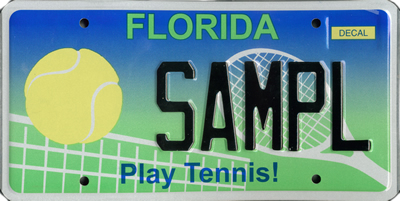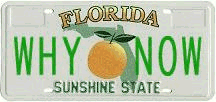 A weekend feature of Why Now.
March 11, 2007 Comments Off on Passing the Plate