Another Year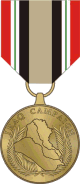 Tonight in the US , March 20th in Iraq, marks the fourth anniversary of the official invasion of Iraq. Of course, we now know that Special Forces teams went in earlier and the air forces of the US and Britain had been doing some "pre-emptive bombing" prior to the missile attacks on possible locations that the Shrubbery's intelligence services [as opposed to the CIA, NSA, DIA, and the regular intelligence groups] swore contained Saddam Hussein.
For those who have short-term memory problems: Iraq did not have WMDs and, as a result, was not in violation of UN Resolution 1441. The UN weapons inspectors were forced out of Iraq by the actions of the President of the United States, not the President of Iraq. The "intelligence" was selected to support the desires of the White House, not the reality on the ground.
Every problem encountered in Iraq was anticipated, but the warnings were ignored. After four years we are further away from anything that might be considered winning than we were on the day before the war started.
Tens of thousands of innocent people are dead. The infrastructure of Iraq is in tatters. More countries than at any point in our history consider the United States a threat to the world. We are throwing a massive debt onto the shoulders of our great grandchildren. Our military is on verge of breaking, if it isn't already.
What does it take to get the government to acknowledge that enough is enough?