And tasty if you enjoy the discomfort of your enemies.
The Pensacola News Journal reported that WEAR-TV's owner warns of possible Ch. 11 filing
The Owner of WEAR-TV in Pensacola, Sinclair Broadcast Group Inc., has warned it may be forced to file for Chapter 11 bankruptcy protection as it struggles with continued declines in advertising spending and a hefty debt load.
Channel 3 is the oldest television station on the tip of the Panhandle and should never have been sold to media company in Maryland. They were a charter member of the emergency communications system set up to keep people informed during hurricanes, and that really requires local control.
Sinclair's problem is the same as Clear Channel and every other media outlet – everything was mortgaged, everything was reduced to a minimum to maximize the money available to make the loan payments and still have a profit. Any downturn was a death sentence because they didn't have any cash reserves and there was nothing left to cut except media outlets. The problem with selling individual outlets is that they need them all to cover their loan payments and the outlets are probably "underwater" on their individual loans. Without all of the debt, the outlets are probably profitable, especially if they aren't making payments to Sinclair for dubious "programming".
A bankruptcy judge may decide that they filed under the wrong Chapter.
July 16, 2009 Comments Off on Just Desserts
The BBC has a nice little article, Weaving the way to the Moon, about building the Apollo Guidance Computer, the special purpose computer that is the ancestor of today's fly-by-wire computer systems.
The "weaving" is concerned with the building of the magnetic core memory used in the AGC. The "cores" are actually small circular beads that have three [or more] wires passed through their center hole. You need to expand the pictures in the Wikipedia "core" article to see the lacing pattern.
The AGC used memory modules with 1024 beads, which is very time consuming to build, and the reason for hiring weavers to do the work.
July 16, 2009 2 Comments
From McClatchy's new Health section¹ Health legislation might bar some from public insurance
WASHINGTON — President Barack Obama and leading Democrats have stressed that people who like their employer-sponsored insurance would be able to keep it under a health care overhaul. They haven't emphasized the flip side, however: that people who don't like their coverage might have to keep it.

Under the main Democratic health bills that are being debated in Congress, many people with job-based insurance could find it difficult to impossible to switch to health plans on a new insurance exchange, even if those plans were cheaper or offered better coverage. The restrictions would extend to any government-run plan.
This is more of the protection scheme for the insurance mafia, to ensure they don't have to compete, as that would lower their obscene profits.
From NPR Maryland County Health Program Highlights Challenges [There's an audio link to hear the story.]
Howard County, Md., Health Commissioner Dr. Peter Beilenson says more people have enrolled in Healthy Howard, the county's program for the uninsured. But, he says, as many as 10 percent of those enrolled are in danger of being dropped because they cannot afford the program.
The program is for the middle class who make too much money for Medicaid, but can't afford private insurance. About 10% of those who signed up are having problems coming up with the $50 to $85 per person per month for this program. The rates in the House bill are even higher.
1. A collaboration with Kaiser Health News funded by the Kaiser Family Foundation. It is not associated with Kaiser Permanente.
July 16, 2009 Comments Off on Choice?

Nicki Sorensen of Denmark had a very busy day: he won the stage, took the red numbers, and moved his team, Saxo Bank, to a 34 second lead in the team standings.
1. Rinaldo Nocentini (I/AG2R) 48:27:21 [yellow jersey]
2. Alberto Contador (E/Astana) +:06
3. Lance Armstrong (US/Astana) +:08
4. Levi Leipheimer (US/Astana) +:39
5. Bradley Wiggins (GB/Garmin) +:46
6. Andréas Klöden (D/Astana) +:54
7. Tony Martin (D/Team Columbia) +01:00 [white jersey]
8. Christian Vande Velde (US/Garmin) +01:24
9. Andy Schleck (LUX/Saxo Bank) +01:49
10. Vincenzo Nibali (I/Liquigas) +01:54
Selected Others:
18. Cadel Evans (AUS/Silence) +03:07
26. Nicki Sorensen (DEN/Saxo) +04:38 [red numbers]
40. Egoi Martinez (E/Euskatel) +10:20 [polka dot jersey] 88 points
51. Nicolas Roche (IRE/AG2R) +16:45
65. David Millar (GB/Garmin) +28:18
117. Thor Hushovd (NOR/Cervelo) +1:04:32
132. Mark Cavendish (GB/Team Columbia) +1:13:54 [green jersey] 200 points
166. Kenny Robert Van Hummel (NED/Skil) +1:59:32 [red lantern]
From the BBC Cycling results and the official results sites.
July 16, 2009 Comments Off on Stage 12 Busy Day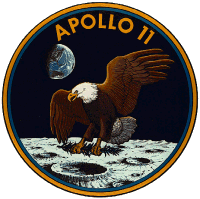 Apollo 11
Commander:
Neil A. Armstrong
Pilot: Columbia Command Module
Michael Collins, Lieutenant Colonel, USAF
Pilot: Eagle Lunar Module
Edwin E. "Buzz" Aldrin, Jr., Colonel, USAF
Launched: 16 July 1969 UT 13:32:00 (08:32:00 CDT)
Landed on Moon: 20 July 1969 UT 20:17:40 (15:17:40 CDT)
Landing Site: Mare Tranquillitatis – Sea of Tranquility (0.67 N, 23.47 E)
Returned to Earth: 24 July 1969 UT 16:50:35 (11:50:35 CDT)
July 16, 2009 3 Comments