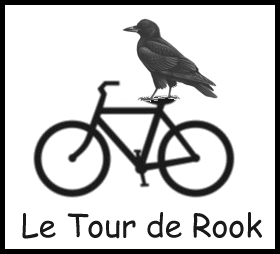 The infamous Tour de Rook has been resurrected to the groans of many weekend athletes. Coverage of Stage 2, Stage 3, and Stage 4 is available. It now comes with a sound track, unlike the other one.
Jesse Ventura, Michelle Bachmann, Franken/Coleman, and Garrison Keillor aren't the only things happening in Minnesota. It's like Alaska without the earthquakes and volcanoes.
July 18, 2009 7 Comments
The BBC continues its coverage of Iran: Call for Iran protesters' release
Former Iranian President Ali Akbar Rafsanjani has called for the release of people jailed after protesting at the result of the recent election.

In his first Friday sermon since the vote, he also said large numbers of Iranians still doubted its result.

Outside, police fired tear gas at thousands of opposition supporters who were chanting slogans in support of defeated candidate Mir Hossein Mousavi.

Chanting also broke out among some of the tens of thousands of people inside.

Thousands of opposition supporters rallied in streets near the university – the first public opposition demonstration for more than a week.
EBW at Wampum got reports that reform candidate, Mahdi Karroubi, was beaten by the Basiji outside the university and a prominent women's rights activist, Shadi Sadr, was beaten and kidnapped.
The authorities still don't understand that this isn't going away, and the regime is losing more authority and legitimacy with every incident.
July 18, 2009 4 Comments

Sergei Ivanov of Russia took the stage, with Martijn Maaskant of the Netherlands grabbing the red numbers, but two new names entered the top ten: George Hincapie at 2 and Christophe Le Mevel at 5. A break-away couldn't be reeled in. The leaders are tired and the loss of Levi is really being felt.
The jerseys were static, but AG2R regained the yellow numbers of the leading team.
1. Rinaldo Nocentini (I/AG2R) 58:13:52 [yellow jersey]
2. George Hincapie(US/Team Columbia) +:05
3. Alberto Contador (E/Astana) +:06
4. Lance Armstrong (US/Astana) +:08
5. Christophe Le Mevel (F/Francaise) +:43
6. Bradley Wiggins (GB/Garmin) +:46
7. Andréas Klöden (D/Astana) +:54
8. Tony Martin (D/Team Columbia) +01:00 [white jersey]
9. Christian Vande Velde (US/Garmin) +01:24
10. Andy Schleck (LUX/Saxo Bank) +01:24
More below the fold.
July 18, 2009 2 Comments