The Local Puppy Trainer reports on the implosion at a local school: Heads of Rocky Bayou Christian arrested in abuse case
NICEVILLE — A current and former administrator at the area's largest Christian academy have been arrested for failing to report a sex abuse allegation, according to police.

Rocky Bayou Christian School co-founder and interim Superintendent Bob Grete, 72, and former Superintendent Don Larson, 48, were arrested Friday and charged with failure to report child abuse.

Meanwhile, a 28-year-old basketball coach, unidentified by Niceville police, had a warrant out for his arrest on charges of lewd and lascivious conduct. He was expected to turn himself in Monday.

Police detective Kate Devine said the investigation was "kept very quiet" since allegations arose June 27, when the father of a 14-year-old girl reported "possible sexual abuse" to Grete.

Grete "informed (the father) not to contact the authorities until after Rocky Bayou Christian School could conduct their own investigation," according to his arrest report.
…
July 24, 2009 17 Comments
In case you still hadn't figured out who holds the leash and who wears the collar in Iran, the BBC makes it plain: Iranian vice-president 'sacked'
Iranian President Mahmoud Ahmadinejad has dismissed his most senior vice-president, it has been reported.

The decision, the state news agency Irna said, came after Supreme Leader Ayatollah Ali Khamenei ordered Mr Ahmadinejad to do so.

First Vice-President Esfandiar Rahim Mashaie had angered hardliners last year by saying Iranians and Israelis were friends.

An aide said Mr Mashaie did not now consider himself first vice-president.

The decision came after a week-long stand-off between Ayatollah Khamenei and Mr Ahmadinejad, who had defended Mr Mashaie.

Ayatollah Khamenei wrote to the president, telling him that appointing Mr Mashaie was "against your interest and the interests of the government".

In the letter, which was broadcast on Iranian state TV, Ayatollah Khamenei said: "It is necessary to announce the cancellation of this appointment."
Ahmadinejad isn't even allowed to select his own deputies, much less make decisions on important issues.
July 24, 2009 Comments Off on Khamenei To Ahmadinejad: Bad Dog!
How many more revelations will it take before District of Columbia officials declare 133 C Street a "disorderly house"?
July 24, 2009 8 Comments
How do you solve the health insurance crisis? Medicare for all.
How do you pay for it? Remove the cap on FICA and stop Congress from stealing the money to cover their bad ideas.
But you're raising taxes. Au contraire, as Republicans have told us for years, poor people don't pay taxes, and they pay FICA on every dollar they earn, so it can't be a tax. 😈
July 24, 2009 29 Comments

The high temperatures, minimal rainfall, and foolish humans have resulted in wildfires all along the northern coast of the Mediterranean. The BBC reports that Wildfires rage in southern Europe
Thousands of firefighters are battling to bring under control summer wildfires that are spreading across parts of southern Europe.

At least seven people have died in fires that have struck Spain, France, Greece and the Italian island of Sardinia in the past few days.

Spain has been the hardest hit with at least seven major fires raging in the south and east.

Strong winds have fanned the flames during the hot dry weather.
…

Meanwhile, an inquiry is under way in France after a military exercise sparked a major wildfire on the outskirts of Marseille.

The fire, which threatened homes and destroyed 1,300 hectares (3,211 acres) of brush, provoked an angry reaction from both officials and residents.

Prime Minister Francois Fillon called it a "professional mistake" and local prefect Michel Sappin accused the military of "imbecilic" actions.

The officer in charge when soldiers fired tracer bullets during a training exercise has been suspended.
Tracers are the flashes of light you see filling the air when people use automatic weapons. They are used as a quick way of aiming the weapon as you can easily see where the rounds are hitting. The problem is that the rounds use phosphorus which may not burn itself out in the air and definitely start fires. In antiaircraft use, that is a definite feature, but in training on a tinder dry range it is a major hazard.
July 24, 2009 2 Comments

Mark Cavendish of the Isle of Manx took his fifth stage in this year's Tour, the first time that's happened since Lance in 2004, and became the Briton with the most stage wins ever. Even with this win he rides at 128th and is 25 points behind Thor Hushovd in the battle for the green.
Leonardo Duque of Colombia picks up the red numbers for his attacks on the stage.
The Current Standings:
1. Alberto Contador (E/Astana) 77:06:18 [yellow jersey]
2. Andy Schleck (LUX/Saxo Bank) +04:11 [white jersey]
3. Lance Armstrong (US/Astana) +05:21
4. Bradley Wiggins (GB/Garmin) +05:36
5. Andréas Klöden (D/Astana) +05:38
6. Frank Schleck (LUX/Saxo Bank) +05:59
7. Vincenzo Nibali (I/Liquigas) +07:15
8. Christian Vande Velde (US/Garmin) +10:08
9. Christophe Le Mevel (F/Francaise) +12:37
10. Mikel Astarloza (E/Euskatel) +12:38
11. Vladimir Karpets (RUS/Катюшa) +13:36
12. Roman Kreuziger (CZ/Liquigas) +14:08
13. Sandy Casar (F/Francaise) +14:37
14. Rinaldo Nocentini (I/AG2R) +15:27
15. Carlos Sastre (E/Cervelo) +17:23
Selected others after the fold.
July 24, 2009 Comments Off on Stage 19 – Cavendish takes UK record
Washing For Dinner?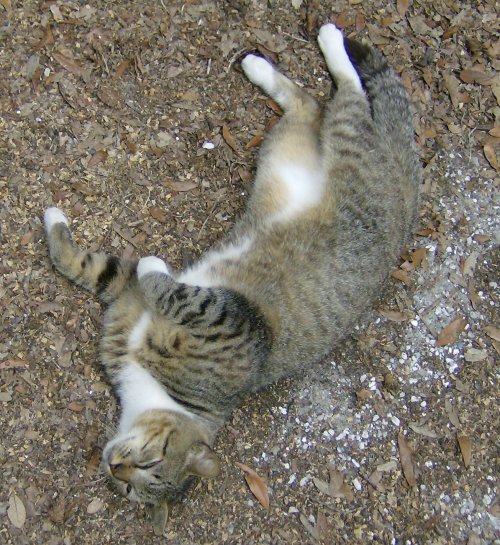 Mmmmmm!
[Editor: Spot, rolling in the driveway in anticipation of dinner.]
July 24, 2009 5 Comments