The BBC reports: Fourth storm lashes Philippines
The fourth storm to hit the Philippines in a month has lashed the eastern coastal province of Quezon, bringing heavy rain and winds to the region.

Forecasters said Typhoon Mirinae was following the same route as September's storm, Ketsana, which dumped the heaviest rains in 40 years on Manila.

Mirinae is expected to hit the capital later on Saturday morning.

Many regions are still reeling after the worst storm-related floods in decades, which have left hundreds dead.

Since making landfall, Mirinae is moving across the Philippines at 24km/h (15mph) and is projected to move in the direction of Vietnam.
The island of Luzon has been a magnet for tropical weather this year. They got a break on the last storm that just grazed them before turning away, but this one was a direct hit. They still haven't had a chance to recover from the first storm and the other three came in. It is reminiscent of 2004 on the Florida Peninsula.
October 30, 2009 Comments Off on Philippines Takes Another Hit
From CNN Money: 9 banks in major holding company fail
The nine banks are Bank USA N.A. of Phoenix, California National Bank of Los Angeles, San Diego National Bank of San Diego, Pacific National Bank of San Francisco, Park National Bank of Chicago, Community Bank of Lemont in Lemont, Ill., North Houston Bank in Houston, Madisonville State Bank in Madisonville, Texas, and Citizens National Bank of Teague, Texas.
That the largest FDIC single-day take-over during the GOPression. You have to go back to the days of the Reagan/Bush Savings & Loan debacle for numbers this bad, and then it was FSLIC doing the eating.
You let a Republican take control for 8 years and banks fail, yet bankers still vote for Republicans. You really have to question their sanity.
October 30, 2009 10 Comments
The Secret Lair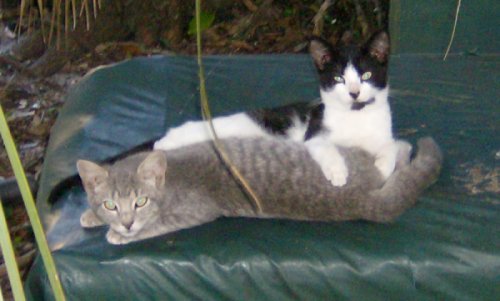 We'll get you for this!
[Editor: Lucrezia and Adolf hide in the palm fronds to avoid the sun. They are as charming and friendly as ever.]
October 30, 2009 7 Comments