New York's 26th Congressional District is a rural, conservative farming area in the western part of the state between the cities of Buffalo and Rochester. Despite that, its Congresscritters are always good for a scandal.
You might remember Thomas M. Reynolds and his "heroic stand" behind a fence of small children to avoid being asked about his role in the Mark Foley House page scandal. There is no proof that he knew anything at all about the embezzlement of hundreds of thousands of dollars when he was chairman of the National Republican Congressional Committee.
When Reynolds "retired" in 2008 the voters of the district elected another Republican, but Republican Congressman Christopher Lee had just begun his second term representing New York's 26th District when he resigned. He thought people might not understand why he was sending shirtless pictures to a woman on the Craiglist dating site, being married and all.
So now we have a a special election, that, according to the New York Times, features Republican candidate, Jane L. Corwin, a millionaire New York assemblywoman, Democratic candidate, Kathy Hochul, the millionaire clerk for Erie County, and Tea Party candidate, Jack Davis, a millionaire businessman.
The newspaper says it is all about the Paul Ryan budget plan that Corwin supports and Hochul opposes. No mention of what, or if, Davis thinks.
Unfortunately they left out a candidate: Green Party candidate, Ian Murphy. Perhaps they don't take him seriously because he isn't a millionaire, but Ian did play a billionaire, David Koch, in a rather well known phone call to Wisconsin governor Scott Walker.
How can you not take a candidate seriously whose campaign web site is "Murphy Can Has Congress dot Com"?
He is also generous. Feeling that Jane Corwin, the Republican candidate, had a really poor web site, Ian created a better one.
They should elect Ian – he's the one who needs a job.
May 6, 2011 Comments Off on The Fun Never Ends In NY-26
The CBC reports on flooding in Quebec: Richelieu flood victims promised federal help
Federal Natural Resources Minister Christian Paradis has promised federal support for flood victims while touring the Richelieu River valley, hours after the province handed out $770,000 to 234 families.

He arrived late morning for a personal helicopter tour of the area, where 3,000 homes — including 500 farms — have been flooded.
Dr. Jeff Masters notes this is part of the flooding around Lake Champlain that borders on New York, Vermont, and Quebec. The cause is record snowfall, followed by record rainfall while the snow is melting.
May 6, 2011 10 Comments
On Guard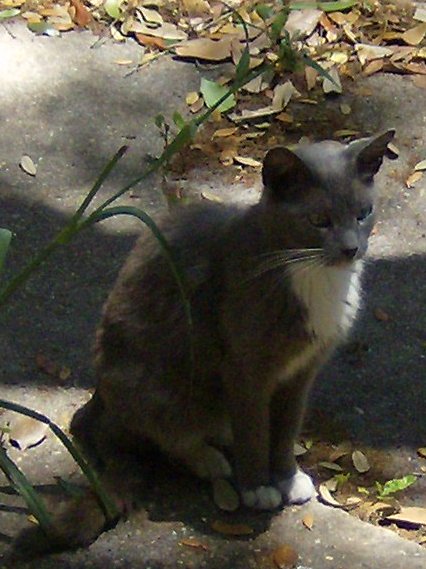 Don't move.
[Editor: Tonto is on watch outside my Mother's kitchen door. She has one or more kittens somewhere in the vicinity, as she has reappeared at the evening feeding after an absence. She is watching me and then watching an azalea, so I assume the litter is in the bushes.]
May 6, 2011 4 Comments