There is nothing but bad news from Iraq in this CNN article – Iraqi PM issues al-Sadr ultimatum amid Baghdad violence
BAGHDAD, Iraq (CNN) — Three U.S. soldiers were killed and 31 others wounded in two rocket attacks Sunday afternoon in Baghdad, the U.S. military said.

An attack involving a "couple of rounds" of fire on the International Zone, also known as the Green Zone, killed two soldiers and wounded 17 others about 3:30 p.m., a military official said, declining to give the specific location of the attack for security reasons.

A separate attack about 30 minutes earlier killed one soldier and wounded 14 at a U.S. military outpost in Rustamiya in southeastern Baghdad, the military said.

Sunday's fatalities bring the death toll of U.S. troops in the Iraq war to 4,022. Nearly 30,000 others have been wounded in action.
…
April 6, 2008 2 Comments
My outrage is the with the methods used by the Federal government in my post, This Is Outrageous. These types of problems have occurred in other areas, but the systems weren't shut down. Money was placed in escrow until the problems could be resolved, so that the users of the systems weren't cut off while the problems were addressed.
There is a problem with this contract and it's obvious:
The OnSat pricing according to the company's own web site:
$149/month 1Mbps/128Kbps
$1,100/year maintenance fee
$150 initialization fee
$3,595 equipment purchase
$530 installation of equipment
I checked to see what HughesNet and Wildblue charge for the same level of service in Albuquerque and it was significantly lower:
$70/month 1Mbps/200Kbps
$249 equipment
Both companies are currently offering free installation and neither has a "maintenance fee".
Now, you need a high quality wireless router to create the "hot spots" around the chapter houses, so the equipment cost will probably double, but this is the one-off retail price, not a group purchase of hundreds of installations.
This is a shame, and I can't believe that the Bill and Melinda Gates Foundation didn't catch these problems and discrepancies, but that's no reason to punish the users.
April 6, 2008 Comments Off on A Clarification On The Navajo Nation Problem
Florida License Plates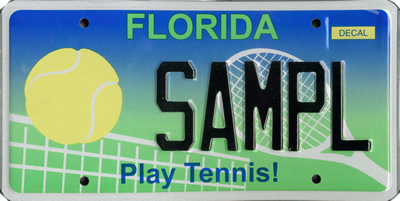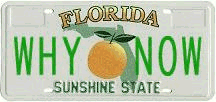 A weekend feature of Why Now.
April 6, 2008 4 Comments