Not even vegens are safe: FDA: Same Salmonella strain in recalled cereal sickens 23 people
Symptoms of salmonella infection include nausea, vomiting, fever, diarrhea and abdominal cramps. It can be life-threatening for people with poor health or weakened immune systems, including young children and the elderly.

The FDA said people who experience such symptoms after eating a puffed wheat or puffed rice cereal made by Malt-O-Meal should contact their doctors and report the illness to state or local health authorities.

The FDA said the recalled products were distributed nationally under the Malt-O-Meal brand name, as well as private labels including Acme, America's Choice, Food Club, Giant, Hannaford, Jewel, Laura Lynn, Pathmark, Shaw's, ShopRite, Tops and Weis Quality. The cereal bags have "best if used by" dates from April 8, 2008 (coded as APR0808), through March 18, 2009 (coded as MAR1809).

Consumers with products from the recalled lots are advised to throw them out, and retailers have been told to remove the cereals from their shelves.
This is surreal – getting sick from your breakfast cereal.
April 13, 2008 5 Comments
Most people have probably heard about the 8 teenagers who were involved in beating another teen senseless, so they could post the video of the beating on the 'Net. The incident took place in Polk County, Florida, which is the home of Interstate 4 Jamming which has been following the case.
The Interstate 4 Jammer predicted at 7:15AM this morning that someone in the daytime sleaze media would get involved, someone like "Dr. Phil".
Guess what: Bondsman: Dr. Phil Posted Bond For Teen Accused Of Ringleading Videotaped Beating
The teen accused of masterminding a videotaped "animalistic" attack against a fellow teenage classmate is out on bond, and she has celebrity talk show host Dr. Phil McGraw to thank for it, according to a bail bondsman.

The bondsman told media gathered at a Polk County jail Friday that Dr. Phil posted Mercedes Nichols' $30,000 bond.

When Nichols was released from jail, a man arrived and idenfitied himself as a Dr. Phil producer and ordered local media to leave the area because the Dr. Phil Show had exclusive rights to the story, according to reporters on scene.
Good call Jammer.  Dr. Phil, you really need to see a shrink, because you are one sick puppy.
April 13, 2008 4 Comments
Florida License Plates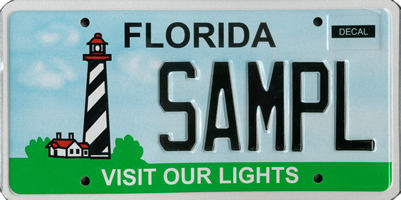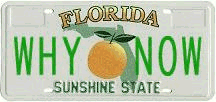 A weekend feature of Why Now.
April 13, 2008 Comments Off on Passing the Plate