This Is Interesting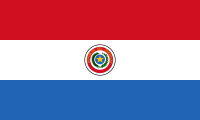 CNN is reporting that the Colorado Party has lost: Former bishop claims Paraguay election
(CNN) — Six decades of single-party rule in Paraguay came to an end on Sunday after Colorado Party candidate Blanca Ovelar conceded a loss to former Catholic bishop Fernando Lugo, who claimed the historic win on his promise to help the poor.

With more than half of the 14,000 precincts reporting, Lugo, backed by the Patriotic Alliance for Change, claimed 41 percent of the votes, according to the preliminary results reported by the government's election department.

Ovelar had 30 percent of the votes before she stepped down as a candidate, and Lino Oviedo, of the National Union of Ethical Citizens, had 21 percent.

Nearly 2 million Paraguayans turned out at the polls Sunday, with two-thirds of the nations 2.8 million registered voters participating.

Lugo, the 56-year-old ex-bishop, was a popular candidate as he campaigned to support the Paraguay's indigent population.

A poll published early this month in Asuncion-based newspaper La Nacion showed Lugo holding 36.8 percent support, compared to 26.4 percent for Ovelar. Oviedo held 24.3 percent.

There was only one round in the election and a majority was not needed to win.

Lugo, who calls himself an independent, is backed by the Patriotic Alliance for Change — a coalition of center and center-left parties.
Out of nowhere in 2005 the US starting sending military "trainers" to Paraguay, and then there were reports that the Shrubbery had bought land in the country. This may upset someone's retirement plans.