Posts from —
February 2011
This joke:
A unionized public employee, a member of the Tea Party, and a CEO are sitting at a table. In the middle of the table there is a plate with a dozen cookies on it. The CEO reaches across, takes 11 cookies, looks at the tea partier, and says, "Look out for that union guy, he wants a piece of your cookie."
And having Russia Today [why, yes, the majority of funding is from the Russian government] report on the American media blackout of reporting on the protests of the Republican political assault on unionized labor in the US. When 100,000 people rally in a 15° snowstorm to protest, it's news, especially when you are reporting on smaller protests all over the world.
I assume that they are afraid of losing all of the Koch's toilet paper commercials if they start reporting the facts about Wisconsin.
I note that Time-Warner carries Russia Today on its cable system, but no one carries Al Jazeera in the US.
February 28, 2011 Comments Off on Today's Most Popular Posts:
CNN blogs reports that Girl Scouts booted from cookie corner – founder's historic house
It's hard out there for a Girl Scout.

After someone complained about a Savannah, Georgia, troop selling cookies at a busy intersection in town, the city forced the girls to move away from the money-making location, according to the Savannah Morning News. The demand to move broke decades of tradition because that corner – Oglethorpe Avenue and Bull Street – is in front of the historic home of the founder of the Girl Scouts organization, Juliette Low.

Savannah zoning administrator Randolph Scott said the problem was that the girls were setting up their sale table on a public sidewalk, which violates a city ordinance, the Morning News reports. Scott tried to help, calling for a survey in the hopes that the property line near the home had private space. No such luck.

The Scouts are taking it on the chin elsewhere in Georgia and around the country. Recently in Villa Rica, Georgia – about 35 miles west of Atlanta – Girl Scouts were told they could no longer peddle their Thin Mints at a strip mall. (Watch how a cop nearly booted the Scouts from their favorite spot. "He was scaring us," one of the girls said of the officer.)
This is what happens when you elect Republicans – they want to eliminate anything that looks like the real America and replace it with their fantasy version. Where were the Tea Partiers? What about free markets and free enterprise?
They've done their best to destroy Halloween, make Christmas a drag, and now they are going after Girl Scout cookies.
February 28, 2011 13 Comments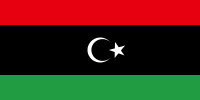 The CBC reports on the latest from the Berlin bunker the Libyan capital: Gadhafi defiant as rebels seize city
Moammar Gadhafi remained defiant Sunday, blaming outside forces for the uprising in Libya and promising to crush the opposition, Reuters is reporting.

Gadhafi told Serbian television in a phone interview that sanctions imposed by the United Nations Security Council won't work.

In Tripoli, the capital, where Gadhafi is still in control, state banks began handing out the equivalent of $400 US in a bid to shore up public loyalty.

Gadhafi also said the opposition against him is small.

Reports on the ground painted a different picture, however. Forces opposed to Gadhafi have seized control of the key city of Zawiya, only 50 kilometres from Tripoli, the capital.
The flags are the official flag of Libya, which is now the flag of Tripoli, and the pre-Gadhafi flag of the Kingdom of Libya, which is the flag of choice for everyone outside of Tripoli.
February 28, 2011 2 Comments
TV New Zealand's Live Updates
To recap: 12.30pm
– strong winds are expected to bring warm blustery conditions, making the clean up more difficult
– a series of aftershocks have rattled the city
– more helicopters have taken to the skies to assess building damage
– work continues on identifying victims
– the student army and Federated Farmers are calling for volunteers
– Civil Defence says the operational response has transitioned seamlessly into the new working week
– 55,000 properties remain without water
– fuel supplies are returning to normal
There have been 148 confirmed deaths, with nearly 200 still missing. The first funeral, for a child, was held today. No more survivors have been found since last Wednesday [local time].
February 27, 2011 2 Comments
The BBC reports on Libya: UN Security Council passes sanctions vote
The UN Security Council has voted unanimously to impose sanctions on Muammar Gaddafi's Libyan regime for its attempts to put down an uprising.

They backed an arms embargo and asset freeze while referring Col Gaddafi to the International Criminal Court for alleged crimes against humanity.
The UN didn't get involved when he was blowing up passenger aircraft or orchestrating civil wars in Africa, so it is nice that they finally found something about him they didn't like.
But Gaddafi isn't the least popular leader in the world, the ABC writes about that individual: Ireland's PM concedes defeat
Irish prime minister Brian Cowen has conceded defeat in the general election, after his ruling Fianna Fail party was crushed by voters angry over the collapse of the economy and an EU-IMF bailout.
The Irish people are really fed up. If the election hadn't been scheduled, Dublin might have looked similar to Cairo or Madison, Wisconsin.
February 26, 2011 2 Comments
From TV New Zealand's Live Updates:
6:00am: Recap
– The official death toll in Christchurch stands at 145.
– More than 200 people remain missing. There have been no live rescues since Wednesday.
– Nationals of more than 20 countries are among the missing
– More than 600 rescue workers, including overseas teams, have been toiling in rubble and ruined buildings.
– 62,500 people remain without water and 100,000 have no sewerage service.
– Officials say once the rescue and recovery effort has finished, demolition of damaged and unstable buildings in the CBD will go ahead.
It looks like a significant portion of Christchurch's Central Business District [CBD] will be leveled. The basic problem with most of the buildings was foundation damage when the soil liquefied during the quake. A number of buildings lost their internal stairways, and there is no economical way of repairing or replacing them.
February 26, 2011 Comments Off on Christchurch Day 6
CNN tells us about the effect of the "austerity budgeting": GDP report: Economic growth revised sharply lower
NEW YORK (CNNMoney) — Budget cuts by state and local governments hurt the economy more than originally thought, according to a government release Friday.

Gross domestic product, the broadest measure of economic activity, was revised lower to an annual growth rate of 2.8% in the three months ending in December. The initial reading had been for a 3.2% growth rate in the period.

That's a surprising dip, given that economists were expecting the rate to be revised upward to 3.3%.

Lower state and local government spending was the main drag, falling 2.4% during the quarter, compared to a 0.9% drop originally reported.
Since the business sector isn't spending, but is sitting on trillions of dollars in cash, while the government is slashing its spending, welcome to the double dip.
The only entity that can spend in this situation is the Federal government, and they are getting ready to slash spending. The economic answers are clear, and we know that they work, but politics and the money class are stopping effective action from being taken.
February 25, 2011 7 Comments
From the TV New Zealand Live Updates for Day Five:
3:15am Recap
USAR has completed its initial search of the CBD except for the cordoned off area near the unstable Grand Chancellor Hotel.
The number of missing is 226 with a confirmed death toll of 113. The names of six victims have been released.
80% of Christchurch homes now have power.
They are shifting to the recovery phase, as the chance of finding anyone in the rubble is fading with every hour. They still can't go near several buildings because they are sinking in the quicksand beneath them.
They are starting to form groups to clear debris by hand because it isn't certain where the ground will support the weight of large machinery. Some structures have already been taken down, because they were too unstable in their post-quake condition, and the aftershocks are continuing.
February 25, 2011 Comments Off on Christchurch Day 5
Role Reversal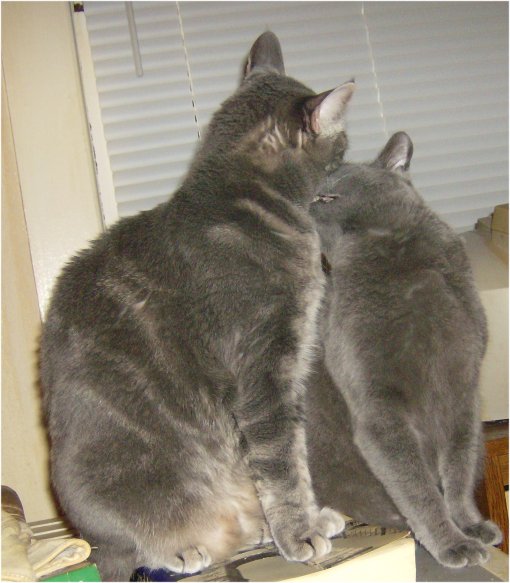 Stand Still, Mother!
[Editor: This is Property washing her mother's face. She is sitting on a phone-book-thick manual to do it, because they are pretty much the same size now. The pair don't usually get along, so this is unusual.]
February 25, 2011 15 Comments
There is some type of problem with my host, not sure exactly what, but the site has been unavailable for an hour or so, and then just came up.
February 24, 2011 3 Comments
From TV New Zealand's Live Updates: Day Four:
6.16am: 594 patients have been through the Emergency Department – 164 admitted, 11 in intensive care; a field hospital is being set up and will be operational by lunchtime; 2000 people have been treated at other medical facilities
…

6.11am: 102 confirmed dead – 4 names released; 228 missing; 70 live rescues; five bodies recovered from the CBD overnight.
…

4:14am An American USAR team has arrived in Christchurch and been met by the US Ambassador David Heubner. A team from the UK is also en route and will join those from Australia, Japan, Taiwan, Singapore and China already here. Once they arrive there will be nearly 700 experts and volunteers working on the rescue operation.
It is approaching the point when the emphasis will shift from rescue to recovery as the chance of finding survivors diminishes every hour.
[CBD is "central business district" and USAR is "urban search and rescue".]
February 24, 2011 Comments Off on Christchurch Day 4
From TV New Zealand's Live Updates: Day Three
1.38pm: A list of people who are missing and likely to have been caught up in the incident will be released at 4pm today. Cliff said at this stage there are 238 people on the missing persons list. "But many of those people may have simply left town, so again if you've left town please ring the Red Cross number," he said.

1.30pm To recap
– Superintendent Dave Cliff says it remains a rescue operation
– a list of people who are missing and likely to have been caught up in the incident will be released at around 4pm.
– the looting factor is "absolutely minimal"
– Defence Minister Wayne Mapp says Lyttelton is heavily devastated
– Gerry Brownlee is appointed Minister of Canterbury Earthquake Recovery
– Names of some victims to be released at some time today
– Bob Hamilton from Civil Defence has been appointed national controller for the response operation.
– David Meates from the District Health Board says 164 quake victims have been admitted to hospital with a range of conditions
– no charge for doctor and pharmacy visits to ensure people are accessing services
– concern about the elderly
…

1.23pm: There could be up to 120 bodies in the CTV building. Cliff says the numbers have varied wildly.
…

1.13pm: Superintendent Dave Cliff says it remains a rescue operation. There could be people alive but there is no chance for survival at the CTV site.
The CTV building apparently "pancaked" which doesn't leave space for survivors, and there are no signs of life in the structure. It wasn't just a media center, there were multiple users including at least one post-secondary school.
Rescue teams from four different countries are currently on the scene, and more are arriving every hour. The power grid is coming back on line, but total restoration will take months. The phone company is collecting analog telephones to hand out, as the system will accept the older phones that don't require their own power source.
The biggest reason for the structural failure of so many buildings was soil liquefaction, the earth turned into quick sand under the stress of the earthquake.
February 23, 2011 Comments Off on Christchurch Day 3
Why is Scott Walker dumber than a golden retriever?
Because even a golden retriever can recognize his master's voice.
Father Tyme at Blonde Sense has a candidate for the best sign ever.
It has been reported that the Koch family and the Mubarak family are both worth $40 billion … Has anyone seen their birth certificates?
[This has been brought to you by paint fumes.]
February 23, 2011 6 Comments
Because politicians are a criminal class, is the basic answer.
For more than 80 years after George Washington became the first President, all Federal employees "served at the pleasure of the President". Every village postmaster was a Presidential appointee, literally every job was filled by the President.
Well the country expanded and political parties oozed out of the corruption caused by any collection of money. So the President appointed people suggested by local politicians, and every time the Presidency changed hands, massive numbers of jobs changed hands in what was known as the "spoils system".
People were hired based on campaign contributions [bribes. and the practice still applies to ambassadorships] and the job holders were expected to continue to support their patrons [kickbacks from their salaries].
A lot of people got fed up and the rules were changed by multiple laws. The Civil Service was taken out of the world of politics and put on the basis of ability to do the job. Public employees can only be fired for failing to do their jobs, not at the whim of politicians, managers, or supervisors.
People who say you can't fire public employees are too stupid to understand the rules. I have done it when I was on Civil Service and if you follow the rules, the employee generally resigns, knowing that they have no chance of keeping the job they weren't doing. It isn't immediate, and you have to maintain a "paper trail", but the result is never in doubt.
You can't fire people who are doing their job. You can't give people "outstanding" performance reviews, and then claim they can't do their job. You can't simply complain about them. You follow the procedure and keep the records.
Public employees are protected because voters elect scum to public office. If the voters displayed a bit more discretion, Civil service wouldn't be necessary.
February 22, 2011 1 Comment