Happy Hanukkah to my Jewish friends. I miss the latkes and jelly doughnuts my roommates received for the holiday at college. [Their grandmothers were afraid they wouldn't celebrate or couldn't get "real" food at that terrible Baptist university.] It was a great break.
One of the nice things about Hanukkah is that there are established "gifts", so you don't have to rack your brains about what to get: a card and gelt covers just about everyone.
General background at Wikipedia's entry for Hanukkah and even more at Chabad's Chanukah page.
[Note: on the Jewish calendar the day changes at sundown, not midnight.]
December 11, 2009 Comments Off on Happy Hanukkah!
Real Life Re-Run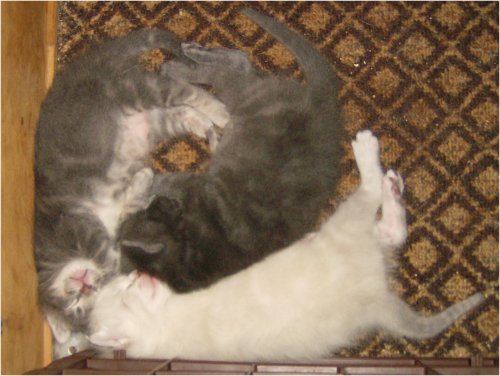 Mmm…Zzz…[snort]
[Editor: Real life as reduced the amount of time I have had near a computer, and cold weather has the cats in hiding, so here's Excise, Income and Property when they were still cute. Hopefully things will calm down by next week.]
December 11, 2009 7 Comments