Only 11,000 jobs were lost, so that is supposed to be good news for the economy, if not the 11,000 people who had those jobs. It is better than the numbers that have been reported for a couple of years now, but it doesn't include the jobs that weren't created for the holiday season, just like there was no report of the jobs that are normally created for the start of school, but weren't this year.
They claim that the employment rate fell to 10%, but that probably shows that more people have given up looking.
Of course, Congress will claim there is no reason for a jobs bill, even though more jobs are going to be lost as the effect of first stimulus bill wears off, and the bounce to replace inventory prior to the holiday season ends. Things are not really getting better, and that will be apparent soon enough.
December 4, 2009 6 Comments
2010 World Cup draw
Group A: South Africa, Mexico, Uruguay, France
Group B: Argentina, South Korea, Nigeria, Greece
Group C: England, USA, Algeria, Slovenia
Group D: Germany, Australia, Ghana, Serbia
Group E: Netherlands, Japan, Cameroon, Denmark
Group F: Italy, New Zealand, Paraguay, Slovakia
Group G: Brazil, North Korea, Ivory Coast, Portugal
Group H: Spain, Honduras, Chile, Switzerland
Group G looks nasty, but the US has a good chance to advance.
December 4, 2009 2 Comments
Chilling Out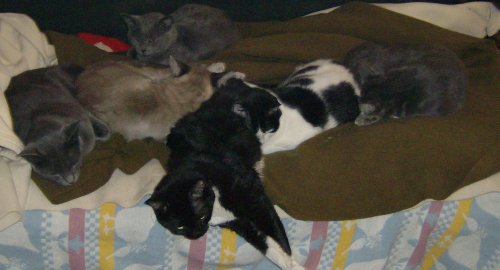 No more about Moscow!
[Editor: It might be 5° warmer than Moscow, but the koshki and koty are not happy campers. Sox is attempting to absorb as much heat from the electric radiator as possible. For those wondering: Income, Excise, Sox, Dot, Property, with Ringo in the back.]
December 4, 2009 16 Comments